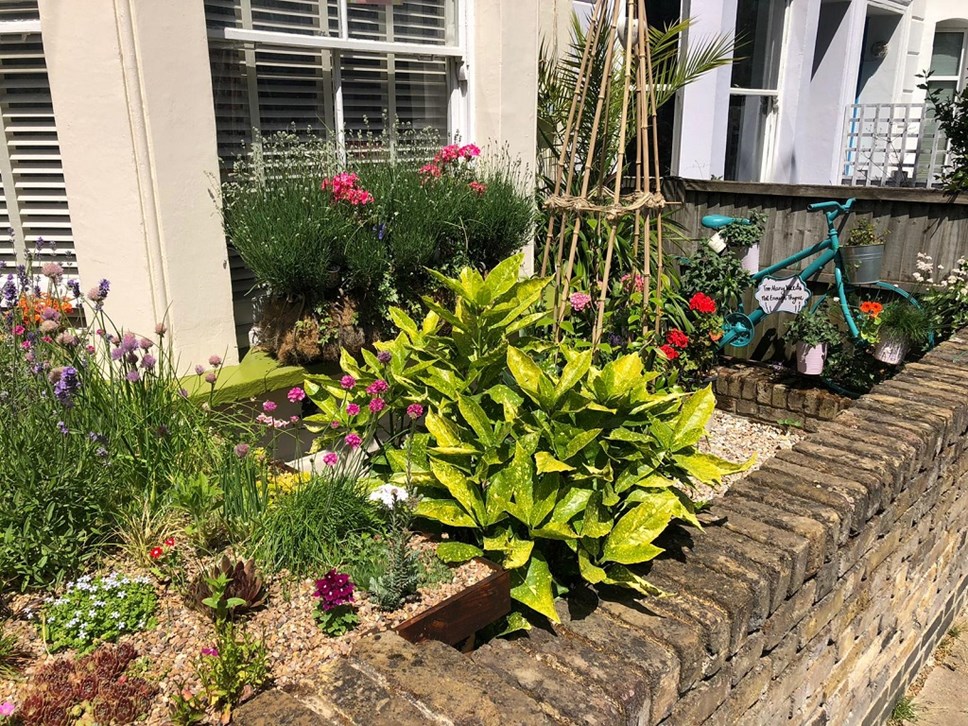 Borough's green fingers celebrated in Islington in Bloom awards
Some of the borough's most creative, colourful horticultural creations have been recognised in the Islington in Bloom 2020 awards.
During a challenging year in which many people have had to spend a lot more time at home than usual, the annual gardening competition gave local people the chance to brighten up their living spaces.
Gardening is known to have a positive impact on mental health, which is particularly important at the moment. ​Furthermore, gardening helps to boost ecological diversity in the borough, as the council continues to work to increase the amount of green space in Islington.
Islington in Bloom gave all residents, whether an expert gardener or a budding enthusiast, the chance to benefit from the therapeutic pastime - by sprucing up their gardens, creating a colourful window display, or by growing gorgeous house plants.

In order to adapt to the pandemic and the need for social distancing, 2020's competition was held online, with entrants submitting images of their efforts. A total of 130 entries were received.
This year's winners were:
Best Back Garden – Sally Hull
Best Front Garden – Pamela Berham
Best Container Garden – Robin Don
Best Children's Planting – Pooles Park Primary School
Best Window Box – Mike Power
Best Tree Pit – Jane, Sarah, Sheila, Rumi and Francisco
Best House Plant – Carmen Alcovedes
The standard of gardening continues to be so high across Islington that once again the borough achieved a Gold Award in the London in Bloom competition. Individual awards were also received for Caledonian Park, Gillespie Park, and Duncan Terrace in the Large Park, Small Park, and Our Community categories respectively. The strength of community gardening groups and the vital role they play in maintaining and improving Islington's greenspaces was also recognised with a range of awards being won in the Community Gardening Award category.
Cllr Rowena Champion, Islington's Executive Member for Environment and Transport, said: "Islington in Bloom is always such a fantastic celebration of community and, even amidst the challenges posed by the coronavirus pandemic, this year has been no different.
"Islington's gardeners, amateurs and experts alike, help make our borough such a welcoming, attractive place, and I thank and congratulate this year's entrants for their hard work. Gardening is such a therapeutic activity, and I'd encourage all our residents to embrace this fun, joyful hobby as they spend more time than usual at home."
A spokesperson for Islington Gardeners, who sponsored the borough-wide competition, said: "Islington Gardeners were delighted when the council found a way to run Islington in Bloom online and judged by photographs.
"We were very happy to help with the difficult task of judging what turned out to be a large number of entries at an overall high standard. We hope that the many residents of Islington who are new to the joys of gardening during the pandemic will continue to grow plants next year."
Islington in Bloom ran from ran from Saturday, 16 May until Sunday, 5 July. Winners and runners-up in each category received National Garden Centre vouchers, and every entrant was given a free compost voucher from Camden Garden Centre and an electronic certificate to mark their achievement.
This year's sponsors were Partners for Improvement in Islington, The Islington Society, Camden Garden Centre, Billy Davis Funfairs, Islington Gardeners and NSL.
To see more of this year's colourful creations, and for gardening tips, head to the @IslingtonInBloom Instagram page.
Media contact information
If you are a member of the media and would like more information please contact:
Islington Council media team – media@islington.gov.uk or 020 7527 2307. Out of hours: 07769 163303
If you are a member of the public with a general question about the council please contact:
Access Islington – www.islington.gov.uk/contact-us or 020 7527 2000