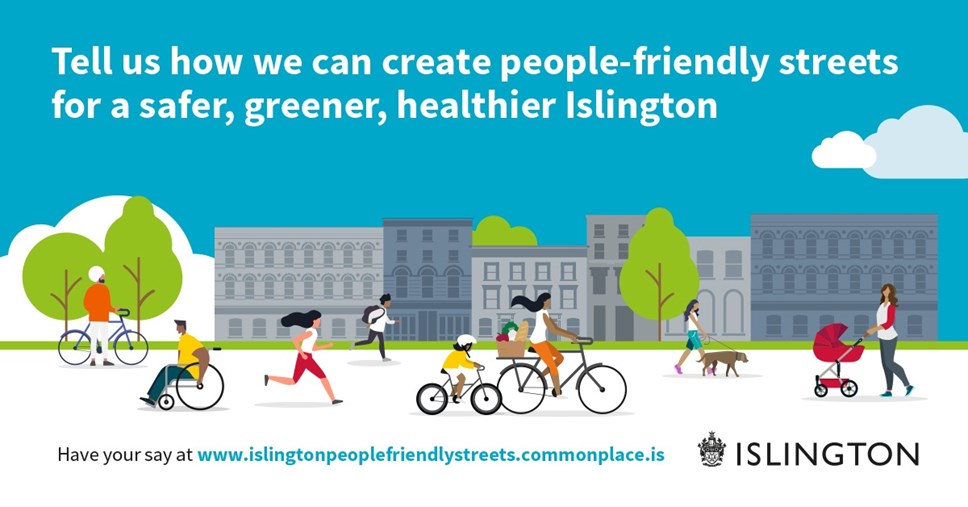 Canonbury West to host Islington's latest people-friendly streets neighbourhood
Islington Council's ambitious plans to create healthier, safer, more pleasant streets are continuing, with Canonbury West becoming the borough's latest people-friendly streets neighbourhood.
The council is listening to local people, who have enjoyed quieter and calmer streets since the Covid-19 lockdown started.
The pandemic has fundamentally altered the transport landscape, and without action there is a risk that streets will become more unsafe, unhealthy, and worse than before the crisis began.
It is vitally important that the council creates more pleasant streets for local people, to support them in using active transport to travel around the borough, to help clean Islington's air, and to make streets and footpaths more appropriate for safe social distancing.
That is why the council is acting now to make streets more people-friendly for all, in particular children, young people, and those who are vulnerable.
Work on the Canonbury West people-friendly streets neighbourhood is due to start on Monday, September 7.
Cllr Rowena Champion, Islington Council's Executive Member for Environment and Transport, said: "We are listening to local people's concerns about Islington's streets. We know it is vital that we act now to create people-friendly streets to make it easier and safer to walk, cycle, and use wheelchairs and buggies.
"Our people-friendly streets make it easier for local people to walk and cycle around the borough, whilst helping to avoid a spike in motor vehicle use as we come out of lockdown and creating more space for safe social distancing.
"The people-friendly streets neighbourhood in Canonbury West will create a safer, cleaner and greener transport environment for all. Canonbury West will be our fourth people-friendly streets neighbourhood, and we look forward to announcing details of more in the near-future."
The work in Canonbury West will involve the implementation of four traffic filters, which will have the effect of removing cut-through traffic to create a quieter, more welcoming neighbourhood.
At all locations, camera enforced filters will allow emergency services vehicles through. The council works closely with emergency services before each people-friendly streets neighbourhood is installed, to ensure they can still access every street in the area.
Residents will not be exempt from the filters, but will still be able to access their property by car, as will visitors and deliveries from outside the neighbourhood.
These changes will be implemented under an 18-month Experimental Traffic Order. After 12 months, a public consultation will take place to give residents the chance to indicate whether they would like the changes to be made permanent.
In addition, the council is continuing to use its Commonplace webpage as a forum for local people to share their comments and ideas on improving Islington's streets. So far, the site has received more than 4,500 comments.
Further people-friendly streets neighbourhoods are set to be introduced in the Highbury, Clerkenwell, Nags Head, and St Mary's Church areas by the autumn.
The council is listening to local people and is working to create more people-friendly streets using quick, inexpensive measures such as bollards and banned turns.
People-friendly streets are part of the council's vision for a safer, greener, healthier borough, and will help achieve our ambitious plans for a net zero carbon Islington by 2030.