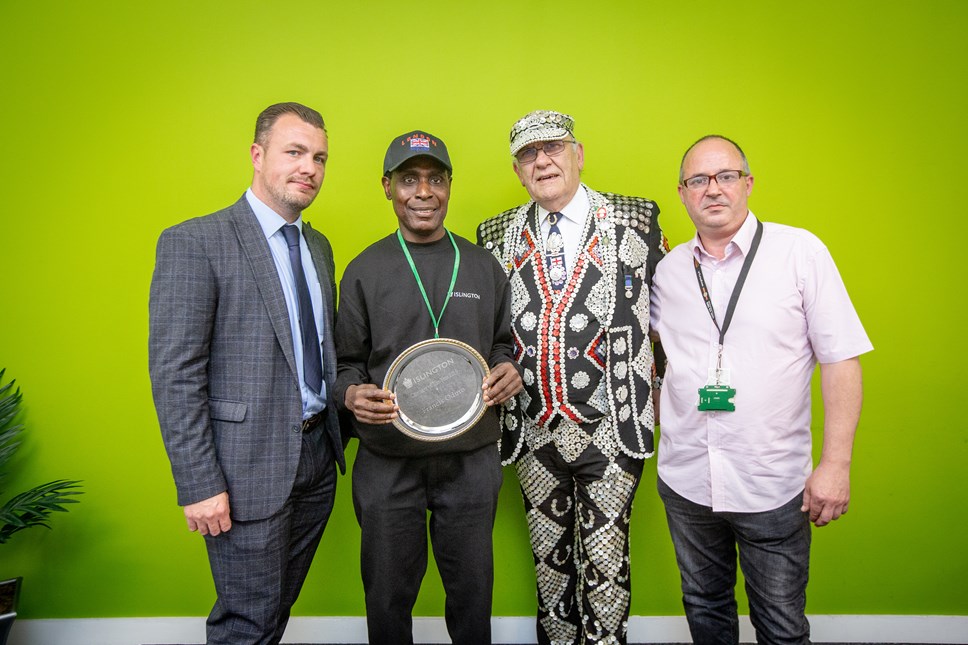 Caretaker of the year Francis Oduro is a friend to all at King's Square
Islington has celebrated the hard work and dedication of the borough's estate caretakers at the council's annual Caretaker of the Year awards.
This year's winner, Francis Oduro, is a caretaker at Kings Square in the St John's Street area. Francis has been a caretaker for around 18 years, and has been at Kings Square for ten.
The many residents who nominated Francis said that he was hardworking, dedicated and friendly to all on the estate. His work ethic, attention to detail concerning all matters on the estate and the considerable number of nominations he received made Francis stand out as the winning caretaker.
Other honourable mentions include:
Sara Walters, who is viewed with high regard by her colleagues as a hard and consistent worker at the New River Court estate groups.
Danny Roberts, whose presence on Dover Court Estate has brought a sense of community and harmony to many residents living there.
Greg Walters, a resident caretaker at the Williamson Street Estate. Local residents appreciate Greg for his support, friendliness and commitment to his job.
The Caretaker of the Year awards were presented by John Walters, the Pearly King of Finsbury and Billy Wells, Islington Council's Head of Neighbourhood Services.

Islington Council has around 200 caretakers working across the borough.
Cllr Diarmaid Ward, Executive Member for Housing and Development, said:
"We are immensely proud of our hardworking, dedicated estate caretakers. I don't think it's an exaggeration to say we have some of the most community focused caretakers in London.
"Francis Oduro has done exemplary work at Kings Square, where his friendliness and attention to detail is greatly appreciated by estate residents. We commend him for his dedication in helping to build a safe, supportive, inclusive community here in Islington."
Media contact information
If you are a member of the media and would like more information please contact:
Islington Council media team – media@islington.gov.uk or 020 7527 2307. Out of hours: 07769 163303
If you are a member of the public with a general question about the council please contact:
Contact Islington – www.islington.gov.uk/contact-us or 020 7527 2000