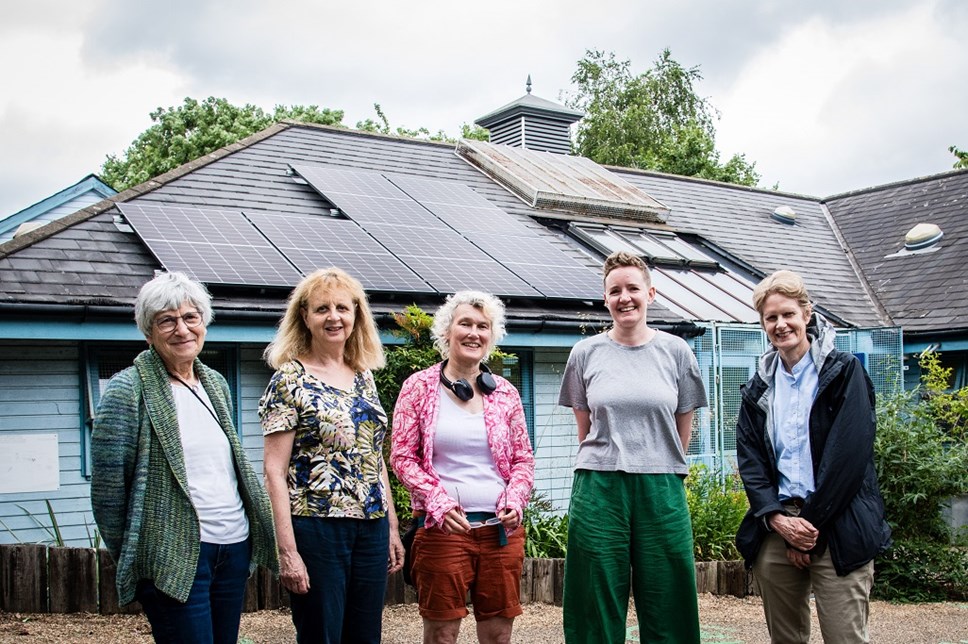 Council installs more than 200 solar panels on buildings to help create greener future
To mark the start of London Climate Action Week, Islington Council can announce that it is installing more than 200 solar panels on council buildings across the borough.
The council, as part of its efforts to tackle the climate emergency and create a greener, more equal future, is constantly looking for ways to reduce its carbon footprint.
That's why the council has installed solar panels – which use light from the sun to generate electricity in a more sustainable way than traditional methods – on its popular Ecology Centre, as well as its Downham Road and Laycock Centre sites. More panels are set to be installed at the council's Fairbridge Road site later this week, meaning that a total of 223 panels will have been installed this month.
Collectively, the new panels will save approximately 18 tons of carbon dioxide per year, estimated to be enough to drive an average diesel car more than 100,000 kilometres - the equivalent of 91 trips from the Arsenal's Emirates Stadium to John O'Groats in the far north of Scotland.
The panels will generate more than 70,000 kilowatt hours of electricity annually, and at current energy prices they are expected to save the council approximately £20,000 per year.
Steps are also being taken to make it easier for residents and businesses to make environmentally-friendly improvements on their own properties. Just last month, for example, the council published an easy-to-read guide to the current planning rules, and free of charge appointments are available for those looking to make their property greener.
Cllr Rowena Champion, Islington Council's Executive Member for Environment, Air Quality, and Transport, said: "We know that Islington is one of the six London boroughs most at risk to climate change, so we're determined to do all we can to create a more environmentally-friendly future for all.
"A key part of that is making sure that our buildings run in a more sustainable, green way, and that's exactly what we're doing by installing more than 200 solar panels on council sites across Islington.
"We know, though, that there's only so much that we can do as a council to tackle the climate emergency. That's why we're taking steps to make it easier for residents to play their part and save money, by simplifying the rules around installing eco-friendly improvements on homes and businesses."
To further support people across the borough to make their property or business premise more environmentally-friendly, the council is currently engaging with people on a new document called the "Net Zero Carbon Supplementary Planning Document". This is designed to make it easier for everyone to make changes to their buildings, to help save emissions and money.
If you're interested in having your say during the preparation of the document, please email NetZeroPlanning@Islington.gov.uk