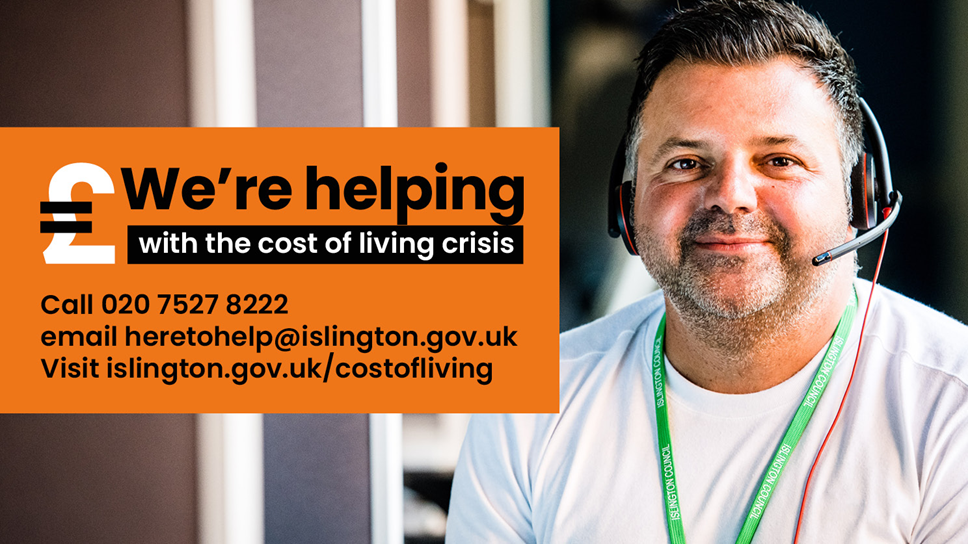 Council to invest further £500,000 in supporting local people and businesses through the cost of living crisis this winter
Islington Council will use extra funding received from energy generation at the publicly-owned Edmonton EcoPark to provide additional support to its most vulnerable residents and businesses during the cost of living emergency this winter, including a new debt relief fund and support payments to low-income households.
The council will set up its own debt relief fund to support residents struggling with energy bill debt, which will start with £77,000 of funding over the next two years. The council expects 250 households in the borough will need supporting this financial year, and 350 in the next financial year to get debts they are unable to pay written off.
Separately, the council will allocate £114,000 to more than 1,100 of the borough's most vulnerable low-income households already in crisis, making an extra support payment of £100 per household in December. An additional £50,000 will be made available to venues operating as part of Islington's network of Warm Community Spaces, where residents who are struggling to keep the heating on at home can find respite, a familiar face and a warm welcome.
Funding will also be used to expand both the SHINE team, which provides energy-saving advice as one of its services, and the IMAX team, which helps Islington residents to identify and claim benefits they weren't previously claiming, putting more money where it is most needed.
And £150,000 has been allocated to support local businesses. The details are still being finalised, but it is likely to include funding for nurseries, affordable workspaces, and community organisations, as well as grants for businesses with fewer than 25 employees.
The funding comes from extra electricity earnings generated by the publicly-owned energy-from-waste facility at Edmonton EcoPark in Enfield. The windfall, totalling £4,750,000, has offset the November costs of waste disposal for the seven London councils who use the facility. As the facility is completely publicly-owned, the extra money is distributed between the constituent councils, rather than going to a private company. This means Islington Council can use money from its share – which is £567,000 in total - to help local people struggling to cope with the cost of living crisis.
Leader of Islington Council Cllr Kaya Comer-Schwartz said: "The cost of living crisis is already having a real impact on Islington residents, with rising costs of bills, food and everyday essentials. That's why we are urgently doing everything we can to help our most vulnerable residents.
"This extra funding, coming as a result of the publicly-owned Edmonton EcoPark is warmly welcomed and helps us to deliver direct support to some of our least well-off residents and local businesses."
The council is also investing extra money in an engagement campaign encouraging residents to recycle their food waste, helping to create a greener, cleaner, healthier Islington.