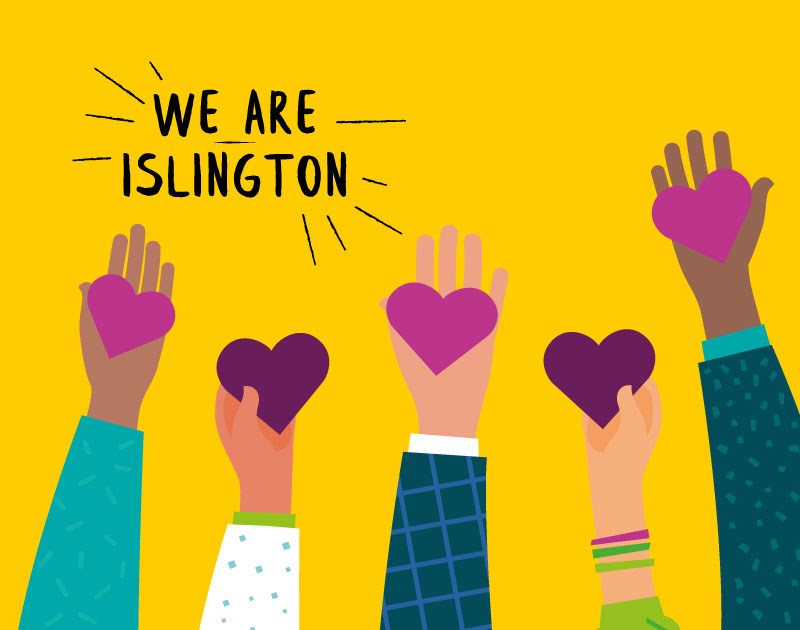 Covid-19: Let's all keep doing our bit to protect one another
Islington Council is encouraging local people to continue their incredible efforts to keep one another safe from Covid-19, after a number of instances of unsafe behaviour over the weekend.
Since the start of the pandemic, people across the borough have been making huge sacrifices to slow the spread of the virus and save lives. Thanks to the efforts of local people, cases in Islington have fallen significantly since the start of the year.
The sad reality, though, is that the virus is still present, and people are still becoming seriously ill or dying from it every day. That is why it is vitally important that everyone keeps doing their bit to look after one another.
Although most people in Islington are acting appropriately, the warmer weather over the weekend led to some examples of the sort of behaviour that puts others at risk. Groups of between 5 and 14 people gathered in local parks, for example, while there were 59 reports of anti-social behaviour, including 8 parties and 5 gatherings.
The council has put up signage in parks across the borough with guidance on how best to use the green spaces while minimising the spread of the virus. Furthermore, the council is working alongside colleagues in the Metropolitan Police to monitor the situation and advise people on how to protect themselves and others from Covid-19. Listening to this advice will help to reduce the spread of the virus and keep others safe.
Cllr Sue Lukes, Islington Council's Executive Member for Community Safety, said: "We know how challenging the last year has been, and we are so grateful to everyone that has done their bit to slow the spread of Covid-19 in Islington.
"Thanks to the incredible efforts of local people, cases in Islington have fallen since the turn of the year and last week Islington became the first London borough to move from red alert to amber: because we all looked after each other and stayed safe.
"However, the virus is still present and, sadly, people are still getting seriously ill and dying from it. That is why it is so important that we all keep doing our bit to protect one another.
"Unfortunately, we saw some people using our parks in a reckless, unsafe way over the weekend. It's really important to remember that doing so only increases the risk of spreading the virus, and prevents people from using our green spaces to exercise safely.
"The vast majority of people in our borough have been doing a brilliant job to slow the spread of the virus, but we need to keep going. The more we look out for each other, the sooner we will see life return to normal."
Acting Chief Inspector Pete Dearden from the Metropolitan Police said: "The message from the Metropolitan Police is clear. While the Government's roadmap contains positive news, now is not the time for complacency. Throughout Islington, residents must continue to stick to the rules which are fundamentally there to save lives.
"That means you must stay at home wherever possible. You should not be meeting with other households unless a support bubble is in place or you are meeting one other person for exercise.
"Officers will be pro-actively patrolling alongside the local authority and will continue to take action against rule breakers, adopting the 'Four Es' process of engaging, explaining, encouraging and then enforcing."
The We are Islington helpline remains open for anyone needing support during the pandemic – including with shopping, collecting medicines, money worries, and help with getting to a vaccination appointment. The helpline can be accessed 7 days a week, 9am to 5pm, on 020 7527 8222, or minicom on 020 7527 1900, or by emailing weareislington@islington.gov.uk.
Notes to editors
We must stay at home to help save lives and protect the NHS, leaving home only to:
Shop for basic necessities
Go to work, or provide voluntary or charity services, if you cannot do so from home
Exercise on your own, with your household or support bubble or one other person – this should be limited to once per day, and in your local area
Meet your support bubble or childcare bubble, where necessary
Seek medical assistance (including Covid tests) or avoid injury, illness or risk of harm, including domestic abuse
Attend education or childcare, for those eligible
If you do need to go out for one of the permitted reasons:
Make space – stay 2 metres apart from people who aren't in your household or bubble - this helps stop the virus spreading between people
Wash your hands - regularly and for at least 20 seconds, especially when you get home– this washes virus off your hands and helps stop it spreading
Wear a face covering over your nose and mouth to stop the virus spreading - in public places, including in shops or public transport
Know the symptoms of Covid-19 - a high temperature, or a new continuous cough, or a loss or change to your sense of smell or taste and get tested if you have any of the three symptoms.
Testing is quick, easy and free – Islington has two testing sites for people with any of the symptoms, which the council made sure were opened to help our residents. Getting a test is free and simple – nhs.uk/coronavirus or call 119
Media contact information
If you are a member of the media and would like more information please contact:
Islington Council media team – media@islington.gov.uk or 020 7527 2307. Out of hours: 07769 163303
If you are a member of the public with a general question about the council please contact:
Contact Islington – www.islington.gov.uk/contact-us or 020 7527 2000