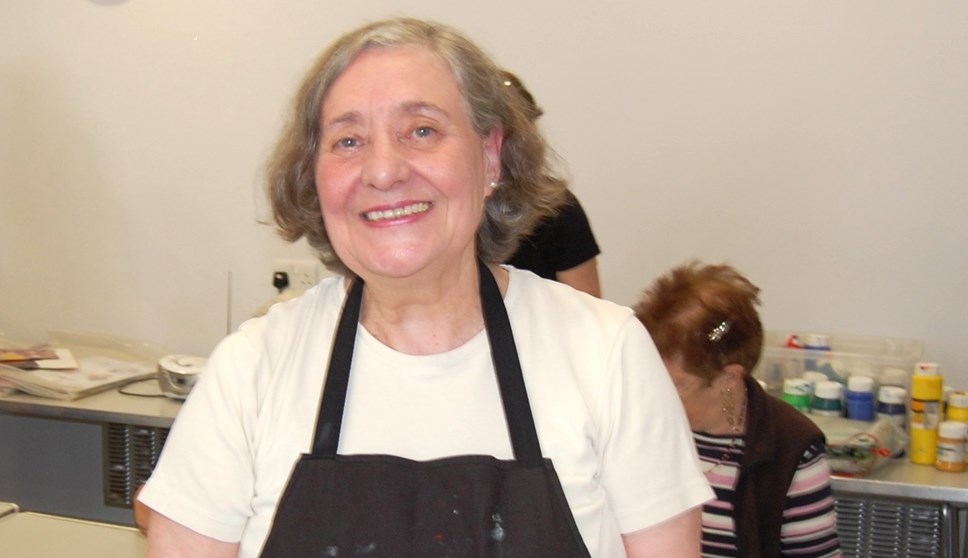 Creativity shines with Islington's estate-based art activities
Islington Council is providing estate-based arts activities through its Arts on Estates project that aims to improve access and engagement to the arts amongst Islington residents.
One group of residents meet every week on the Girdlestone Estate, Archway, for an art class run by artist Marta Corada.
Julie: "I've been coming along to Islington art classes since it started, and I love it. These classes get me out of my house and I've made some great friends.
"I couldn't draw or paint very well before I joined the group, but now I have a lot of work that I'm really proud of, including sculptures made from felt!"
Jessuina: "My husband passed away over two years ago - this class and the friends I have made here have really made a difference.
"We do lots of things together, for example, the class recently went on a trip to Southend together."
Joyce "I've achieved a lot in this class. I'm especially proud of the banner that I made to celebrate Mary Wollstonecraft and the suffragettes."
Cllr Una O'Halloran, Executive Member for Community Development said: "It's great to see that this innovative approach is getting rid of barriers to culture so that residents who might otherwise find it hard to access the arts can explore their talents. The programme also gives people the opportunity to socialise and meet new friends so can even help with their overall well-being."
Apart from the Art Group, there are classes that offer range of activities for different groups:
Singing Well Choir: engaging with people aged 18-80 - targeting residents from all Islington estates
Angel Shed Theatre: engaging with young people and their families
The Galbur Foundation: engaging BAMER young people
Park Theatre: working with residents of working age who are unemployed
Pocahuntas ceramics: engaging with residents of all ages
Girdlestone Art Group: providing arts classes to residents aged 55 and over
For more about arts on estates activities, workshops, courses and events email hcdt@Islington.gov.uk to find out about events, workshops and classes near you.
Media contact information
If you are a member of the media and would like more information please contact:
Islington Council media team – media@islington.gov.uk or 020 7527 2307. Out of hours: 07769 163303
If you are a member of the public with a general question about the council please contact:
Contact Islington – www.islington.gov.uk/contact-us or 020 7527 2000