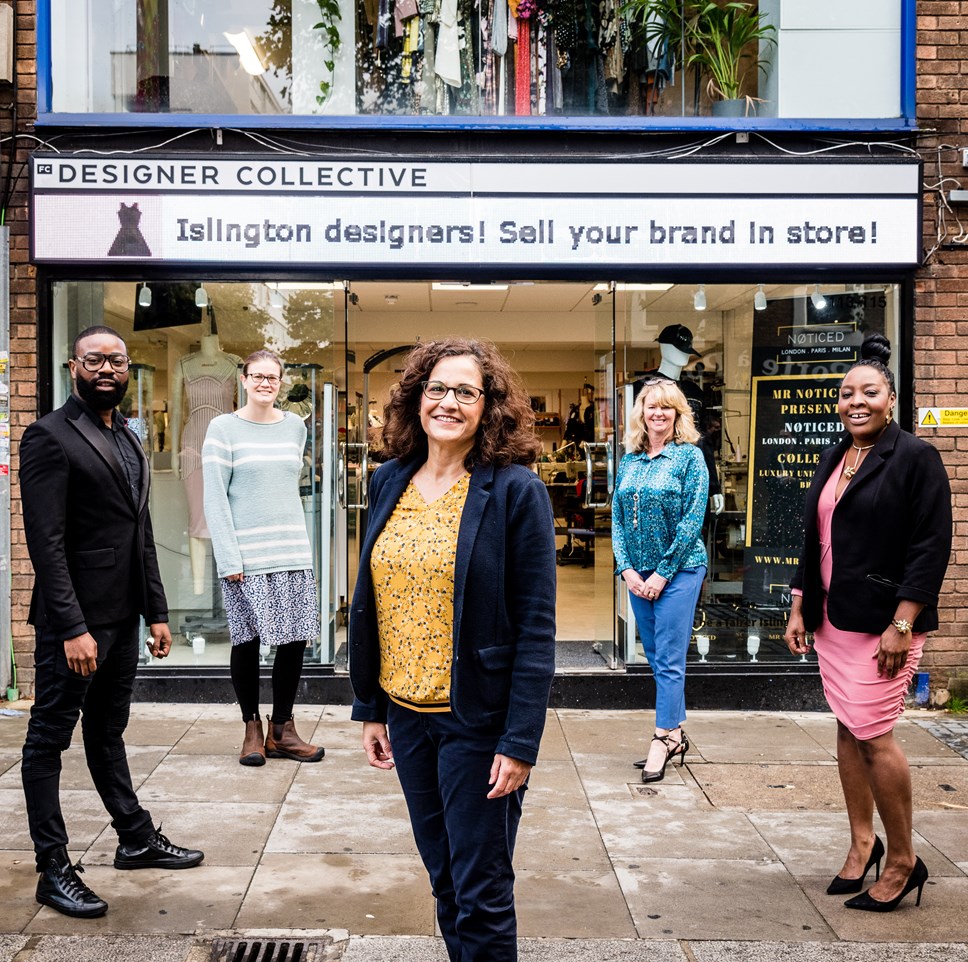 FC Designer Collective: Islington Council and fashion co-operative launch innovative, ethical fashion store in grass-roots economic revival
A retail experience like no other opened its doors today in Finsbury Park – the product of Islington Council's commitment to creating an economy that works with and for local people, building a better Islington in the face of the current global pandemic.
The FC Designer Collective is the result of a partnership between Islington Council, local communities and garment industry co-operative Fashion-Enter.
The shop and workspaces have been co-funded by Islington Council and the Mayor of London's Good Growth Fund. Launched in 2017 and delivered in partnership with the London Economic Action Partnership (LEAP), The Good Growth Fund seeks to make London fairer and more inclusive by strengthening civic networks at local level, encouraging innovation and supporting great design.
Working closely with the local community is at the heart of the endeavour. Over the past 12 months, a local women's sewing group has worked with Fashion-Enter to make sure the project meets the needs of local people. During the Covid-19 crisis, the group has been producing high-quality face coverings, with material provided by Fashion-Enter, and distributing these to local people in need.
As the next stage of the project, Fashion-Enter will now manage the retail space on behalf of Islington Council, providing local designers with a high street outlet to sell their work. In lieu of rent, it also provides business mentoring and training in tailoring and needlework to local creatives and community groups, to help kick-start their careers in the garment industry. Other fashion businesses in the Fonthill Road area are also set to benefit from the alterations service offered in the new store.
Cllr Asima Shaikh, Islington Council's Executive Member for Inclusive Economy and Jobs, said: "I'm thrilled to see the FC Designer Collective open for business. It really is a testament to what can be achieved with a shared vision for Islington's economic recovery to build back better in the post-Covid world, creating a fairer, stronger economy that works for everyone.
"This is unique in so many ways – not just offering an experience you can't find anywhere else, but really as a place that embodies our values. Community is at the heart of this. Running the shop as our first affordable retail space means local fledgling designer-makers can afford to sell their creations direct to the public, and partnering with Fashion-Enter means they can also access quality training and business support.
"Put together – community talent and industry expertise – this is a genuine route into meaningful and rewarding employment for Islington residents – and that is priceless when many in Islington have lost their jobs and need to retrain, or need help kick-starting a new career."
For shoppers, the new store – just moments from Finsbury Park station in Fonthill Road – offers the chance to not only support ethical, sustainable fashion but perhaps even help their neighbour forge a new future for themselves.
Jenny Holloway, chief executive of Fashion-Enter, said: "How forward-thinking is this! Islington is creating its own circular economy of creatives, with the FC Designer Collective providing a space for upskilling, qualifications and a quality place to sell collections.
"I have been in the fashion industry 35 years and this is the first time that such an innovative program has been created to support the future designers of tomorrow."
Jules Pipe, London's Deputy Mayor for Planning, Regeneration and Skills, said: "We're pleased to support this project which will create opportunities for the community, boost the local economy, support small businesses and create jobs which pay the London Living Wage."
The FC Designer Collective store is at 113-115 Fonthill Road, N4 3HH. Opening hours are: 10am-5pm, Tuesday – Saturday.
Notes to editor
FC Designer Collective brands include:
Another Earthling – needle-felted animal and bird masks
Buttress and Snatch – Ethical and sustainable lingerie
Craftiela – handmade, natural and organic bath products
Diva Choice – Statement jewellery and accessories
Hashtag Made IV Me – bespoke and handmade ladieswear with a cultural infusion
Mr Noticed – Luxury menswear
Jannaty – Modesty wear and accessories
Sarah Hill – Greeting cards
The Sundown Society – Ethical sleepwear
Case studies:
1. Tricia Blake, founder of Diva Choice: "Having a physical shop to display my unique pieces has provided a platform for me to grow, which is invaluable. Fashion Enter helps me all the time too with promotion and actually I just couldn't be happier!"
2. Mary Obaseki from Another Earthling: "I live on the Andover Estate and love shopping on Fonthill Road; walking past and seeing my work there is such a great feeling. As a one-woman small business, you take on every aspect and have to learn as you go; that can be overwhelming and quite isolating, so it's a massive blessing to be included in this project. From my products being in a local bricks-and-mortar shop and the mentoring, to just being part of something creative with other like-minded local women, is amazing."
3. Rachel Kenyon from lingerie brand Buttress and Snatch: "I am really excited for B&S to be included in the collective and to take up a place in the shop. It's a great opportunity for us to take part in our local community, having made lingerie and swimwear here in north London for 20 years. We custom-make our pieces individually to each order with a zero-waste system and send them out all over the world, but the physical shop will allow a new and responsive way to work that is full of potential. I am a passionate believer that this kind of small-scale, personal and local approach to clothes making is key for the sustainable fashion that we need for the future."
- More quotes from designer-makers at FC Designer Collective are available on request. Please submit any interview requests to media@islington.gov.uk.
Fashion-Enter:
Fashion-Enter Ltd (FEL) is an award-winning social enterprise which is a centre of ethical garment manufacturing with a leading status in the Fast Forward audit and is also SMETA audited. FEL has a minimum order quantity of 1 for their Fashion Studio service and currently produces up to 12,000-15,000 garments a week for speed of response fashion from their three units in north London. Clients include ASOS, Tesco F&F, Coast, Brora and brands such as Louisa Parris and Matthew Williamson.
FEL launched the UK's first ESFA-approved Fashion Technology Academy in 2015, operating alongside the factory and offering a range of qualifications at Levels 1 to 5, which cover the entire of the 'garment life cycle' including stitching, production, pattern cutting and tailoring. FEL is also the largest training provider of apprenticeships at levels 3 and 4 within apparel manufacturing (fashion), working with employers such as ASOS.com, Marks & Spencer, River Island and Amazon.
In November 2019, FEL launched the Tailoring Academy with funding from the Mayor of London's Good Growth Fund and Haringey Council. The Tailoring Academy is a state-of-the-art clothing manufacturing and training facility, which provides specialist skills, job training and apprenticeships for ready-to-wear and bespoke tailoring.
FEL has opened the FC Designer Collective with support from Islington Council and the Mayor Of London's Good Growth Fund, to provide business support to local brands, working alongside the garment makers and wholesalers of the famous Fonthill Road.
Islington Council:
Islington Council's ambition is to create a strong and inclusive local economy in the post-Covid world, helping to create training and employment opportunities for local residents, and supporting them to grow their businesses, thereby creating more jobs and training opportunities for more local residents. This is achieved through the creation of affordable workspaces in local premises that would otherwise be out of reach of small and micro businesses, and partnerships with organisations that can help us create training and employment opportunities in specific industries, such as with Fashion Enter in the garment industry. As part of this ongoing partnership, the council and Fashion Enter are delivering dedicated sewing and garment workshop spaces on the Andover Estate. The Designer Collective shop space on Fonthill Road and workshop spaces on the Andover Estate have been made possible with £1m of funding from the Mayor of London's Good Growth Fund. For more information on the council's affordable workspace programme, see: https://www.islington.media/news?SearchString=affordable+workspace
The Mayor of London's Good Growth Fund:
The Good Growth Fund is the Mayor of London's biggest regeneration fund and is delivered through the London Economic Action Partnership (LEAP). It provides £70m of capital funding from sources including the Local Growth Fund and European Social Fund, as well as expert regeneration advice, design support and knowledge sharing opportunities. For more information on the Good Growth Fund, see: https://www.london.gov.uk/what-we-do/regeneration/funding-opportunities/good-growth-fund-supporting-regeneration-london/good-growth-fund-supported-projects
The London Economic Action Partnership (LEAP):
LEAP is the local enterprise partnership for London. The LEAP brings entrepreneurs and business together with the Mayoralty and London Councils to identify strategic actions to support and lead economic growth and job creation in the capital.
ENDS