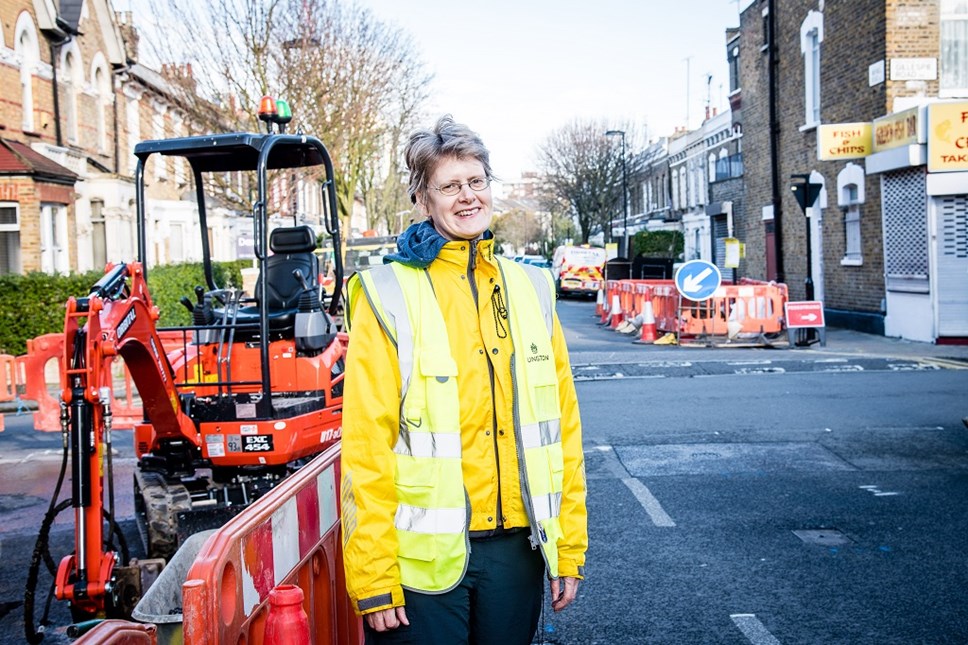 Finsbury Park to Pentonville Road Cycleway will improve walking and cycling in Islington
Work on a new Cycleway stretching from Finsbury Park to Pentonville Road, which will make it easier for local people to walk and cycle, is set to resume.
Cycleway 38 will create a greener, more pleasant space for local people and a convenient, more direct cycle route, making it easier to get around the borough as lockdown measures are eased with more people returning to work and school.
The new Cycleway is part of the council's plans for people-friendly streets, which make it easier to walk, cycle and use buggies and wheelchairs, create more space for social distancing, and are more enjoyable for local people to use.
Cllr Rowena Champion, Islington's Executive Member for Environment and Transport, said: "This innovative new Cycleway will create a more direct, people-friendly route between Finsbury Park and Pentonville Road, making it easier than ever for local people to cycle and walk between these locations.
"Making it safer to walk and cycle enables Islington's residents and visitors to enjoy the beauty of our borough in a way that reduces unnecessary car journeys and therefore cuts down on air pollution and congestion, contributing towards our goal of achieving a net zero carbon Islington by 2030.
"With more people avoiding public transport in light of the coronavirus pandemic, we must act now in order to make it safer and easier for people to walk and cycle, to avoid a rise in motor vehicle use as we come out of lockdown. This is why work on the Cycleway has restarted at the earliest available opportunity."
Work on the northern section of the Cycleway, which runs from Finsbury Park to Highbury Fields, began in February 2020, but had to be stopped due to the Covid-19 pandemic. The council will be in a position to restart the work on Monday, 7 September.
The council will also introduce a new southern section of the Cycleway, connecting to the northern section, which will pass along Liverpool Road, Tolpuddle Street and Penton Street. Work will begin on this part of the route early in September 2020 as well.
The Cycleway, initiated and designed by Islington Council and funded by Transport for London (TfL), will improve conditions for walking and cycling in Islington. Improvements to the transport network include:
Protected cycle tracks
New pedestrian crossings
Wider footways
Safer junctions
More greenery
The Cycleway is due to be completed in autumn 2020 and will extend from Blackstock Road in the north to Pentonville Road in the south of the borough. The north and south sections of the Cycleway will connect on Madras Place, the site of a pre-existing cycle route.
London's Walking and Cycling Commissioner, Will Norman, said: "Enabling more people to travel on foot or by bike is absolutely vital to London's recovery from coronavirus and we're committed to making walking and cycling easier and safer for people in every borough.
"It's fantastic to see Islington starting work again on the new Cycleway between Finsbury Park and Pentonville Road and I'm sure the new route will make a real difference to people's lives as they travel in and around the area. We'll continue to work closely with Islington on our Streetspace plans, which are transforming the capital's streets for walking and cycling."
The implementation of the southern section of the Cycleway will involve work to create "with-flow" cycle lanes – where bikes and traffic move in the same direction.
In order to accommodate this, and to create a more people-friendly environment for walking and cycling, changes will be made to the existing road layout on Liverpool Road, Tolpuddle Street and Penton Street, including the removing of parking bays and traffic islands, and improving signage. Residents in these areas have received a letter about the plans.
The southern part of the Cycleway will be implemented as an 18-month trial under an Experimental Traffic Order, meaning that a decision will be taken at a later date as to whether it should remain in place permanently.
Work on the northern section of the Cycleway will also involve building Islington's first ever 'continental-style' roundabout, which will improve safety for cycling with its protected cycle facilities through the intersection where Benwell Road meets Drayton Park. The junction will also benefit from new zebra crossings, as well as widened footways and raised tables to reduce vehicle speeds, making it easier to walk and cross roads, especially for those who are less mobile or use buggies or wheelchairs.
These new safety measures will help contribute towards making transport in Islington safer in line with Vision Zero, which aims to eliminate all deaths and serious injuries on London roads by 2041.
Media contact information
If you are a member of the media and would like more information please contact:
Islington Council media team – media@islington.gov.uk or 020 7527 2307. Out of hours: 07769 163303
If you are a member of the public with a general question about the council please contact:
Access Islington – www.islington.gov.uk/contact-us or 020 7527 2000