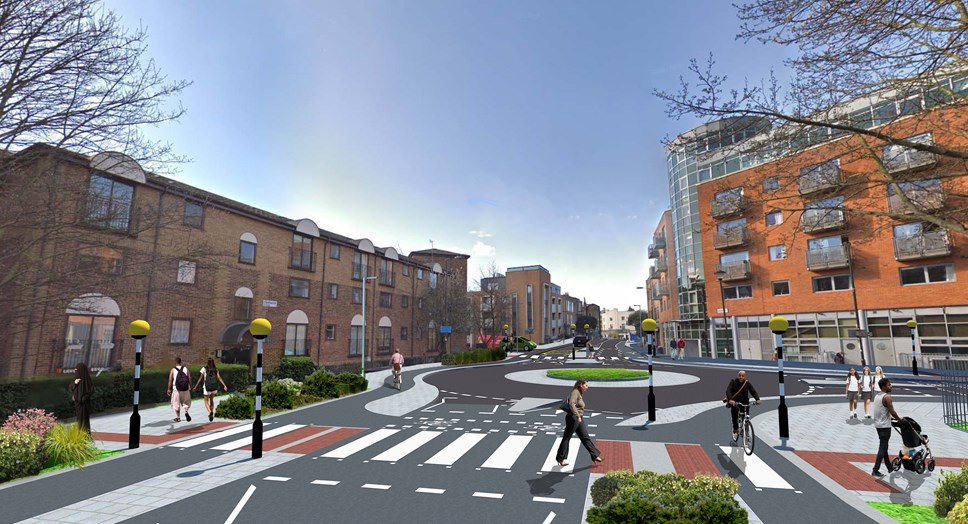 Green Light for new Cycleway between Finsbury Park and Highbury Fields
Islington Council has given the green light to a new Cycleway between Finsbury Park and Highbury Fields.
The project initiated and designed by Islington and funded by Transport for London (TfL), will create a greener, more pleasant environment for local people, with improvements for pedestrians and a convenient, safer, and direct Cycleway for cyclists of all abilities.
The council's Executive approved the scheme last night (Thurs 17 October) after a consultation showed overwhelming support for the scheme.
Improvements to make cycling and walking easier, safer and more enjoyable will include:
protected cycle tracks
new pedestrian crossings
wider footways
safer junctions
more greenery and seating
One new aspect of the scheme is the borough's first-ever 'continental style' junction which is to be installed where Benwell Road meets Drayton Park. The innovative roundabout will significantly improve conditions for pedestrians and cyclists by its inclusion of protected cycle facilities through the intersection, new zebra crossings on all sides of the junction, widened footways and raised tables to reduce vehicle speeds.
While 83% of responses backed the scheme, feedback also highlighted the need to extend the Arvon Road School Street permit area to those impacted by the proposed right turn ban from Horsell Road to Drayton Park. The proposals will also improve safety in line with Vision Zero, which aims to eliminate all deaths and serious injuries on London roads.
The Cycleway is planned to be extended to Farringdon in the south of Islington and into the London Boroughs of Hackney and Haringey in the north. The route will also connect with other routes in London's growing Cycleways network.
Work is programmed to start on the new cycleway in the coming months and be completed by spring 2020.
Cllr Claudia Webbe, Islington Council's executive member for environment and transport, said: "We're committed to creating healthy, fair, accessible and enjoyable transport in the borough and want to encourage everyone to cycle, not just those who regularly do so already. This high quality, new Cycleway rebalances our roads to create a much better, safer, quieter and more direct cycle route between Finsbury Park and Highbury Fields. By providing the infrastructure and supporting measures to make cycling easier, more accessible and more attractive, we can work together to reduce the number of unnecessary car journeys, lowering levels of air pollution and congestion and helping to tackle the climate emergency we all face.
"The introduction of this Cycleway and other more accessible routes for walking and cycling is just one part of the council's commitment to shift towards more sustainable transport across the borough and to meet its target of achieving a net zero carbon Islington by 2030."
London's Walking and Cycling Commissioner, Will Norman, said: "I'm delighted that the plans for a new Cycleway between Finsbury Park and Highbury Fields have received such strong public support. The high-quality route will enable many more people to walk and cycle as part of their everyday routine and unlock adjoining routes - making our streets safer, greener and less polluted."
For full details of the consultation results and accompanying reports, please see here
Media contact information
If you are a member of the media and would like more information please contact:
Islington Council media team – media@islington.gov.uk or 020 7527 2307. Out of hours: 07769 163303
If you are a member of the public with a general question about the council please contact:
Contact Islington – www.islington.gov.uk/contact-us or 020 7527 2000