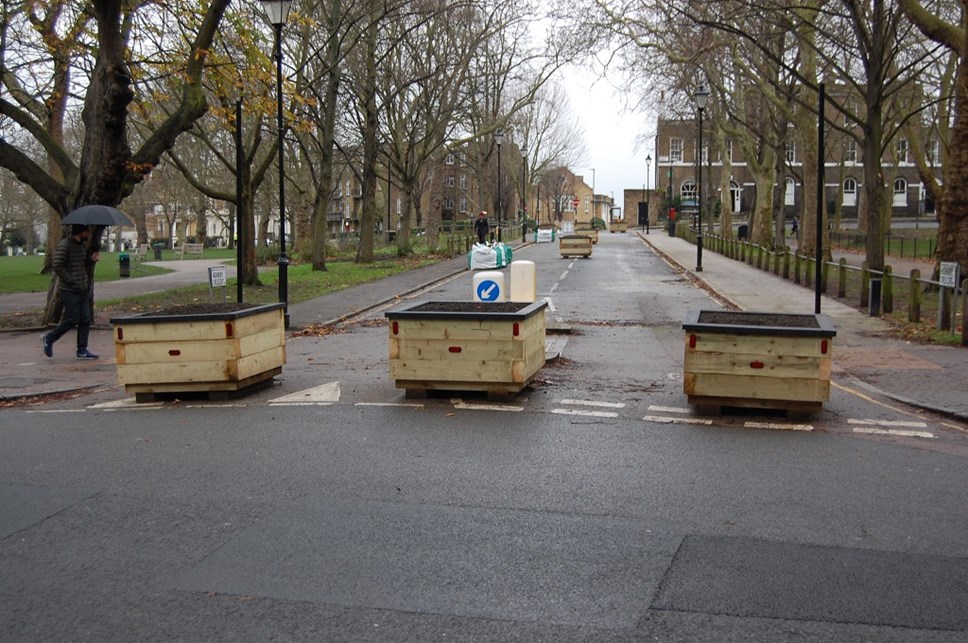 Highbury Fields set to become more attractive space as road changes are made permanent
Islington Council can today (Friday, 4 June) announce plans to improve green space and air quality by reconnecting the north and south sections of Highbury Fields through the permanent closure of part of Highbury Crescent to motor vehicle traffic.
In December 2019, the council, in line with its commitment to creating a safer, greener, healthier borough, launched a consultation on proposals to permanently close the section of Highbury Crescent between Highbury Terrace and Highbury Place to motor vehicle traffic.
An experimental closure was introduced at that time to give local people the chance to fully understand the impact of the scheme before giving their feedback.
The council can now reveal that the consultation, which ran between December 2019 and February 2020, showed support from the local community for the proposals, with 67% of the 996 respondents saying they were in favour. In line with this feedback, the council is now moving forward with plans make Highbury Fields a more pleasant space that people can enjoy without the interruption of cut-through traffic, by making the closure to motor vehicles permanent.
This will support Islington's people-friendly streets neighbourhood schemes in creating a better borough where everyone – including the approximately 70% of Islington households that do not own a car – can walk, cycle, scoot, and use buggies and wheelchairs safely and easily.
Cllr Rowena Champion, Islington Council's Executive Member for Environment and Transport, said: "As part of our ambition to achieve net zero carbon status by 2030, the council is committed to exploring ways to make Islington safer, greener, healthier and fairer for everyone.
"Since its introduction on a temporary basis in 2019, the partial closure of Highbury Crescent to motor vehicle traffic has helped make it more enjoyable and safer for local people to walk, cycle and scoot in Highbury Fields.
"The Covid-19 pandemic and subsequent lockdowns have highlighted the importance of Islington's parks and green spaces to local people but, as a small inner-city borough, we do not have a great deal of available space. By implementing the permanent closure of this section of road to motor vehicle traffic, we can help ensure that Highbury Fields is as pleasant a space as possible for local people.
"Local people are at the heart of everything we do, and they know their streets better than anyone. The positive feedback that they have given us on this scheme has been invaluable in helping us to decide to make the scheme permanent."
The council is working hard to make Islington a safer, greener, healthier borough that is fairer for everyone.
As well as these measures, seven people-friendly streets neighbourhood trials have been introduced, covering 23% of the borough. These include the Highbury West and Highbury Fields neighbourhoods which, along with the Highbury Crescent scheme, will reduce congestion and make it easier to walk, cycle, and scoot in this busy part of the borough.
Meanwhile, Islington has nearly tripled its School Streets programme in the past 18 months, and boasts 35 schemes covering 36 schools.
Notes to editors
The relevant section of road, between Highbury Terrace and Highbury Place, has been closed to motorised traffic since 2014. Between 2014 and November 2019, it was used as a construction compound by Transport for London for the Highbury Corner transformation works.
In December 2019, the council introduced an experimental temporary closure of the road and installed planters on either end of the road, so that local people could fully understand the impact of the scheme during the consultation.