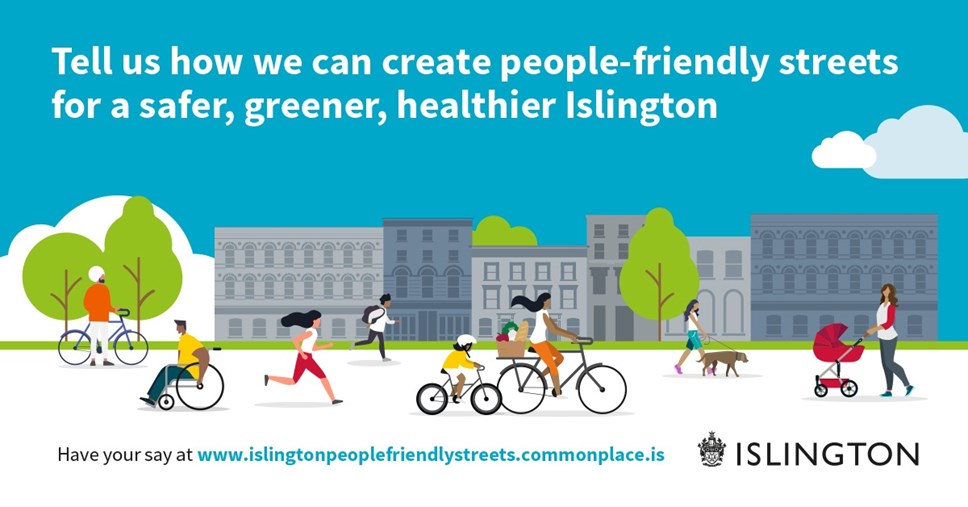 Historic Clerkenwell Green to become Islington's latest people-friendly streets neighbourhood
Clerkenwell Green is to become Islington's latest people-friendly streets neighbourhood, making it a safer, greener, healthier area for all.
To respond effectively to coronavirus, and to create the more-pleasant streets that local people have long been calling for, the council is creating people-friendly streets across the borough.
These streets will be safer and friendlier for everyone, in particular children, young people and those who are vulnerable.
Furthermore, the introduction of people-friendly streets in Islington will create more space to make it easier for all to walk safely, cycle as part of everyday life, use buggies and wheelchairs, and cross roads.
The people-friendly streets neighbourhood in Clerkenwell Green - which dates back to the 12th century and is one of London's oldest public spaces - will make the area more pleasant with cleaner air for local people, while maintaining access for emergency services.
Work on the neighbourhood is set to start on Monday, 7 September, and will involve the implementation of four traffic filters.
Cllr Rowena Champion, Islington Council's Executive Member for Environment and Transport, said: "Islington's people-friendly streets will help to create a better borough for all, making it easier for local people to walk, cycle and use buggies and wheelchairs.
"Clerkenwell Green is one of Islington's most historic sites, and attracts many visitors every day. By turning it into our latest people-friendly streets neighbourhood, we can ensure that it remains an attractive, safe and pleasant space for all.
"We are working at pace to redesign many of the borough's streets, both to create a greener, better borough and to ensure we respond effectively to the Covid-19 pandemic, and we look forward to announcing further details of our plans in the near future."
Clerkenwell Green will be Islington's third people-friendly streets neighbourhood, following on from neighbourhoods in St Peter's and Canonbury East.
In 2017, a public consultation took place on proposals to improve Clerkenwell Green by creating a more pleasant and greener local environment.
The plans for the creation of a people-friendly streets neighbourhood will meet the traffic reduction elements of these proposals, which were supported by a majority of respondents, while the council looks to secure funding for the landscaping changes proposed during the consultation.
The installation of the four traffic filters in Clerkenwell Green will have the effect of removing traffic that currently cuts through the area, ensuring that the popular area is safer, quieter and cleaner for all.
At certain locations, camera-enforced filters will allow buses and emergency services vehicles through.
Residents will not be exempt from the filters, but the area will remain accessible by motor vehicle. Local people with motor vehicles will still be able to drive and park near to their homes, as will visitors and deliveries from outside the area. Routes in and out of the area to main roads may change.
The council consults with emergency services before each people-friendly streets scheme is installed to ensure they can continue to access every street as before. In addition, the council works with the emergency services to monitor the impact of the changes being made to roads.
In making changes to Islington's roads, the council is listening carefully to the views of local residents. In May, the council launched a Commonplace webpage as a forum for local people to give their ideas and suggestions on improving their streets. To date, this has received more than 4,500 comments.
People-friendly streets are part of the council's vision for a safer, greener, healthier borough, and will help achieve our ambitious plans for a net zero carbon Islington by 2030.
Notes to editors
Changes in Clerkenwell Green will involve the implementation of traffic filters on the green at the connecting road to Aylesbury Street, on Sans Walk, and on Corporation Row at the junctions with Clerkenwell Close and Woodbridge Street. Five shared-use parking bays on Clerkenwell Green will also be suspended and relocated on Clerkenwell Close.
The two camera-enforced filters on Corporation Row will allow the 812 bus through, so it can continue using its current route to access The Peel on Northampton Road.
The Commonplace website will remain open and you can continue to comment or add your observations about the measures at https://islingtonpeoplefriendlystreets.commonplace.is/ or you can email us at peoplefriendlystreets@islington.gov.uk.
Media contact information
If you are a member of the media and would like more information please contact:
Islington Council media team – media@islington.gov.uk or 020 7527 2307. Out of hours: 07769 163303
If you are a member of the public with a general question about the council please contact:
Access Islington – www.islington.gov.uk/contact-us or 020 7527 2000