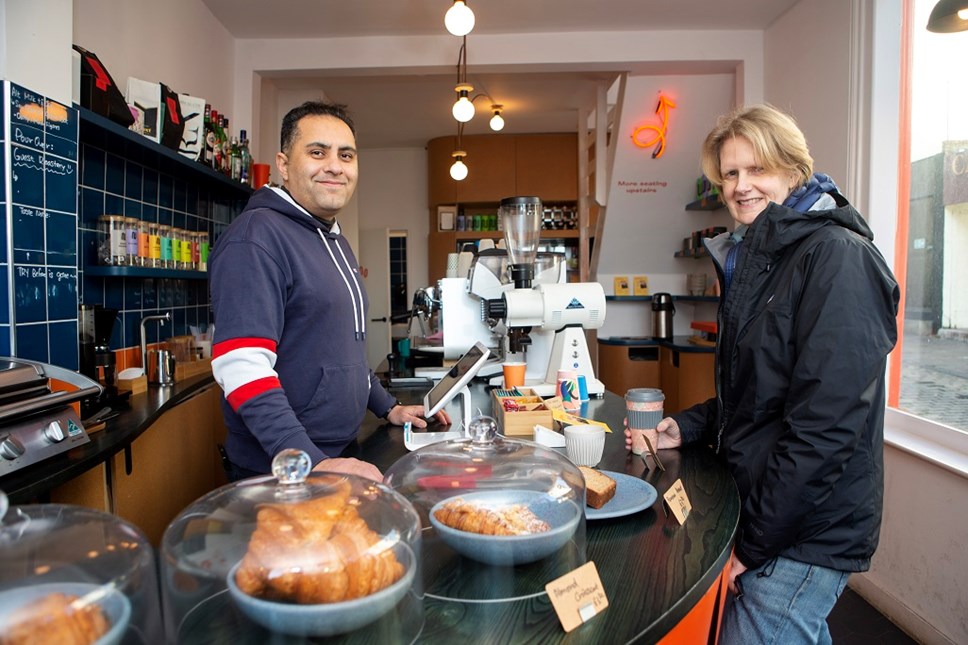 Iconic independent shopping street to benefit from major environmental improvements
Camden Passage - one of Islington's most iconic streets - is set to become the latest area to benefit from improvements that make it cleaner, greener, and healthier for local people and traders.
Filled with unique antique, vintage, and contemporary shops, as well as outdoor markets and cafes, this bustling street has long been loved by local people and visitors alike.
Last year, the council held a public consultation on proposals to improve Camden Passage and the nearby Charlton Place, in which respondents told the council how they wanted additional greening, seating and pavement improvements, with businesses expressing a desire for an assigned loading bay.
Having taken this feedback on-board, the council is now moving forward with plans to make the area more pleasant, welcoming, and environmentally-friendly. The improvements – which are part of the council's broader efforts to tackle the climate emergency and create people-friendly streets – include:
Improving air quality, biodiversity and climate resilience by planting trees and beds. The addition of new seating on Charlton Place, near the passage, will make this a pleasant, inviting area for local people to sit, rest, and chat outside.
To make the area more environmentally-friendly, a timed traffic restriction will be introduced on Charlton Place at the junction with Colebrooke Row. This would limit motor vehicle access to Charlton Place between 8.15am-9.15am and 3pm-3.45pm, seven days a week.
To boost pedestrian safety, a continuous crossing will be created along Camden Passage. New pedestrian areas are also being introduced, with new and more attractive Yorkstone setts. New Sheffield cycle stands will also be introduced.
Creating a safer cycle route to enable people to cycle southeast-bound down Charlton Place, linking to other safe cycle routes.
To support local businesses, the council will introduce a permanent loading bay and reduce the number of short stay bays.
To improve safety and reduce noise pollution, there will be restrictive access for heavy goods vehicles above 3.5 tonnes.
Work on making this exciting vision a reality is scheduled to start on Monday, 20 February, and is expected to take approximately six weeks to complete.
Cllr Rowena Champion, Islington Council's Executive Member for Environment, Air Quality, and Transport, said: "Our people-friendly streets programme is all about creating more pleasant, welcoming spaces that local people can enjoy and that support our efforts to tackle the climate emergency.
"Camden Passage is one of our best-loved streets, and we're committed to continuing to support businesses on it by making the public space a more pleasant, welcoming area. The improvements we're making will make the area more attractive for residents, visitors, and traders through the creation of new green spaces, seating areas and measures that make it easier to walk, cycle, wheel, and use buggies and wheelchairs.
"We know there's still much to do as we seek a more environmentally-friendly future for Islington, and we're looking forward to updating local people on the further steps we're taking to make Islington's community spaces cleaner, greener, and healthier."
The timed traffic restriction on Charlton Place at the junction with Colebrooke Row, the southeast cycle route, and the weight restriction for lorries are all being introduced as 18-month trials, so that the council can respond to feedback from local people once the measures are in place.
Residents living on Charlton Place will be exempt from the timed traffic restriction, and those with an existing parking permit will automatically be provided with a digital permit allowing them to access the street during restricted hours. Blue Badge holders can also contact the council by emailing StPetersLTN@Islington.gov.uk for an exemption to use Charlton Place for access, but not as a through-route, during the restricted hours.