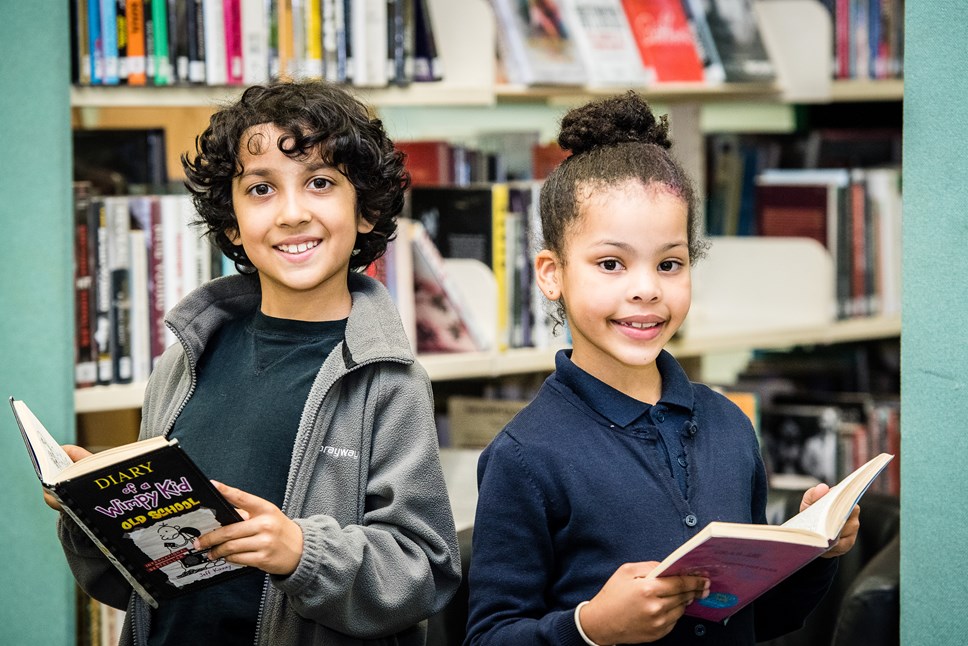 Islington celebrates a stellar performance in the Summer Reading Challenge
Over 900 Islington children have read an astonishing 6,547 books as part of this year's Summer Reading Challenge.
At a ceremony held yesterday in the newly renovated Central Library, medals, certificates and prizes were presented to children who completed the Challenge by reading six library books over the summer. Volunteers were also honoured, including this year's Reading Challenge Champions, aged 13-19, who helped library staff by talking to children about books they were reading and offering encouragement to complete the Challenge.
The Summer Reading Challenge is managed by the Reading Agency and run locally in all ten of Islington's Libraries. The Challenge aims to promote reading for enjoyment, and offers children, young people and their families opportunities to develop a love of reading.
This year's theme was "Space Chase – celebrating the 50th anniversary of Apollo 11". Children received special space themed stickers and rewards each time they finished a book.
Ceremonies will be held in all of the libraries in the coming weeks.
At the same time, attendees celebrated the completion of a programme of renovations to the Central Library which includes:
Redecoration of the ground floor entrance lobby, first and second floor landings as well as all of the staircases throughout the building
New flooring on ground floor lobby, first and second floor landings and all of the staircases
New public toilets on the second floor
Renovation of the 2nd floor Reference library which has been newly fitted with good quality study spaces
The First Steps Learning centre has been relocated from the ground floor to the 2nd floor in a new purpose learning centre.
Cllr Asima Shaikh, Executive Member for Inclusive Economy and Jobs, and the council's lead on libraries, said:
"Congratulations to all our fabulous readers who have taken up the Summer Reading Challenge this year – you have done yourself proud! Thanks also to all the parents, carers and wonderful volunteers who have read with the children, worked with them and encouraged them to complete the Challenge.
"I'm also delighted to see the results of these renovations, and Central Library is looking like a brand new space with a first class study area and a wonderful new First Steps learning centre.
"We are committed to promoting reading because of the positive impact it can have on wellbeing, stress levels and anxiety. Islington was the first place in the country to create a reading strategy and we will continue to support our libraries as an essential frontline service – and as an important way to help children get the life skills they need and build a fairer borough."
Cllr Tricia Clarke, Islington Council's Reading Champion, said:
"Learning to read for pleasure is one of the most useful skills a child can have. Reading teaches children about the world around them and helps them to navigate new situations. Regular reading also improves concentration, boosts educational outcomes and has a positive effect on general wellbeing.
"We're delighted that the take-up of the Summer Reading Challenge has been so high this year. We are passionate about reading in this borough and our libraries are fun places for parents and younger children to read together, which helps build closeness and a lifelong love of reading. I encourage all residents to head down to their local library and see what's on offer!"
The Challenge was sponsored locally by Richard Reeve's Foundation.
Notes to Editors:
903 children completed the Summer reading Challenge in 2019, reading a total of 6,547 books.
The Summer Reading Challenge is for children aged four to eleven.
Media contact information
If you are a member of the media and would like more information please contact:
Islington Council media team – media@islington.gov.uk or 020 7527 2307. Out of hours: 07769 163303
If you are a member of the public with a general question about the council please contact:
Contact Islington – www.islington.gov.uk/contact-us or 020 7527 2000