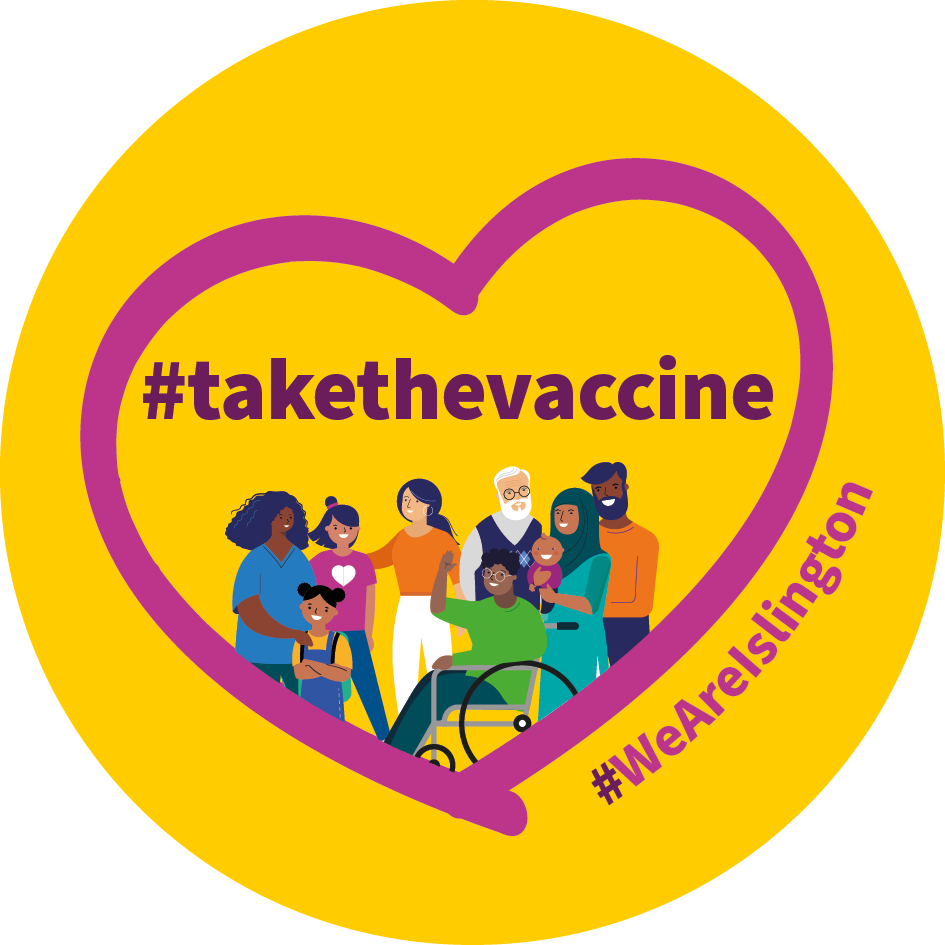 Islington community comes together to encourage local people to take the Covid-19 vaccination
Islington community leaders and celebrities have come together to explain why they are having the Covid-19 vaccination, as part of the council's campaign to encourage local people to get the jab.
The pandemic has turned the lives of people across the borough upside down. Local people have had to make huge sacrifices to slow its spread, but the sad reality is that people are still getting seriously ill and dying from the virus every day.
The vaccination offers a safe, effective way to beat the virus, save lives and get Islington back to normal. Take up in the borough to date has generally been high, and is rising week by week. However, some people are still thinking carefully about whether to have the vaccine, and generally there is lots of discussion about the vaccinations.
That is why Islington Council has brought together characters from across the borough to explain why they are getting the vaccination, and to reassure about its safety.
In a video released today (Thursday, 4 March) singer-songwriter Alexandra Burke, Chief Superintendent Raj Kohli from Islington Police, Mohammed Kozbar from Finsbury Park Mosque, and Pastor Temi from the House on the Rock Community Church explain why they are getting vaccinated to protect themselves and their loved ones.
It also features Islington Mayor Cllr Burgess, registrar Cynthia Green, Nurse Lead Tina Jegede, street cleaner and reggae star Roy Johnson, pharmacist Kere, social worker Yusef, and residents Desree and Cintia.
The video, which can be viewed on the council's YouTube page, is the first in a series of videos that Islington Council is releasing to encourage people to get the jab.
Cllr Sue Lukes, Islington Council's Executive Member for Community Safety, said: "Across Islington, people have been making such huge sacrifices to keep each other safe, and we're so grateful to them for their incredible efforts.
"But we have lost so many people: family, friends, neighbours, and people are still getting seriously ill and dying from coronavirus every day. Vaccination is the best way to protect yourself and the people you love from this virus, and the more people take up the vaccine the sooner we will see life becoming more normal again.
"Having had the vaccination myself, I can reassure people that it was easy to arrange, safe and quick. Although I was one of the unfortunate few to have felt slightly ill afterwards, this only lasted for a couple of days. It's a great tragedy that the vaccination has come too late for so many people, and I urge everybody to get the jab to protect themselves and their loved ones from this terrible virus.
"For those struggling to get their vaccination appointment, there is help and support available through the We are Islington helpline."
The We are Islington helpline remains open to help those in need during the pandemic – including with shopping, collecting medicines, money worries, and help with getting to a vaccination appointment. The helpline can be accessed 7 days a week, 9am to 5pm, on 020 7527 8222, minicom 020 7527 1900 or by emailing weareislington@islington.gov.uk
Notes to editors
The NHS is currently rolling out the vaccine to people aged 65 or over in Islington, as well as those aged between 16 and 64 years with underlying health conditions that put them at an increased risk from the virus. The second group includes those with learning difficulties and serious mental health issues, as well as the primary carers of vulnerable people.
People in these categories will receive a letter inviting them to attend an appointment at a vaccination centre or a community pharmacy. They also have the option of booking an appointment on the NHS's national booking system or by calling 119.
Media contact information
If you are a member of the media and would like more information please contact:
Islington Council media team – media@islington.gov.uk or 020 7527 2307. Out of hours: 07769 163303
If you are a member of the public with a general question about the council please contact:
Contact Islington – www.islington.gov.uk/contact-us or 020 7527 2000