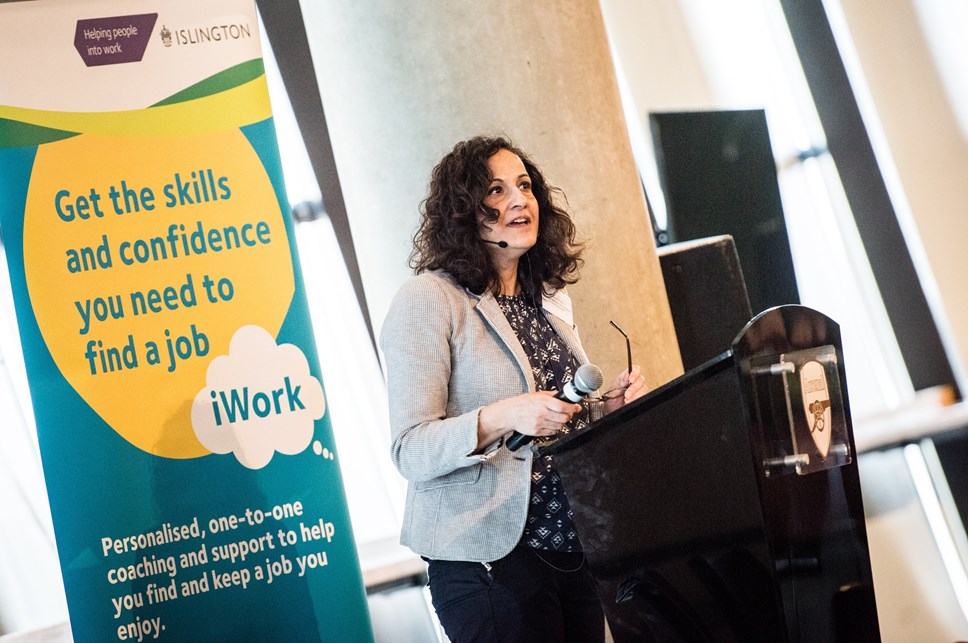 Islington Council and partners help 5,500 people into work – and set sights on ambitious future
An Islington Council partnership has helped change the lives of more than 5,500 local people in the last five years, working with employment support organisations to help them into good quality, secure employment. This week the council has set out how its partnership approach will continue to help at least another 1,000 local people into work every year.
Since the council committed to the recommendations of the ground-breaking Employment Commission report in 2014, it has made great strides towards carving out a fairer employment landscape for local people, and helping them to access the skills and support they need.
Working closely with dozens of local employment advice and support organisations, Islington Council's iWork service helped establish a model of personalised support that has made a huge difference to hundreds of local peoples' chances of securing good quality, long-term and flexible employment.
As a result of the partnership approach, more than 5,500 unemployed local people have found work and many employers now offer jobs specifically to Islington residents, use accessible recruitment methods and have created flexible or adjusted roles, while employment help and advice is focused on those who really need it.
Building on that success, the council has convened Islington Working, the borough-wide employment partnership that this week is inviting up to 90 local organisations already providing some level of employment support to sign up to work together.
The aim of Islington Working is to improve co-ordination and quality assurance, eliminate duplication and fill gaps in provision; resulting in seamless, targeted employment support for local people who need help the most.
Cllr Asima Shaikh, executive member for inclusive economy and jobs, said: "In 2014 Islington's ground-breaking Employment Commission set out a powerful case for the importance of employment in tackling poverty and creating a fairer Islington.
"Over the last five years we have collectively risen to the challenge and changed the lives of more than 5,500 local people by supporting them into work. That is a massive achievement, and we remain committed to working with our partners to ensure we reach the residents who need our help the most.
"Islington has a thriving, diverse and growing economy, but we want that economy to work for and benefit all of our residents. Unemployment is still too high, and there are too many families still struggling to get by on low incomes in our borough.
"By maximising our collective resources, we can provide the seamless, good-quality support that's needed to support at least another 1,000 local people into decent jobs every year.
"Everyone in Islington deserves a good quality job they can thrive in, and all the benefits that brings for them, their families and the wider community. Supporting more local people into work remains a top priority for the council, and we will be building on the legacy of Islington's ground-breaking Employment Commission to make this a reality."
Notes to editors
Case studies of residents who have already been helped to find stable, rewarding employment by the iWork service and/or its partners are available – please contact stephen.moore2@islington.gov.uk.
In 2014 the Islington Employment Commission, the first of its kind in the country, brought together local employers, public services, the voluntary sector and residents to understand the nature of unemployment in Islington and how to bring about significant and long-lasting change.
The Commission also looked at best practice and considered how the most successful interventions can be rolled out across the borough, in partnership with other employers and employment support providers.
So far the partnership has encouraged employers to recruit better locally by adopting more accessible recruitment methods, flexible hours and adjusted roles. More employers are now running apprenticeship schemes, and the council has also improved support for young people so they are better placed to pursue their ambitions and get the careers they deserve.
The council is also developing its Affordable Workspace strategy which will provide 50,000sq ft of genuinely affordable workspace for local small and micro-businesses and entrepreneurs, and routes into employment in less accessible sectors such as tech, creative and STEM industries.
The council's iWork service has also embarked on a major new partnership with Islington's schools and businesses, to guarantee every young person in the borough at least 100 hours' experience of the world of work by the time they leave school – one of the recommendations of the Fair Futures Commission made last year.
Media contact information
If you are a member of the media and would like more information please contact:
Islington Council media team – media@islington.gov.uk or 020 7527 2307. Out of hours: 07769 163303
If you are a member of the public with a general question about the council please contact:
Contact Islington – www.islington.gov.uk/contact-us or 020 7527 2000