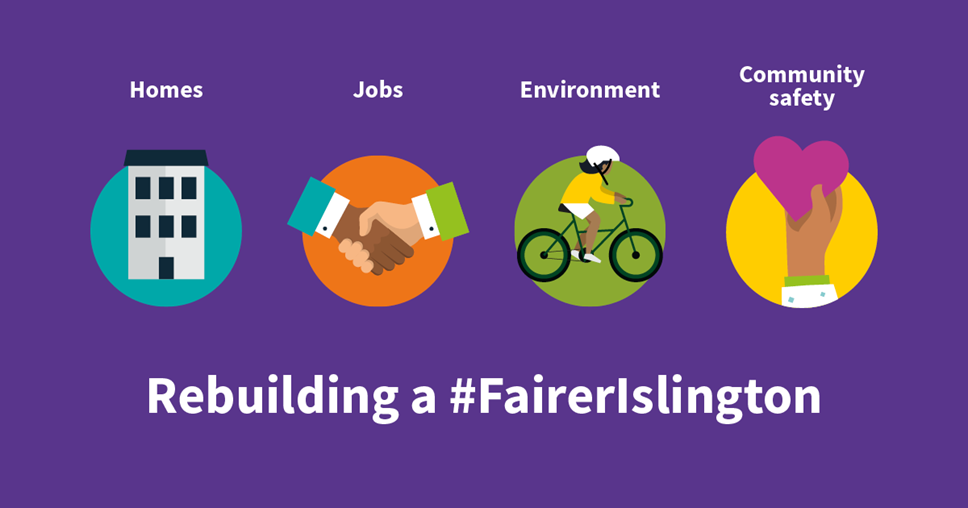 Islington Council Budget builds on work towards a fairer future
Rebuilding a fairer society in the wake of the Covid-19 pandemic – and supporting those hardest hit by its effects – are the cornerstones of Islington Council's Budget proposals for the next financial year.
The council has committed to doing all it can to keep people safe through the pandemic, and support those who need it. The vital We Are Islington helpline, which assisted almost 14,000 people last year, will stay operational for as long as it is needed, helping co-ordinate mutual aid efforts in the borough and deliver food parcels to hundreds of struggling households.
Despite the immense disruption caused by the virus, the council will also continue to press ahead with tackling the climate crisis by working towards a net zero-carbon borough by the end of the decade, and investing in more green projects across the board to create a cleaner, healthier borough.
The authority is also continuing its ambitious Council Housing New Build Programme to provide decent and genuinely affordable new homes for local people.
The proposed budget for 2021/22 includes:
Investing £80million in our ongoing Council Housing New Build Programme. We are on course to deliver 207 new council homes this year, supporting our commitment to build 550 new council homes by 2022 – the largest new-build programme for council homes in 30 years. In all, the borough will benefit from 1,900 new genuinely affordable homes in the borough between 2018 and 2022;
Doing our bit to tackle the climate crisis, we will invest more than £17million in projects to support our Vision 2030 strategy. This includes more than £6million to develop more People Friendly Streets as part of our work to deliver 20 low traffic neighbourhoods by 2023, creating better streets for all and reducing carbon emissions;


Investing £8million on further electrifying the council's vehicle fleet and the supporting infrastructure, installing more than 150 on-street bike hangars, planting more than 400 trees and investing in recycling facilities on up to 30 of our estates;
Continuing to operate the vital We Are Islington response line, assistance programme and food distribution efforts for those affected by the pandemic and most in need. The council stepped in to provide free school meal vouchers for eligible school children over the October half-term following the Government's failure to back footballer Marcus Rashford's campaign to fund them. Since its launch, We Are Islington has assisted almost 14,000 people and demand remains strong.
Boosting our Resident Support Scheme. Already one of the most generous in the country, we will double its award values to help those affected by Covid-19 and Universal Credit, and are protecting other financial support for the most vulnerable, including our Council Tax Support Scheme which currently helps more than 26,000 households;
Continued investment in prevention and early intervention programmes to support struggling families and divert vulnerable children and young people away from exploitation, crime and violence – bringing many long-term benefits. This includes protecting the extra £500,000 investment in targeted support to tackle serious youth violence, which we have committed to every year since 2016/17;
Action to create jobs through innovative programmes that support local entrepreneurs, open up training and routes into employment in the borough, to create a truly inclusive economy. The council's Islington Working partnership will continue to help at least 1,000 local people into work each year;
Several community investment projects, including £1million earmarked for renewing Barnard Park, a £500,000 facelift for the King Square Shopping Area, and improvements to learning and play spaces at Ambler and Hugh Myddelton primary schools.
Despite promises from central government to fund the coronavirus response, the council will also be forced to make savings of £25million in 2021/22, including £14million of new savings, due to real-terms cuts by government to the council's funding. Despite these cuts, the council continues to ensure it protects the services local people value and rely on, and invests in the issues that matter most to local people – including providing free school meals for every primary school pupil, keeping our libraries open, maintaining weekly recycling and rubbish collections and regular street sweeping.
Cllr Satnam Gill, the council's Executive Member for Finance and Performance, said: "The Covid-19 pandemic has had a massive impact in Islington, but it's hit the most vulnerable in our society the hardest.
"I'm incredibly proud of the support we have put in place for those most in need, leading a massive and unprecedented mutual aid effort across the board, not to mention administering the Government's various grant aid packages to help struggling businesses. We will continue with this essential work.
"Despite the Government's promise to do 'whatever it takes' to fund the response to the pandemic, there remains a significant shortfall between what we've received from Government and what we've had to spend in supporting our residents and businesses. We will keep pressing Government to make good on its promise, while also looking to the future.
"This Budget is absolutely focused on rebuilding a fairer Islington in a post-Covid world – building more council homes that local people need, tackling the climate crisis head-on by turning our vision for a net zero-carbon borough into reality, and continuing to invest in an inclusive economy that works for local people, creating job and training opportunities right here in Islington. We are determined to make a fairer future for all."
The budget proposals will go to the council's Executive on Thursday, 21 January, before being debated by full council on Thursday, 25 February, when the council's budget for 2021/22 will be set.
The budget proposals can be read in full at: https://democracy.islington.gov.uk/ieListDocuments.aspx?CId=141&MId=4016.
Notes to editor
Cllr Richard Watts, Leader of Islington Council, will be available to answer questions from residents about the Budget 2021/22 proposals in a Leader's Question Time Budget Special, being held remotely via Facebook Live, at 6.30pm on Monday, February 8. Details on how to join the meeting will be posted in advance on the council's Twitter account (www.twitter.com/IslingtonBC) and Facebook page (www.facebook.com/IslingtonBC).
Media contact information
If you are a member of the media and would like more information please contact:
Islington Council media team – media@islington.gov.uk or 020 7527 2307. Out of hours: 07769 163303
If you are a member of the public with a general question about the council please contact:
Contact Islington – www.islington.gov.uk/contact-us or 020 7527 2000