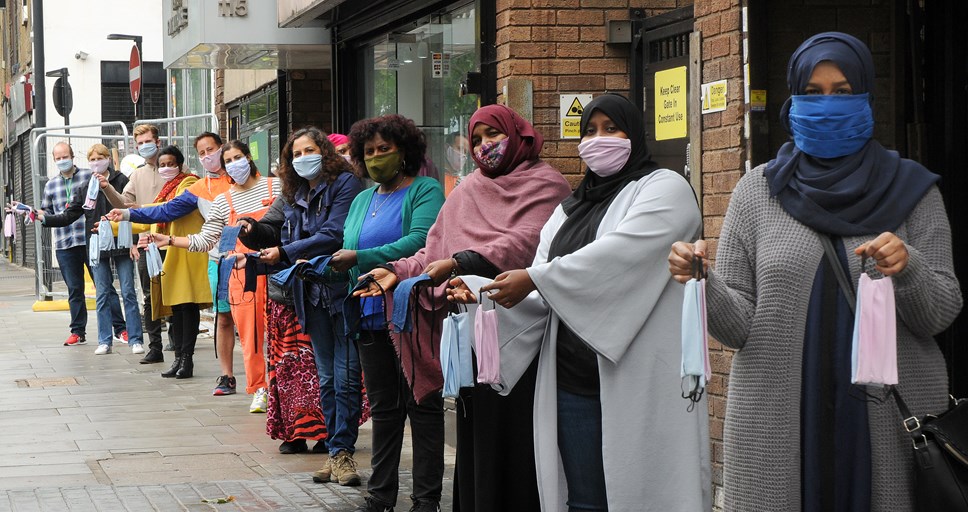 Islington Council helps local sewing heroes in fight against coronavirus
Grass-roots community sewing groups have banded together to produce more than 500 face masks for vulnerable residents in Islington during the lockdown, learning vital skills that have opened up employment and training opportunities.
The community-driven project is made up of people from all walks of life who belong to various sewing groups in the area, some with sewing skills and some without.
The Finsbury Park Women's Network helped to co-ordinate the volunteers and word of the group's ambitions quickly spread. The council connected the group to its garment industry affordable workspace provider, Fashion Enter, which donated the first batch of material to them. They were then joined by the local mutual aid group. From there the group worked their sewing magic, driven by their desire to help others.
With help from experienced machinists and community group leaders from a range of black and minority ethnic support groups, they were able to introduce volunteers to courses and employment opportunities via Fashion Enter.
One of the seamstresses, Dehab Asfaha, told us: "I wanted to do something to help during the crisis. So I used my sewing and knitting skills to make masks and help the community. It kept me busy during lockdown and it made me happy to know I was doing something to help.
"It might not seem like a big deal, but sometimes small things can make a big difference. I made over 180 masks from the materials donated to us. I'm still making face coverings and distributing them in the Finsbury Park community."
Cllr Asima Shaikh, the council's executive member for inclusive economy and jobs, said: "Islington has a unique community spirit; something as terrible as coronavirus was always going to challenge us to show our best side, and these sewing groups are among many grass-roots responses that really demonstrate our strength in adversity.
"I was very keen to support them every way we could, and am pleased to see how it's made a real difference to people's lives. This is the definition of an inclusive economy; not only have hundreds of essential masks been made locally for people who need them, but these women are developing skills that will enable them to access employment and training opportunities right here in the community with our affordable workspace provider, Fashion Enter."
The council is working in partnership with Fashion Enter to create employment and training opportunities for local residents. If you would like to learn to sew or brush up on your sewing skills, Fashion Enter have spaces left on their free level 1 and level 2 sewing courses. To find out more, email esme@fashion-enter.com.
Notes to editor
As part of an ongoing partnership, the council is working with Fashion Enter to deliver dedicated sewing and garment workshop spaces on the Andover Estate and a new and innovative community retail space on Fonthill Road, which will create employment and training opportunities for local residents, and is part-funded by the GLA.
Interviews with other members of Finsbury Park Sewing Group can be arranged on request.
Media contact information
If you are a member of the media and would like more information please contact:
Islington Council media team – media@islington.gov.uk or 020 7527 2307. Out of hours: 07769 163303
If you are a member of the public with a general question about the council please contact:
Contact Islington – www.islington.gov.uk/contact-us or 020 7527 2000