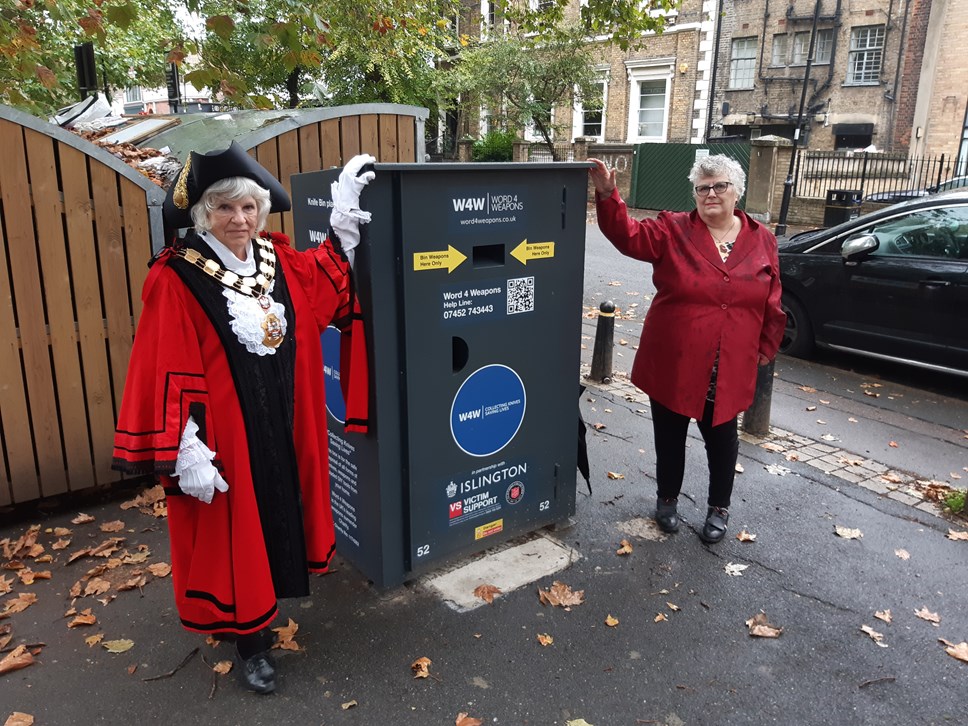 Islington Council launches six new knife bins to provide a safe place to surrender knives
Islington Council has partnered with leading weapons surrender charity Word 4 Weapons, to install six new knife bins around the borough. The bins provide a safe and anonymous way for people to dispose of knives, reducing the risk of them being used as a weapon or to cause harm.
Despite a recent reduction in the number of knife crime offences in Islington, knife crime remains a serious concern in the borough and around London as a whole. There were 554 knife crime offences in Islington between 1 April 2019 and 31 March 2020.
Installation of the new knife bins comes after the success of the borough's first knife bin at St Mellitus Church in Tollington, installed in October 2018, which collected over a thousand knives within the first six months of its installation.
Word 4 Weapons will also provide an education package including awareness sessions and educational resources for schools and youth workers. When the knives are collected in the new bins the blades will be melted down and the metal reformed into awards recognising individual or group contributions within the local community.
Two of the new knife bins have been funded by The Arsenal Foundation, and one by the Old Street District Partnership. Through Arsenal in the Community, the football club also helps to tackle knife crime in the borough by delivering a wide range of programmes that engage young people and encourage them to make positive life choices.
The additional locations around the borough will allow more people to access a bin if they need it. Anyone wanting to dispose of a knife should remember to:
Carefully wrap the knife, blade or tool in cardboard (such as an old cereal box) and secure with a strong tape such as duct tape or parcel tape. Use enough cardboard and tape to prevent the knife from piercing through, and do not handle the sharp bladed side of the knife.


Take the knife, blade or tool directly to a knife bin and carefully place in the hole between the two yellow arrows.


Remember, it is a criminal offence to have a knife or blade in a public place but it is reasonable to be in possession of it when it is securely wrapped and going directly to a knife bin, so please dispose of the knife directly.
The new knife bins are part of the council's ongoing work to prevent knife crime, including the UK's first 'No Knife Shop' scheme. There is also guidance available on the council's website for parents and carers who are concerned that their child could be getting involved in knife crime, including a guide produced in partnership with local police and the Ben Kinsella Trust.
Cllr Sue Lukes, Executive Member for Community Safety, said:
"The council is committed to building a safe and cohesive borough, and crime prevention is an important part of that. For those affected, the impact of knife crime can be devastating, and every knife safely taken off of our streets could be another life saved.
"These new knife bins will give people the opportunity to safely and anonymously dispose of any knives that could be used as weapons, or to harm someone. So whether you're just looking for a safe way to get rid of an old kitchen knife you no longer need, or if you want to surrender a blade you're concerned could be used inappropriately, please put it safely in a knife bin."
Camara Fearon, Charity Manager of Word 4 Weapons, said:
"Word 4 Weapons views education as an integral part of the solution in reducing the number weapons from our streets and tackling the level of violence in our communities.
"When a knife crime incident occurs, it affects a much wider group of people. We often forget it can affect both the victim, the perpetrator, friends and family and the local community.
"Our mission is to help create safer communities in which to live and work through education and by promoting the voluntary surrender of knives and other weapons.
"We look forward to working with our Islington partners in furthering this invaluable community work."
Notes to editor:
Central Street, outside Finsbury Leisure Centre
Stanmore Street, outside Cally Pool and gym
Highbury Crescent, outside Highbury Leisure Centre
Hornsey Road, outside Sobell Leisure Centre
Hornsey Road, by the bridge near to the Emirates Stadium
St John's Way Archway, close to Caxton House Community Centre
Media contact information
If you are a member of the media and would like more information please contact:
Islington Council media team – media@islington.gov.uk or 020 7527 2307. Out of hours: 07769 163303
If you are a member of the public with a general question about the council please contact:
Contact Islington – www.islington.gov.uk/contact-us or 020 7527 2000