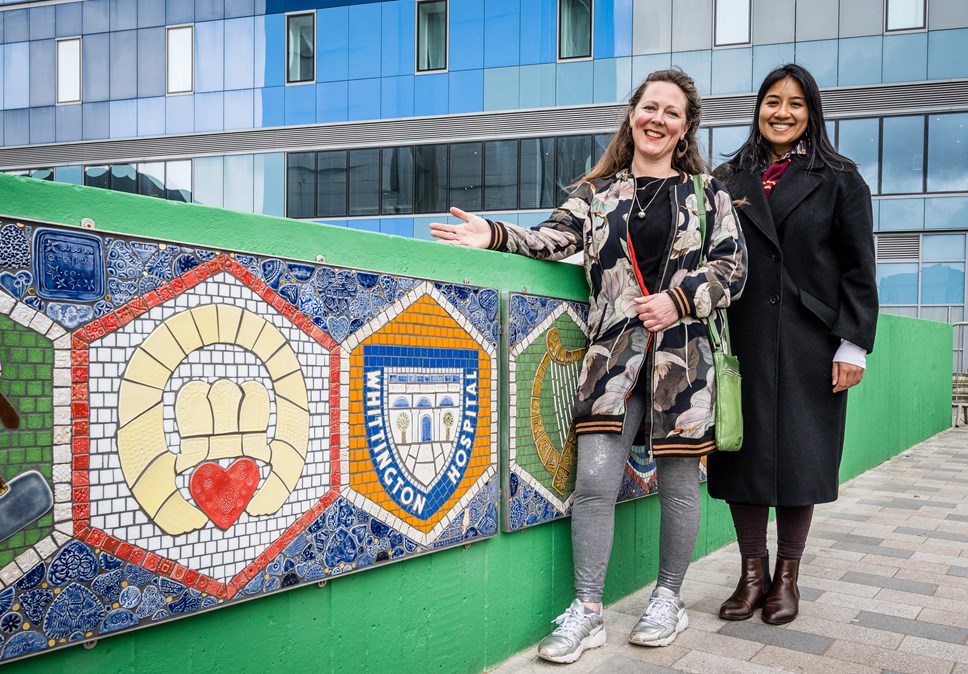 Islington Council unveils a new mosaic in Archway dedicated to the Irish community
Islington Council has unveiled a mosaic at Navigator Square in Archway celebrating the huge contributions of Irish people to life in the borough.
The piece was commissioned by the council, and created by artist Maud Milton, to pay tribute to Irish heritage and culture, which has played an important role in Islington's history. The council also hopes that the mosaic will be an attraction that helps to animate Navigator Square and bring visitors to the local economy.
Archway is of particular historic significance for the Irish community, as many generations of Irish Londoners have made their home there. Navigator Square takes its name from the Irish 'navvies'– construction workers who moved to England in the 19th Century - who settled there. The nearby Whittington Hospital is also known to have employed many Irish nurses.
The mosaic was unveiled by Irish Ambassador to the UK, Martin Fraser, and the Mayor of Islington, Cllr Marian Spall, on Wednesday 22 March.
Many of the tiles in the piece were hand-made by Year 5 pupils from St Joseph's, Yerbury, Hargrave Park and St John's Upper Holloway Primary Schools. The tiles make up nine panels, which depict the lives of Irish navvies and nurses, as well as important aspects of Irish heritage such as coins, national symbols and traditional Celtic art.
Cllr Roulin Khondoker, Executive Member for Equalities, Culture and Inclusion said: "In Islington, we stand with our communities to make sure they feel connected, and we are proud of the diversity and inclusion that exist here. It is so important that we recognise and celebrate each other's cultures, so I am delighted to see this mosaic installed celebrating our wonderful Irish community. Local people have been at the heart of this project, and I hope that they will enjoy the finished piece for many years to come."
Artist Maud Milton said: "I had a wonderful experience working with Islington Council to create this mosaic. Community is central to all my work, and I'm delighted that four local schools could contribute hundreds of hand-made tiles to this mural. I recently traced my own Irish heritage, and I hope this will inspire the people of Archway to feel connected to their own heritage too."
Clare McFlynn, Executive Headteacher, St Joseph's Catholic Primary School said: "At St Joseph's we have many staff and pupils of Irish heritage, and many more without. But the heritage in our community belongs to all of them. We were delighted to work with Islington Council on this mosaic and that the values of collaboration and community are forged both inside and outside the classroom. As we say in Irish, go raibh míle maith agaibh, thank you all very much."
Notes to editors
The mosaic was created and designed by Maud Milton, Lead Artist of Artyface Community Art, with lead design by artist Catherine Clark. They were assisted by Rebecca Tyndall and core volunteers Liamons Grinsberg, Eniko Leanyvari and Esme Orssich.
Bunhill artist-in-residence Georgie Fay, Irish bodhrán player Ruairi Glasheen and council officers have visited participating schools to deliver lessons about local Irish heritage and culture. Each child created several mosaic tiles which can be seen throughout the mural.