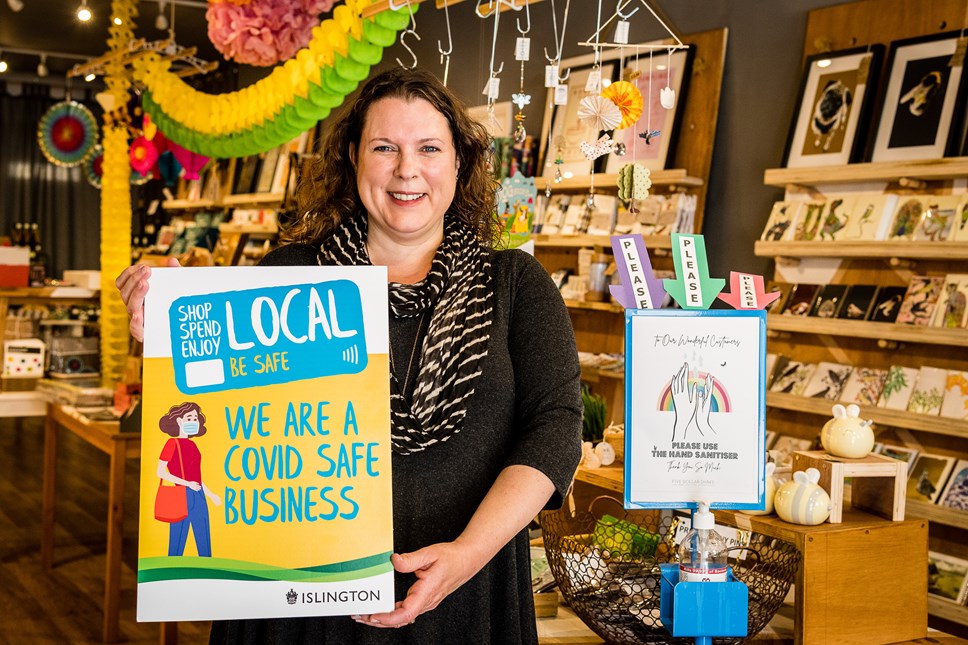 Islington Council's Covid-Safe Business Award scheme gives shoppers the confidence to return to the high street
Almost 1,000 high street businesses in Islington have got behind an award scheme that lets them show visitors they're following all Covid-Safe guidelines, in the council's latest move to safely revive its town centres.
After a difficult year, Islington Council is supporting local businesses to reopen and welcome customers inside again in a safe and secure fashion. It is fantastic news for businesses and everyone they employ, but with safety the top priority the council decided to roll out the Covid-Safe Business Award scheme, giving customers the confidence to return to the high street.
Local people can be reassured that all premises displaying the prominent 'We are a Covid-Safe Business' window sticker have been assessed by the council's public protection team as following the current guidance on safety for both customers and staff.
Jan Hart, the council's Director of Public Protection and Regulation, said: "The last 16 months have been the toughest in living memory for the majority of businesses in our high streets, and we have been working extremely hard behind the scenes doing everything we can to support them through the pandemic.
"With lockdown restrictions easing, it is vital that local people know how they can enjoy their local area while still protecting Islington. The window sticker scheme is a great way for the council to continue that support by boosting public confidence in our high streets so they can return to being the thriving – and most importantly safe – hubs of our community.
"These eye-catching signs, already in hundreds of traders' windows, are small but important beacons of reassurance for visitors – a kite mark confirming the business is following all the current guidance on safety.
"We have had a fantastic take-up for this scheme among traders so far, and I must thank them too for playing their part in keeping the borough safe.
"I urge any businesses who have not done so already to request a visit from us to advise on safety and help them get accredited too. This is one of many measures we are taking to help bring our high streets and communities back to life safely."
Supporters of the scheme include Joanna Phillips, manager of the Children's Air Ambulance charity shop in Junction Road, Archway, who said: "We have missed our customers during the pandemic closures, and as the safety of our customers is our highest priority, we want to let them know that it is safe to shop and donate.
"We have installed screens, hand sanitiser stations, social distancing signage and other health and safety measures. We had fantastic support from the local community before the lockdowns and I thank them for that. My hope now is that it will continue now that we have reopened."
Pas Bertolino, of Stasi Barbers & Academy in Junction Road, said: "We welcome the scheme, which will help give residents the confidence to return to their high streets and support local businesses."
Esther Phelpotts, shop manager at Crisis in Stroud Green Road, Finsbury Park, added: "We are really happy to have completed the Covid-secure premises check. People's health must be put first, and this provides assurances that shops and businesses are getting it right."
Georgina Black, of Pretty Shiny Shop in Stroud Green Road, said: "I've worked very hard from the beginning of the pandemic to adapt and provide a safe place to shop. It has been a hard year for everyone and I really want to get our high street back to being busy again, so it's great to have this bright yellow sign as a little beacon beckoning you into my lovely, safe shop to have a browse."
The Covid-Safe Business Award scheme is one of several ways the council has supported local businesses and helped to protect jobs since the first national lockdown last March.
Since the first UK lockdown at the end of March 2020, the council has:
awarded approximately £110m in business grants with funding from Government to businesses;
made more than 15,000 visits to businesses to ensure compliance with current safety guidance;
dispatched 5,000 'Welcome Back' packs of floor stickers and social distancing posters;
issued 138 pavement licences to hospitality businesses to support their reopening.
The council has also introduced a new online business directory, My Virtual Islington, to help businesses promote themselves for free and enable residents to find independent shops, cafes, pubs, restaurants, markets and services wherever they are.
Anyone with concerns that a business is not operating within the Government's safety guidelines should email commercial.envh@islington.gov.uk
Notes to editor
My Virtual Islington can be found at www.myvirtualneighbourhood.com/islington
Businesses that would like to receive a business support pack, or to request a Covid-Safe Business Award assessment, should email covidconcerns@islington.gov.uk
Businesses seeking general advice on Covid compliance should email commercial.envh@islington.gov.uk
Media contact information
If you are a member of the media and would like more information please contact:
Islington Council media team – media@islington.gov.uk or 020 7527 2307. Out of hours: 07769 163303
If you are a member of the public with a general question about the council please contact:
Contact Islington – www.islington.gov.uk/contact-us or 020 7527 2000