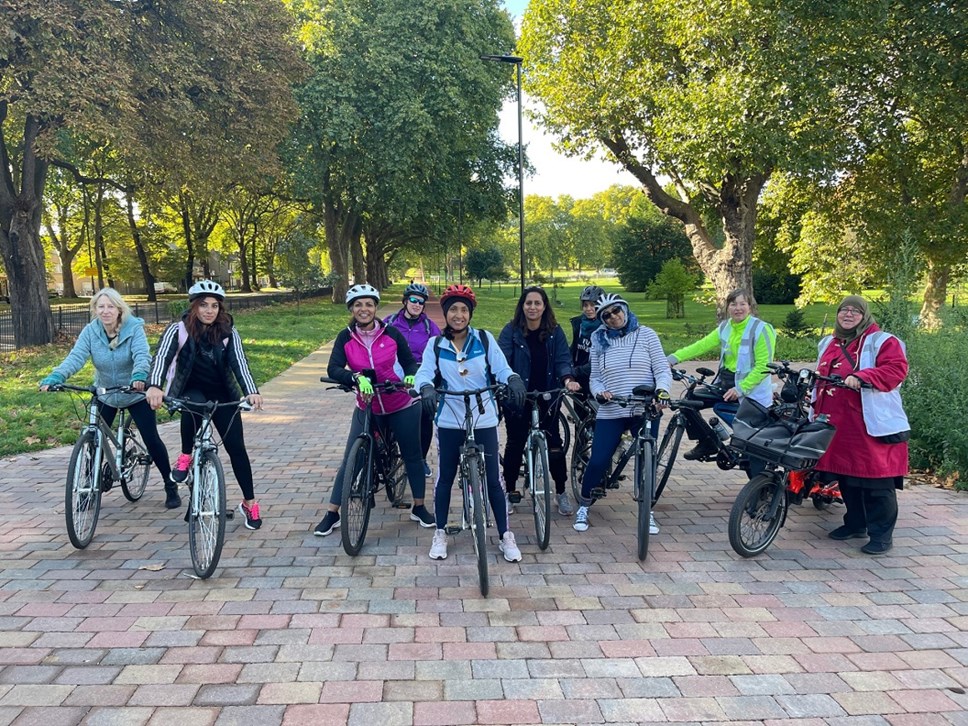 Islington holds 'Saddle and Sole' festival to mark World Car Free Day
Islington Council is marking World Car Free Day by holding a festival of walking and cycling, as part of their ongoing efforts to create a greener, healthier borough.
To mark World Car Free Day this week, Highbury Fields will host "Saddle and Sole: Festival of Walking and Cycling", from 12pm to 6pm on Sunday, 24 September. The free festival has been planned with inclusivity at its heart, and will host a range of activities for people of all ages and abilities, including a showcase of vintage bikes, guided walks, static-bike racing, face painting, and a bouncy castle for families.
As part of the festivities, Islington Council is putting on free guided group cycle rides around the borough at a safe and easy pace. Spaces on these rides can be booked via the council website. The bike mechanics Dr Bike will also be on hand to offer free bike-checks.
The festival supports the council's mission to reimagine its streets, improve air quality, and to show how streets can be quieter, safer and more enjoyable for local people. The event also offers the opportunity to experience the health and wellbeing benefits of walking, cycling, and wheeling – such as incorporating exercise into daily life.
As well as marking Car Free Day, the council also runs a Play Streets scheme – which give communities the opportunity to apply to temporarily close off their streets to motor vehicle traffic, to create space for children to play and for communities to come together.
Cllr Rowena Champion, Islington Council's Executive Member for Environment, Air Quality, and Transport, said: "As a council, we're committed to working to promote a cleaner, healthier and ultimately more equal Islington. Through our School Streets, upcoming liveable neighbourhoods, and improvements to pavements and pedestrian crossings, we're paving the way for a greener, more inclusive borough.
"World Car Free Day is a fantastic opportunity for people around the world to re-imagine the streets around us, and to enjoy the physical and mental health benefits of active travel.
"As part of this year's celebrations, we're delighted to be holding the Saddle and Sole festival, giving people of all ages and abilities the chance to experiment with healthier modes of transport."
JoyRiders, an organisation that helps women of all ages and backgrounds discover cycling, will be hosting one of the many stalls at the festival, with bikes for women to try out.
Their CEO, Miriam Draaijer, said: "JoyRiders is all about community, friendship, and empowering women. Riders benefit from being out in nature, socialising and discovering new places.
"Cycling gives me energy, saves me money and is a fast and convenient way to travel around London. The roads are nice and wide in Islington and the side streets are lovely and quiet. There are beautiful green spaces, like Highbury Fields, as well as lots of nice buildings to look at when cycling through."
Notes to editors
Activities at the Saddle and Solefestival include:
All ability cycling with Pedal Power Cycling Club
Joyriders – women's cycling group
Pop-up stalls from local shops
Free bike checks with Dr Bike
Family fun activities including face painting
and a bouncy castle
Second hand bike market
Rollapaluza static bike racing
Showcase of vintage bikes
Guided bike rides around the borough – book your place on the council website.
Guided walks – sign up on the day
Free bike security marking