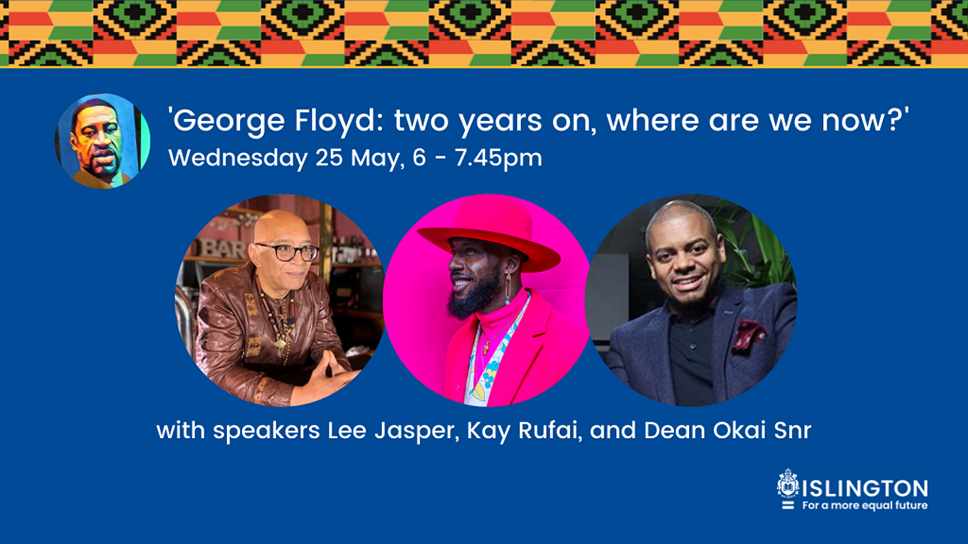 Islington marks anniversary of George Floyd's death with online Black History Working Group event
To mark two years since George Floyd's death, Islington Council's Black History Working Group is hosting an online event, named 'George Floyd: Two Years On, Where Are We Now?'.
Two years ago on Wednesday (25 May), the world reacted with horror, anger and sadness after George Floyd was killed in Minneapolis.
As part of the council's ongoing commitment to challenging inequality, Wednesday evening's event will be a critical and reflective conversation about race, inequalities and more.
With guest speakers including social justice campaigner Lee Jasper, founder of the internationally acclaimed S.M.I.L.E-ing Boys projects Kay Rufai, and Dean Okai Snr, founder of the African Diaspora Public Affairs Committee (ADPAC) CIC, the event will be open to the public. The event runs from 6pm to 7.45pm, and residents are welcome to register via Eventbrite.
Cllr Roulin Khondoker, Islington Council's Executive Member for Equalities, Culture and Inclusion, said: "The anniversary of George Floyd's tragic and brutal murder is another painful reminder of the work that still needs to be done to tackle inequality.
"We know that the pain, anger and sense of injustice is just as strong today as it was two years ago, and our thoughts are with our Black, Asian, and minority ethnic communities near and far.
"Hate and discrimination have no place in this borough, and as a council we continue to work tirelessly to make Islington a more equal place for everyone. It's vitally important that we continue to have open, critical, and reflective conversations on these issues, and Wednesday's event will be provide the opportunity to do just that."
Islington Council is committed to making the borough a more equal place where everyone, regardless of their background, can realise their potential and enjoy a good quality of life.
Challenging inequality, racism and injustice is at the heart of this, and further information on Islington's Challenging Inequality strategy can be found on the council's website.
Media contact information
If you are a member of the media and would like more information please contact:
Islington Council media team – media@islington.gov.uk or 020 7527 2307. Out of hours: 07769 163303
If you are a member of the public with a general question about the council please contact:
Access Islington – www.islington.gov.uk/contact-us or 020 7527 2000