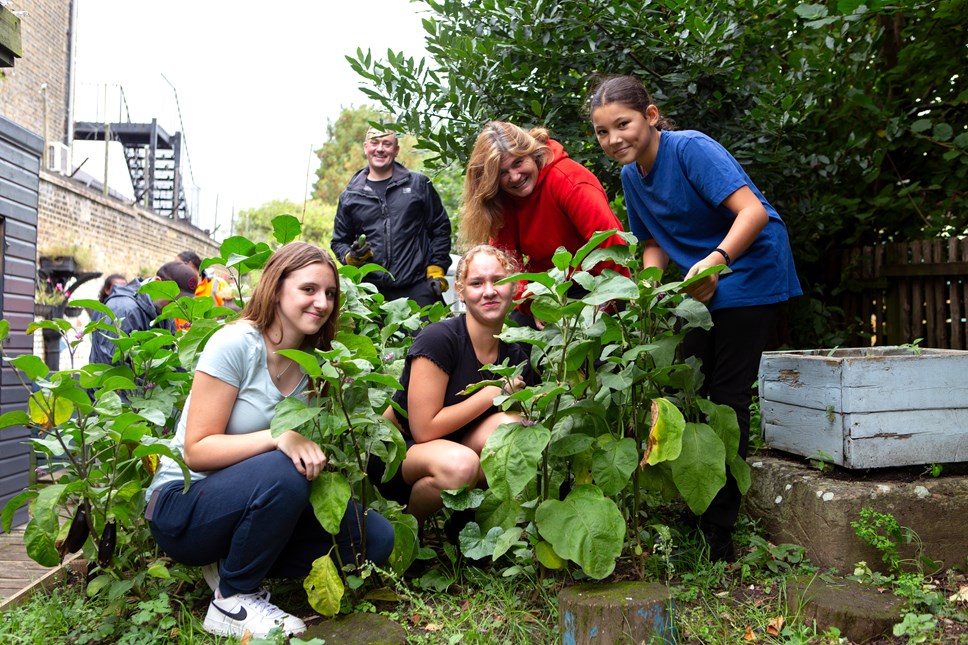 Islington residents, businesses and community groups recognised in 20th Islington in Bloom
People across the borough have been recognised for their efforts to create a greener, healthier, more biodiverse borough for Islington in Bloom's 20th year.
The competition, which is run jointly by Islington Council and Islington Gardeners, provides an opportunity for local people to support the council's efforts to tackle the climate emergency and create a more environmentally-friendly, equal borough.
This year, to celebrate the 20th anniversary of the competition, the council's parks department joined up with the fostering team to distribute 15,000 packets of calendula seeds to each primary school child in the borough, to encourage the next generation to take an interest and get involved in gardening, so they can benefit from the range of physical and mental health benefits of working with nature.
This year, judges were looking for entries that weren't necessarily 'perfect' looking, but that promoted biodiversity and habitats for wildlife and pollinators.
The judges created a new category this year of Best Street, and 2023 saw the return of the Pattenden Wildlife Award, celebrating Nany Pattenden who founded Islington Gardeners.
The winners of 2023 Islington in Bloom are as follows:
Blooming Business - Angel Central
Childrens planting - Pooles Park Primary School
Best Community Garden - Lever Street Community Garden
Best Container Garden - Louise Souter
Best Edible Garden - Lumpy Hill Adventure Playground
Best Front Garden - Simon Ricketts
Best Housing Community Garden - Residents of Montague Court
Best Parks Community Garden - Arlington Square Gardens
Best Street - Killick Street Community Planters
Best Tree Pit - Annita Clinton
Window Box - Patricia Jordan
Pattenden Award for most wildlife friendly entry – Lumpy Hill Adventure Playground
This year's Best Edible Garden category was won by Lumpy Hill Adventure Playground, a free outdoor play space where children come after school and in the summer holidays to play, build structures, cook on camp fires, and socialise.
The team have created a gardening project which sees children planting, tending and picking a range of vegetables, herbs and fruits, which they then help to prepare and cook into healthy and nutritious food.
Kerry O'Connor, the Playground Co-ordinator said: "A lot of the children who come here don't have a garden or even a balcony, so this is their only access to nature. Some kids come here to play and hang out, but over time they get more curious about the garden, and begin to get more involved. Many have no idea how fruit or vegetables even grow, so its amazing to see them getting enthusiastic about harvesting the food, which they are then more keen to try when we cook with the produce.
"We are lucky to have some amazing volunteers, Michal and Paul have been coming here for years to work on the garden, teach the kids some gardening skills, and maintain the whole space. We couldn't do it without their hard work and dedication."
Islington Council was also recognised in London in Bloom, winning a host of awards including the Category Winner for Best Community Engagement, and Category Winner for Best Horticultural Health and Wellbeing Award.
Cllr Rowena Champion, Islington Council's Executive Member for Environment, Air Quality, and Transport, said: "Islington in Bloom has a great role to play in empowering local people to support our essential work in tackling the climate crisis, by sprucing up green spaces, creating a more wildlife friendly and biodiverse borough.
"Everyone in the borough can do their bit to create a greener, healthier borough, and even though the competition is closed for this year, there are lots of opportunities to get involved in your local park or green space, through Friends groups, volunteering with community rangers, or by adopting a tree pit.
"I'd like to congratulate all of the winners and all of the entrants for contributing to the competition, as well as thank the sponsors who support us with fantastic prizes."
Further information on the volunteering opportunities and activities at Islington's parks and green spaces are available on the council's website.
Islington in Bloom would not be possible without the competition's fantastic sponsors, including Camden Garden Centre, Angel Central, The Islington Society, NSL, Housing, Islington Gardeners, N1 Garden Centre, and Partners for Islington.
The winners in each category were announced during a special event on Thursday (21 September) evening at Resource for London, Holloway Road.
Winners, runners-up and third-placed entries in each category received a garden centre gift voucher, and all entrants have been given a compost voucher for the Camden Garden Centre to encourage them to continue to garden.