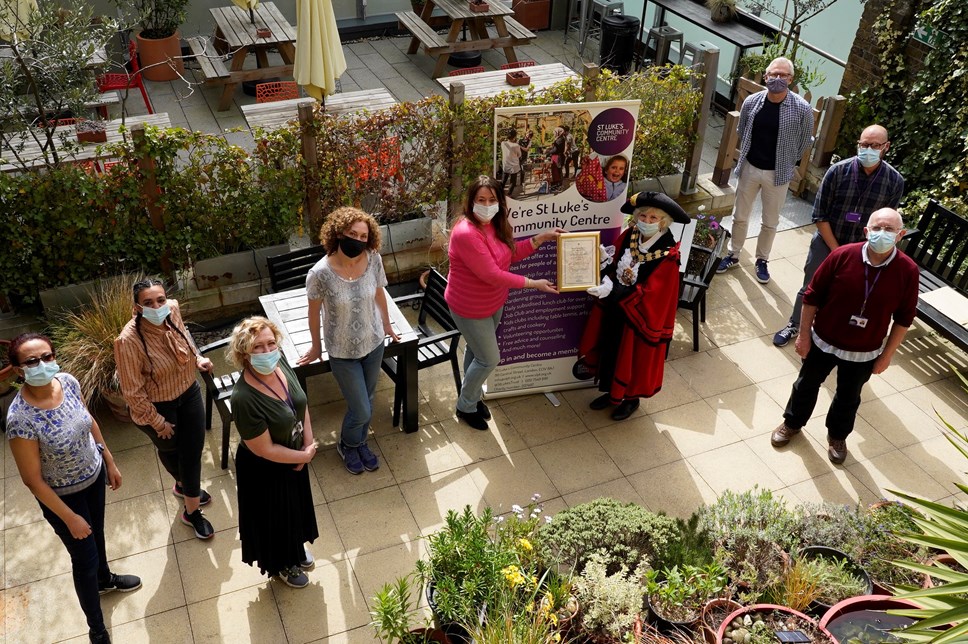 Islington's community heroes celebrated with Mayor's Civic Awards and Ben Kinsella Award
Following a year of unprecedented challenges, Islington has honoured its unsung community heroes and volunteers for their hard work and dedication. Winners were presented with their awards by the Mayor of Islington, Cllr Janet Burgess, in socially distanced visits and meetings at the Town Hall.
The winner of the Ben Kinsella award 2021 is Jayden Duff, for his exemplary efforts in the Stress on the Brain partnership project between The Peel, New River College, Child and Adolescent Mental Health Services and SoapBox. As one of nine New River College students creating a music track and video that explored the impact of stress on the human brain, Jayden coped with the challenges of a stop-start project with maturity and composure and has shown himself to be an inspiration to others. Although a collaborative effort, Jayden became the project's driving force, acting as lead vocalist on the audio track and a pivotal figure in creating the visual look of the video. To date the Stress on the Brain video has had over 22,000 views on YouTube. Jayden has subsequently embarked on further developing his musical knowledge and skills through an ongoing music development course.
The Mayor of Islington, Cllr Janet Burgess, also presented Civic Awards to:
Jamad Abdi ─ After a dangerous journey Jamad arrived in the UK from Somalia as a refugee and has lived with her family in Islington for 18 years. Having worked as an early year's practitioner in Somalia, Jamad continued her career at Islington council where she has worked supporting families and children more than ten years. Jamad has also set up a number of brilliant local organisations including: the Galbur Foundation, which supports children's education in the UK and Somalia; 'Dad in Action', a group to encourage fathers to be more involved in their children's development; the Hijabi Footy Club, helping Muslim girls aged 9-16 years to play and more fully participate in football; and community Iftar celebrations to bring local communities together.
The Andover Estate Community Centre food project ─ At the start of the coronavirus pandemic, the surplus food project at the Andover Community Centre was scaled up as an increasing number of Finsbury Park residents struggled to make ends meet. With the help of the Finsbury Mutual Aid group and many other volunteers, the project now distributes around 130 bags of food every week, and over the past 11 months around 6000 bags of largely surplus food have been shared with households in the ward. The collaborative approach of the Andover Food Project volunteer team and their dedication, hard work and much-appreciated sense of humour has been crucial to the success of the project, delivering vital support to many residents.
Mark Austin ─ Mark has been the Chair of the Family Carers Reference Group for families who care for adults with learning disabilities for many years. Volunteering his time, he brings together family carers on a monthly basis and has created a safe space for people to meet, support each other and raise key issues. Mark also volunteers significant amounts of time and energy to the development of new learning disability services in Islington and is a volunteer member of the North Central London Transforming Care Board.
Copenhagen Street Food Bank ─ Sister Miriam Attracta Joan and the team at the Copenhagen Street food Bank have created a strong community resource with limited resources, distributing food and other items to make life just a little bit easier for more vulnerable Cally residents. They have recently developed partnerships with the Cally & Barnsbury Mutual Aid Group addressing critical support needs during the Covid crisis.
The Love and Loss Group ─ The Islington based Love and Loss Group was set up by Jennifer Appleton and her niece Tanisha Appleton in 2016 to support families who, like them, have experienced the tragic loss of a family member as the result of murder. With the assistance of Islington Council the group helped make a knife harm prevention film with the Islington Youth Offending Service, featuring eleven bereaved families. Launched in October 2020, the film is being shown to young people in schools and youth work settings and has been endorsed by the London Violence Reduction Unit, the Youth Justice Board and the Metropolitan Police.
Elaine Maffrett ─ Elaine became manager of the Hilldrop Community Centre in 2018, and has since led the transformation of the centre into a thriving community body. An exceptional leader with a supportive and sensitive approach, Elaine has shown great imagination in organising celebration events and a Health and Wellbeing Fair. Elaine also worked with mutual aid groups to grow a food hub, offering healthy, tasty vegetarian meals for vulnerable residents.
St Luke's Community Centre ─ Since the start of the pandemic St Luke's community centre volunteers have provided an outstanding contribution to ensure local residents were kept safe and supported throughout this difficult time. Setting up a food hub that has distributed almost 70 tonnes of donated food to residents struggling financially, the hub is currently being utilised by 140 households. During the pandemic staff and volunteers have also: made over 2000 befriending and wellbeing calls to isolated elders and those feeling anxious or lonely; delivered over 400 Christmas gifts to children, pensioners and vulnerable residents; created an online Job Club; introduced a 'Take-away' Lunch Club and arranged picnics in the park to help residents stay connected.
Rosalyn Tyrell ─ Rosalyn, known as Rose, has been a volunteer at the Hanley Crouch Community Association for over 10 years. At 80 years of age, Rose is the Over 50's cook. She also does the shopping and picks up supplies for the lunch club, having taken over this role after they lost a member of the team. Rosalyn is always hardworking and is a cherished, valued member of the Hanley Crouch community.
Mayor of Islington, Cllr Janet Burgess said:
"The last year has been full of challenges for each and every one of us, and it has been an inspiration to see so many people from all around the borough step up, lend a hand, and support their community. In a borough that values fairness, it has been my privilege to help recognise and celebrate the hard working and inspiring people who have gone the extra mile to make Islington a better place."
André Langlois, Editor of the Islington Gazette, which sponsors the awards, said:
"A great many people have given so much to the community, especially in the last year, and the winners today represent them all.
"They're what this borough is about and I'm proud that we are able to celebrate them."
Media contact information
If you are a member of the media and would like more information please contact:
Islington Council media team – media@islington.gov.uk or 020 7527 2307. Out of hours: 07769 163303
If you are a member of the public with a general question about the council please contact:
Contact Islington – www.islington.gov.uk/contact-us or 020 7527 2000