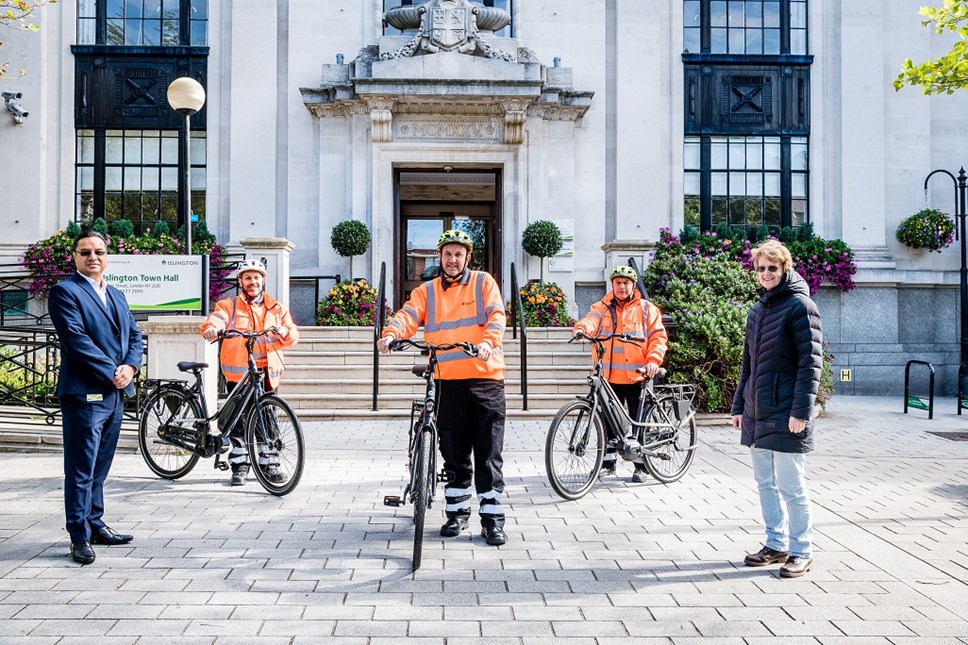 Islington's drive for greener fleet continues with arrival of new e-bikes
Islington Council is marking Clean Air Day today (Thursday, 8 October) by announcing the arrival of six new e-bikes as part of ongoing efforts to create a greener fleet.
The CityGO C7 HMS bikes, made by Gazelle, are being used by Islington's Street Environment Services supervisors, who monitor and address waste and cleaning issues in the borough.
These environmentally-friendly electric vehicles help to protect residents' health and reduce CO2 gas emissions in the borough, and have been use in since Monday (5 October).
As well as being greener than the alternative diesel vans, the bikes are also more cost-effective and their 120-mile maximum range ensures that the supervisors can travel around the borough during their shifts without having to worry about re-charging them. They also provide electric assistance up to 20mph, meaning supervisors can travel quickly and safely.
The arrival of the e-bikes and the ongoing efforts to make Islington's fleet greener are part of the council's objective of achieving a net zero carbon borough by the year 2030.
Since declaring a climate emergency last year, the council has taken major steps to clean the air that local people breathe, by implementing people-friendly streets, rapidly accelerating its School Streets programme, and by joining a London-wide campaign encouraging businesses to tackle the pollution caused by idling engines.
Cllr Rowena Champion, Islington Council's Executive Member for Environment and Transport, said: "The arrival of these e-bikes ensures that the borough's Street Environment Services supervisors can travel around Islington and carry out their important work in a green, environmentally-friendly way.
"Air pollution is a major health emergency which affects each and every one of us, and the arrival of the e-bikes is another step towards creating a greener future for local people with cleaner air to breathe.
"Clean Air Day provides us with an opportunity to celebrate the work that the council and local people have done so far to address the climate emergency, but also to continue to commit to pioneering work to improve Islington's air quality for everyone."
The Street Environment Services team are using the bikes to tackle waste and cleaning issues within their individual areas of responsibility. The bikes allow them to get from street-to-street in a prompt, effective manner.
You can help us to keep Islington's streets clean and tidy by reporting any issues in your area by signing up for a My eAccount, using the Clean Islington app, or by calling 020 7527 2000 (minicom 020 7527 1900).
Media contact information
If you are a member of the media and would like more information please contact:
Islington Council media team – media@islington.gov.uk or 020 7527 2307. Out of hours: 07769 163303
If you are a member of the public with a general question about the council please contact:
Contact Islington – www.islington.gov.uk/contact-us or 020 7527 2000