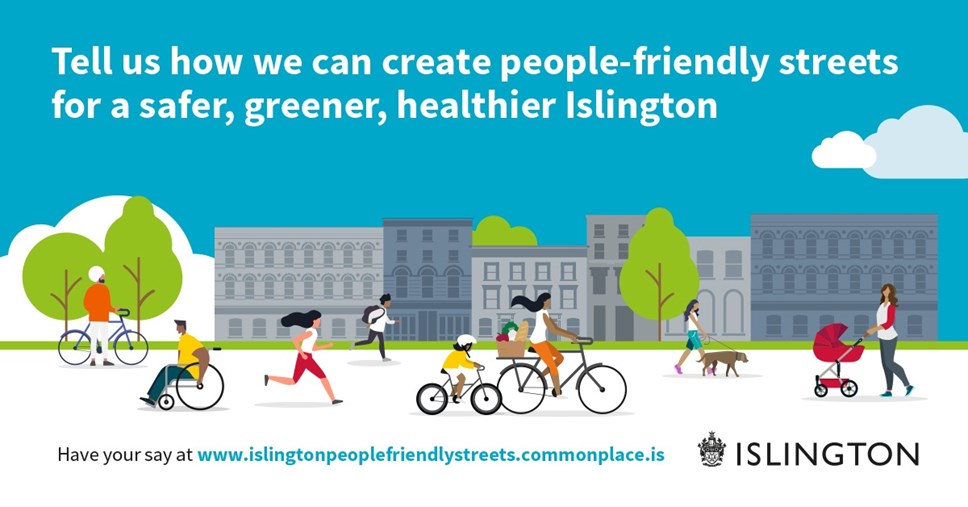 Islington's first people-friendly streets will be created in St Peter's
Islington Council's first people-friendly streets neighbourhood is to be created in St Peter's – to improve streets for everyone.
Local people have been enjoying their streets more during the current health emergency.
The council is listening to local people and working hard to make streets across the borough friendlier for everyone, particularly children, young people and those who are vulnerable.
Islington's people-friendly streets will create more space to make it easier to walk safely, cycle as part of everyday life, use buggies or wheelchairs, and cross roads.
Work on the people-friendly streets neighbourhood in St Peter's is due to start on Friday, 3 July, and is expected to be completed on Thursday, 9 July.
The people-friendly streets neighbourhood in St Peter's will be the first of its kind in Islington, with more neighbourhoods to follow over the coming months.
Cllr Rowena Champion, Executive Member for Environment and Transport, said: "It's vital we act to create people-friendly streets, where it is easier and safer to walk and cycle, and streets are better and more pleasant for all.
"With less traffic in recent weeks, people have been telling us they are enjoying their streets more. The work being done in St Peter's will help local people to socially distance as they make essential trips, whilst also creating safer, cleaner and more pleasant streets.
"These plans are moving forward at pace, and we look forward to announcing details of more people-friendly streets neighbourhoods in the near-future."
The new measures in St Peter's will initially be in place under an 18-month experimental traffic order. A public consultation will then take place in June and July 2021 for local people to indicate whether they would like these measures to remain in place permanently.
Residents living in the St Peter's area will receive a letter in the near-future explaining how the work will affect them.
Last month the council launched a Commonplace webpage to ask local people to give ideas and suggestions on what can be done to improve their streets. There have been more than 2,200 comments so far.
The council will listen to local people and work to create people-friendly streets using quick, inexpensive measures such as bollards and banned turns.
By introducing new measures to stop rat-running through residential areas, streets will be safer to walk, cycle, use buggies and wheelchairs on, whilst keeping access for emergency vehicles, trade vehicles, and local people who need cars.
More people-friendly streets neighbourhoods are set to be introduced in the Canonbury, Highbury, Clerkenwell, Nags Head, and St Mary's areas by the autumn.
The announced plans follow a number of measures already introduced in response to the health emergency, including widening pavements at Highbury Barn, on Green Lanes and on Stroud Green Road, and supporting changes to Transport for London's roads.
More measures at key locations like shopping areas and transport hubs, temporary cycle lanes, and even more school streets are set to be introduced across the borough in the coming months.
People-friendly streets are part of the council's vision for a safer, greener, healthier borough, and will help achieve our ambitious plans for a net zero carbon Islington by 2030.
Notes to editors
Changes in St Peter's will apply to Prebend Street, Danbury Street, Colebrooke Row, and Wharf Road. The council will install traffic filters on certain streets that will block motor vehicles while still allowing people on bicycles through. In some cases, the traffic filters will be enforced by cameras. Emergency vehicles will still have access. For more details of the people-friendly streets neighbourhood in St Peter's see: https://www.islington.gov.uk/roads/peoplefriendlystreets
The Commonplace website will remain open and you can continue to comment or add your observations about the measures at https://islingtonpeoplefriendlystreets.commonplace.is/ or you can email us at peoplefriendlystreets@islington.gov.uk.
The start and finish dates for work on the St Peter's people-friendly streets neighbourhood are subject to the successful completion of a Road Safety Audit.