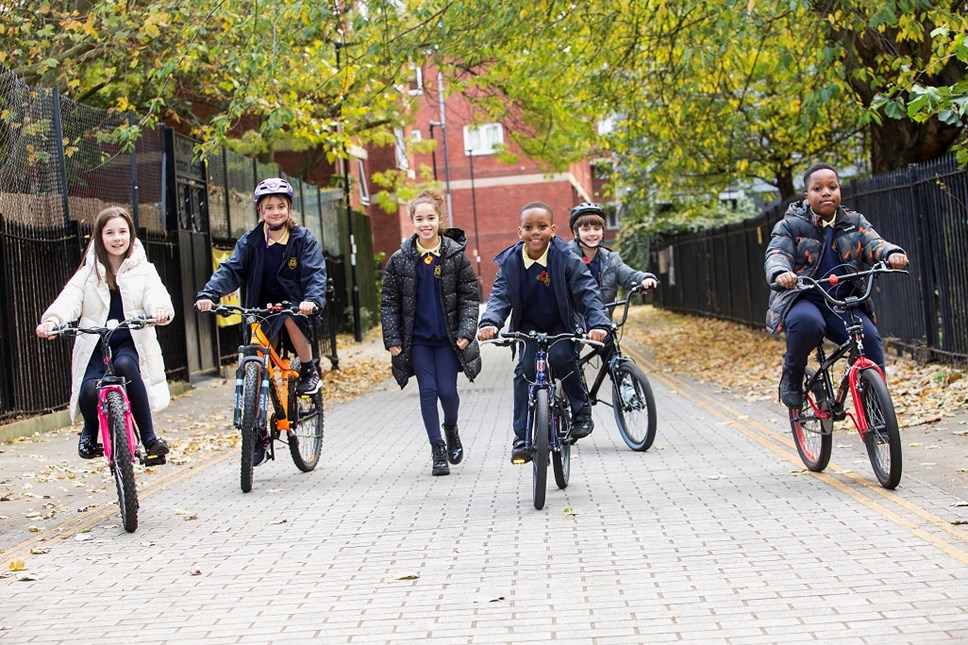 Islington's latest School Street will create cleaner, greener, healthier school run
Islington Council is continuing the roll-out of its pioneering School Streets programme, with St Luke's CofE Primary School in Bunhill set to benefit from cleaner, greener, healthier streets.
The council is determined to create a more equal borough, where everyone can travel safely and easily, and where the toxic effects of air pollution are limited.
School Streets are a key part of this, improving air quality by reducing traffic outside the school gate, and creating a healthier Islington by enabling children, parents and carers to walk, cycle and scoot to and from school.
To date, Islington Council has introduced 35 School Streets, covering 36 schools. In November 2020, Healthy Streets Scorecard revealed that, when taking into account planned and installed schemes, Islington had the highest proportion of schools on Schools Streets of any London borough.
School Streets work by preventing motor vehicles, other than those with exemptions, from using streets outside schools during drop-off and pick-up times. In doing so, they help make it safer and easier for children to walk, cycle and scoot to school.
Today (Monday, 1 November), the borough's 36th School Street goes live outside St Luke's CofE Primary School. The scheme, which has been implemented as an 18-month trial, will prevent through-traffic from travelling down Radnor Street, Lizard Street, Bartholomew Square, and Mitchell Street at drop-off and pick-up times during the school term. Further information can be found on the council's website.
Cllr Rowena Champion, Islington Council's Executive Member for Environment and Transport, said: "We are determined to making going to and from school safer, cleaner and healthier for Islington's schoolchildren.
"School Streets are part of a package of measures we're introducing to make our borough a cleaner, greener, healthier place to live. By making it easier to walk, cycle and scoot to and from school instead of being driven, the schemes make a huge difference to improving air quality, while supporting the mental and physical wellbeing of schoolchildren.
"Our School Streets programme is pioneering and ambitious, and we're determined to ensure that as many schools as possible can enjoy the positive benefits of the schemes, which is why we are excited to introduce a scheme at St Luke's CofE Primary School."
Certain residents, including Blue Badge holders, will be able to apply for an exemption, provided they use the streets for access, rather than as through-routes, during the times of operation. Residents that live within the closed area and have an existing parking permit will be automatically provided with a permit to give them access to the streets during the restricted hours.
As well as introducing a School Streets scheme outside St Luke's CofE Primary School, the council is also working on proposals that would reduce through-traffic on Bath Street. Further details on these measures, which could also help reduce through-traffic on Peerless Street, will be announced in due course.
Ann Dwulit, Headteacher at St Luke's CofE Primary School, said: "The St Luke's community and I are very pleased to be a School Street. The closure of Radnor Street, Lizard Street, Bartholomew Square and Mitchell Street will make a big difference to the safe arrival and departure of children and families.
"We look forward to seeing further controls to help reduce traffic on Bath Street and Peerless Street which will make a significant difference to the traffic and air quality for the children. I am really very grateful to the council for all they are doing to make Islington's streets cleaner, greener and healthier."
Notes to editors
In September 2021, Islington Council released monitoring data on 13 of its School Streets, which revealed that the schemes have so far met the objectives of the programme by contributing to a reduction in air pollution, an improvement in safety by reducing traffic and speeds, and have helped children to exercise on their way to and from school.
The report also showed that, at Thornhill Primary School, there was an 11% rise in the number of pupils walking, cycling and scooting to school between May 2019 and August 2021, with the proportion of children travelling by car falling from 17% to 8% during the same period.
The St Luke's CofE Primary School scheme has been implemented as an 18-month trial, using an Experimental Traffic Order. This means that, around 12 months into the trial, children, parents, teachers, local residents and businesses will be asked their views on whether the scheme should remain in place permanently, be changed, or be removed.
In the meantime, local people can provide feedback on the scheme by emailing the council at schoolstreets@islington.gov.uk.
Media contact information
If you are a member of the media and would like more information please contact:
Islington Council media team – media@islington.gov.uk or 020 7527 2307. Out of hours: 07769 163303
If you are a member of the public with a general question about the council please contact:
Contact Islington – www.islington.gov.uk/contact-us or 020 7527 2000