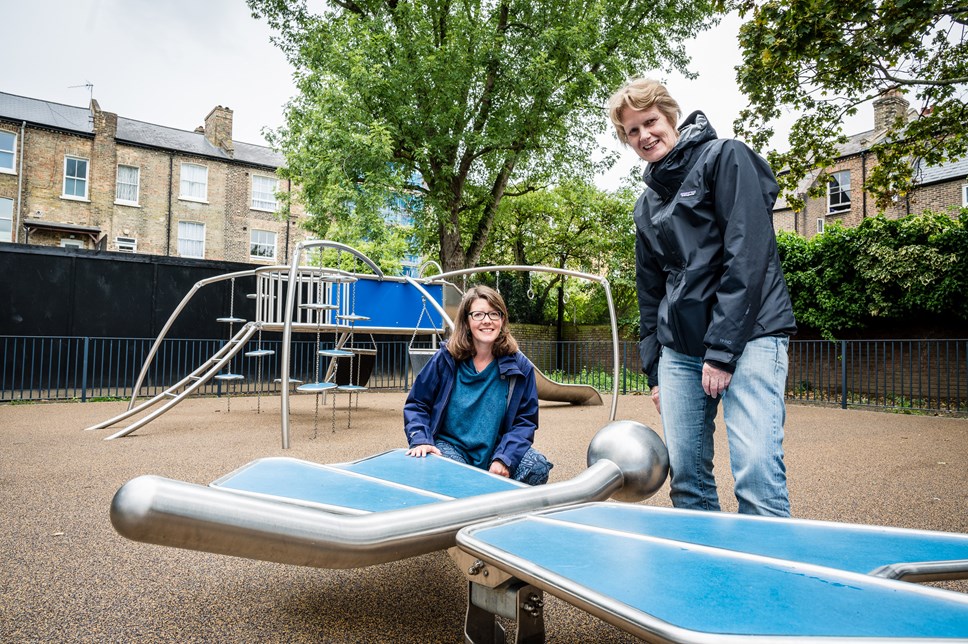 Islington's parks and green spaces set for further improvement works this summer
Parks across Islington are set to benefit from a series of improvements, as the council continues to maximise the potential of its green spaces as biodiverse havens for improving physical and mental wellbeing.
Islington's parks are at the heart of the council's vision for a greener, healthier borough, which is why plans are in place to improve local green spaces.
Parks act as focal points for improving mental and physical health, offering opportunities for relaxation, leisure and sport, which is why it's so important that they are as attractive and welcoming as possible.
Woodfall Park has recently undergone a refurbishment which has transformed the park. The Multi-Use Games Area (MUGA) has been given an upgrade and made accessible via a ramp, while new exercise and gym equipment and playground facilities provide lots to keep people of all ages busy and active.
The park has also benefitted from new paving, landscaping and new trees to help create a more attractive park, whilst also providing shade and improved biodiversity.
Cllr Rowena Champion, Islington Council's Executive Member for Environment, Air Quality, and Transport, said: "Islington is one of London's densest boroughs, so our green spaces are essential for our mental and physical wellbeing. They also offer huge opportunities to boost air quality and biodiversity, and support the council's ongoing efforts to tackle the climate emergency.
"The improvements that we have made to Woodfall Park, as well as the proposed improvements to other green spaces across the borough, will make our parks more attractive and welcoming for the many people that use them every day."
Other parks improvement projects include:
Isledon Park is set to be improved, to make it a more welcoming space for local people. The proposed design of the sunken garden includes reduced wall heights to allow for better visibility in and out of the garden as well as better access created. The playground will see some upgrades, and the climbing frame will be removed. Some of the dense vegetation has been cut back earlier this year, and trees trimmed to create a more open area. This work improves the visibility through the park which should help to create a safer, more welcoming park for local people. You can view the proposed plans here: Isledon Gardens Improvement Project | Let's Talk Islington
Morton Road Park, near Essex Road, is due to have a complete overhaul of its play equipment to make it more attractive and exciting for children and young families.
Highbury Fields is set see a range of improvements under new proposals recently granted planning permission. The proposals include a new café building with five new public toilets, a Changing Places toilet – a larger toilet with additional space for changing and accessibility which will improve access to the fields for disabled people - and park keeper facilities. The café will replace the existing Oasis Kiosk.
The New River Walk is set to reopen in August, following extensive refurbishment works which saw both sections of the water drained, and many years worth of silt removed. This will improve the conditions of the water, encouraging a wider variety of wildlife. Overhanging trees and shrubs were also cut back, with new planting beds created to improve biodiversity and attract wildlife.
Barnard Park is going to see improvements to the entrances, as well as improvements to the 1 o'clock club, park keepers office and coffee kiosk. There will also be 51 new trees planted, as well as lots of new wildlife friendly, native planting. Work on the new football pitch will begin in August, with wider landscaping works starting in January 2023.
Work is currently underway at Bingfield park. There will be a new fitness area, the ball court will be refurbished and raised to provide level access, and a new smaller ball court will be built to allow multiple games to be played at once. There will be a new under 7's play area, and more biodiverse planting will help create a more pleasant park for all to enjoy.