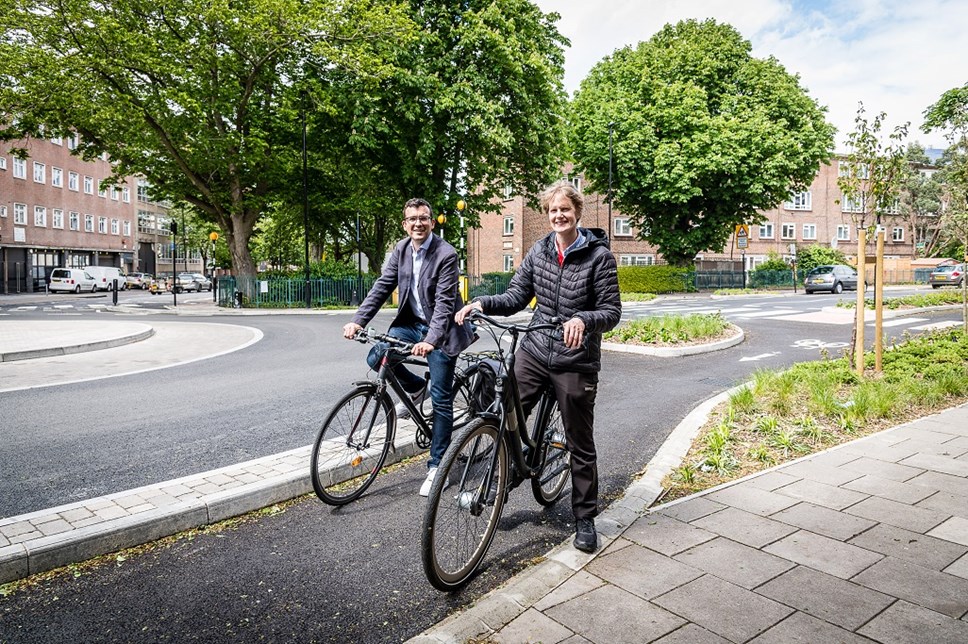 New Finsbury Park to Highbury Fields Cycleway helps create greener Islington
Islington Council is continuing to move forward with its vision for a fairer, greener, and more environmentally-friendly borough by completing work on a section of new cycleway between Finsbury Park and Highbury Fields.
Cycleway 38, which has been designed by Islington Council and funded by Transport for London (TfL), will help to create a more pleasant, safer space for people to walk and cycle – whether it be for getting to and from work, travelling to local businesses, or for daily exercise.
By enabling walking and cycling as alternatives to motor vehicle use, the new route will help to improve air quality and reduce emissions, as the council continues to work towards achieving net zero carbon status by 2030.
The Cycleway also boasts north London's first 'continental-style' roundabout, a road feature that protects cyclists with its protected cycle lane through the intersection where Benwell Road meets Drayton Park. To help make walking and crossing roads easier and safer, the roundabout also features new zebra crossings, widened footways, and raised tables to reduce vehicle speeds.
This innovative, exciting project contributes to the council's ongoing efforts to make it easier to walk, cycle and use buggies and wheelchairs in Islington, supporting the roll-out of people-friendly streets, which create safer, greener, more enjoyable streets for all. It also forms part of a wider route from Finsbury Park to the City, as well as connecting with Cycleway 27 between East Acton and Walthamstow.
Cllr Rowena Champion, Islington Council's Executive Member for Environment and Transport, said: "We are determined to create a fairer, greener and healthier future for Islington, where everyone is able to travel easily around the borough and incorporate exercise into their daily routine.
"This new route will help make it safer to walk and cycle as we move out of lockdown, enabling local people to enjoy our borough in a way that cuts down on air pollution and congestion by reducing unnecessary car journeys.
"Walking, cycling and wheeling are convenient, inexpensive and fun ways to travel around the borough, and we look forward to seeing local people enjoy the benefits of the new Cycleway."
Will Norman, London's Walking and Cycling Commissioner, said: "Enabling people to walk and cycle around London is absolutely vital to ensuring a green recovery from the pandemic, and I'm thrilled to see this innovative new cycle route open in Islington.
"New infrastructure is being delivered at record pace across the capital and new routes such as Cycleway 38 mean more people are able to leave their cars at home and get on their bikes instead.
"We'll continue to work closely with Islington Council to make the borough an even better place for walking and cycling for all."
Improvements that will make it easier, safer and more enjoyable to walk and cycle on the route include:
protected cycle tracks
new pedestrian crossings
wider footways
safer junctions
more greenery
Cycleway 38 is comprised of two sections. The northern section runs between Finsbury Park and Highbury Fields, and is being implemented permanently after a public consultation in 2019 showed overwhelming support for the scheme.
Meanwhile, the southern section runs along Liverpool Road, Tolpuddle Street and Penton Street, connecting with the northern section at Madras Place, the site of a pre-existing cycle route.
The southern section of the Cycleway, which includes "with-flow" cycle lanes where bikes and traffic move in the same direction, was completed in September 2020. It has been implemented as an 18-month trial using an experimental traffic order.
This means that there will be a public consultation roughly 12-months into the scheme to help determine whether it should remain permanently, be changed, or be removed.
Cycleway 38 reduces danger in line with Vision Zero, which aims to eliminate all deaths and serious injuries on London roads by 2041.