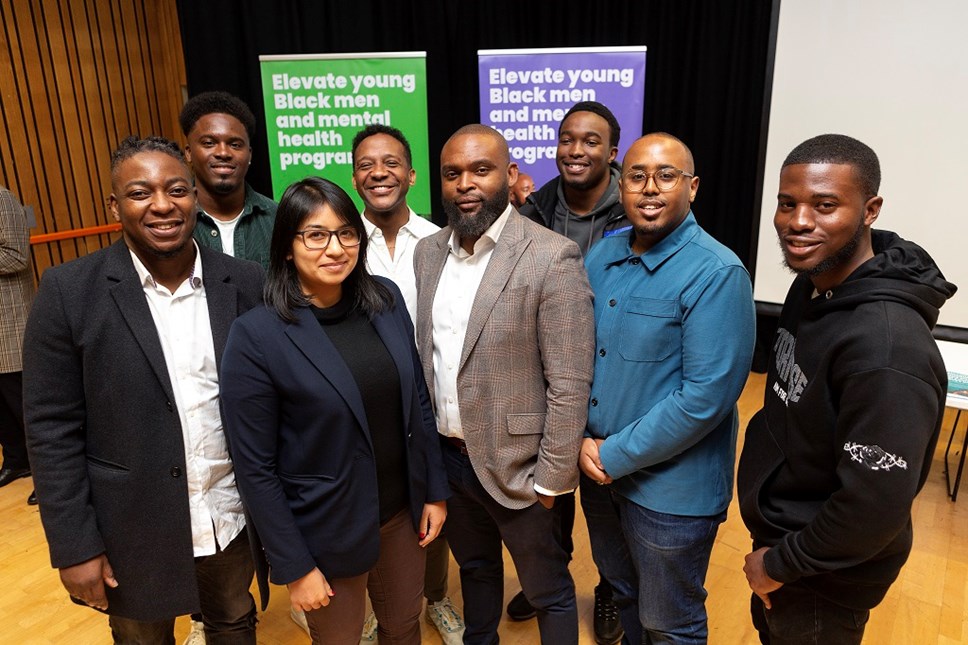 New mental health programme to create better future for young Black men and boys in Islington
Islington Council and the NHS can today announce a new, innovative mental health programme which will help to create a better future for young Black men and boys, and supports the council's efforts to tackle inequality.
The three-year programme, named "Young Black Men and Mental Health", will see a holistic approach to addressing mental health issues among young Black males in Islington, with the aims of improving personal mental health and wellbeing, aspirations and life opportunities, while reducing exclusions.
Research shows that two thirds of permanent school exclusions are Black pupils, and 60 per cent of Black people in England feel that they are treated with less courtesy or respect as others because of their ethnicity. These inequalities have serious impacts on mental health – Black men in Britain are 17 times more likely than white men to be diagnosed with a serious mental illness, and four times more likely to be sectioned under the Mental Health Act.
It's clear that more needs to be done to create a better, more equal future for young Black men and boys. That is why the council and partners are launching the Young Black Men and Mental Health programme.
The programme has been made possible thanks to a £1.6 million investment from the Violence Reduction Unit and NHS North Central London Integrated Care Board's Inequalities Fund, a programme which invests in community-based collaborative projects such as this to improve equity of access to services, outcomes and life chances amongst under-served communities and groups in North Central London.
The programme has four strands, including:
A training programme that will equip barbers at five Islington barber shops with the skills to recognise that a customer may be struggling with their mental health, and point them towards appropriate support. Barbers will be trained as mental health ambassadors, and will act as catalysts for improving mental wellbeing.
"Becoming a Man", a pioneering programme delivered in partnership with the Mental Health Foundation. It will see work undertaken with three Islington secondary schools to support young Black boys with their long-term mental wellbeing. Each school will be allocated a full-time trained counsellor, who will deliver five sessions per week with groups of young people, as well as one-to-one support.
The "Elevate Innovation Hub", comprising trained "Elevate Innovation Key Workers" who will provide wrap-around support and community coaching for those aged 16 to 25 at risk of poor health outcomes, serious youth violence and exclusion from school.
A cultural competency programme for various partners, including police, GPs, social care and schools.
To support the programme, Islington Council has worked with RAW London on a short film about the pressures of growing up as a young Black man in London. The video can be seen in full here.
Cllr Roulin Khondoker, Islington Council's Executive Member for Equalities, Culture & Inclusion, said: "Our vision is for a more equal Islington, where everyone has the opportunity to start, live and age well, which is why mental health is so important to us.
"We know, though, that young Black men do not currently enjoy an equal opportunity to thrive, and are more likely to live in deprived neighbourhoods, be excluded from school, and be sectioned under the Mental Health Act. It's so important that we act now to create a better, more equal future for young Black men, where they too can turn their dreams into a reality.
"The Young Black Men and Mental Health programme is key to achieving this. This holistic, pioneering programme, will help young Black men with the mental health challenges they face, and support them to create a better future."
Cllr Jason Jackson, Islington Council ward councillor for Holloway, who has been heavily involved in the programme, said: "Growing up as a young Black man in London is extremely challenging – it can often feel like the world is stacked against you.
"The Young Black Men and Mental Health programme is designed to empower, guide and support young Black men and boys as they face these challenges. Through the programme, we're taking on structural and institutional racism, to help shift the practices, assumptions, and perceptions that could be holding young Black men and boys back."
John McGrath, an Islington GP, said: "As a local GP, I know that many people are struggling with their psychological and mental health. We know that sometimes people find this difficult to know how to talk about and may have concerns that local services don't fully understand them.
"We are delighted to be working together on this innovative and ambitious project to change the dial on how we think and talk about mental health with young Black men in the local community. Whether in barber shops, schools or in local youth centres, we want to support our young people to thrive and achieve their goals.
"This is part of our commitment to investing to reduce health inequalities and part of a radical transformation of all local mental health services."
Islington Council committed to making the borough a more equal place where everyone, regardless of their background, can realise their potential and enjoy a good quality of life. Challenging inequality, racism and injustice is at the heart of this, and further information on Islington's Challenging Inequality strategy can be found on the council's website