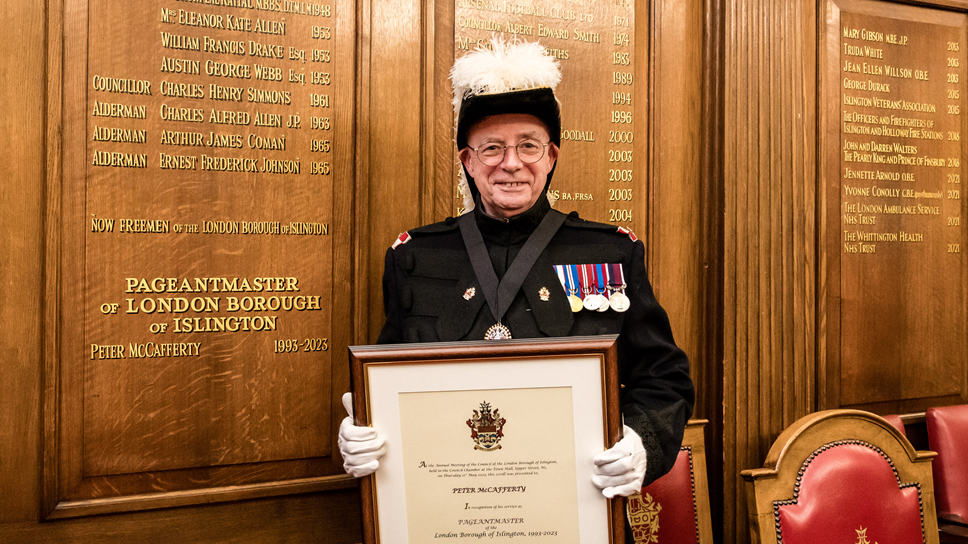 Outgoing Pageantmaster recognised after thirty years of service
Peter McCafferty has been thanked by Islington Council as his thirty years of service as the council's Pageantmaster comes to an end.
He was presented with a scroll by councillors at the Annual Council meeting on Thursday 11 May, recognising his work championing the borough's military and veteran organisations.
Having first been appointed in 1993, Peter McCafferty has provided invaluable support, guidance and service to thirty different Mayors of Islington.
The role of the council's Pageantmaster will now be retired.
Mayor of Islington, Cllr Gary Heather, said: "We are extremely grateful for Peter's hard work over the years and we wish him all the best in his future endeavours."
Peter McCafferty said: "Thank you for this amazing scroll which is a very great honour indeed, one which I shall always treasure. So tonight is one of mixed emotions as I lay down what has become a full time role over thirty very memorable years partnering with so many community spirited people."
Peter McCafferty is taking up a new responsibility leading on the arrangements for all the Armed Forces Breakfast Clubs across London.
The council, led by the Mayor's Office, will continue to support events such as Armed Forces Week and Remembrance Sunday. Cllr Marian Spall, the outgoing Mayor, was appointed as the Armed Forces Champion at the Annual Council meeting.