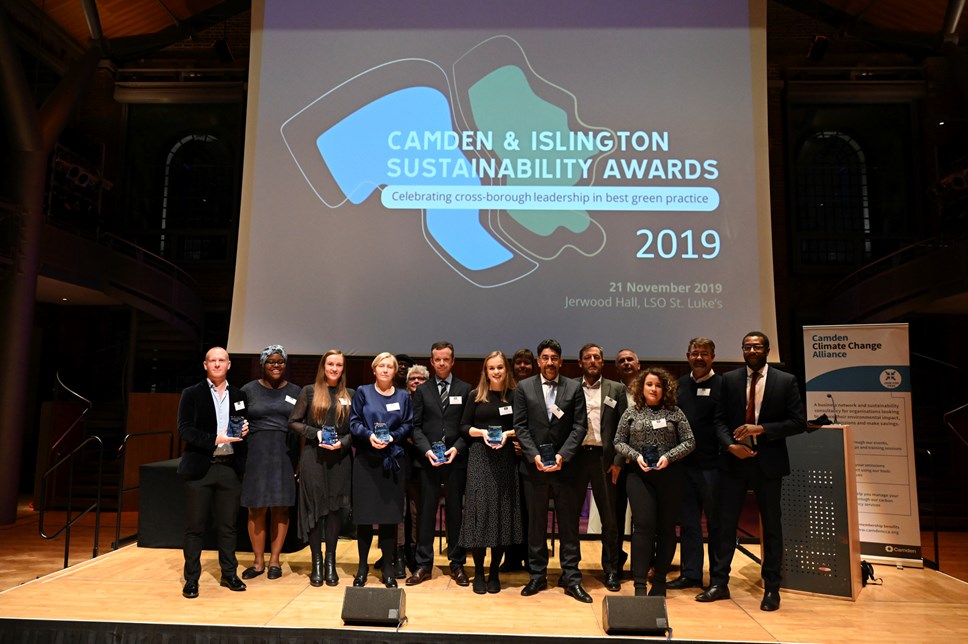 Sustainability Awards 2019: Islington and Camden celebrate best green practice
Islington and Camden's first ever sustainability awards took place recently to celebrate the achievements of local businesses, community groups and schools who are leading the way to tackle environmental issues locally.
The Islington Sustainable Energy Partnership (ISEP) and Camden Climate Change Alliance (CCCA) led the awards at London Symphony Orchestra's Jerwood Hall.
Islington Sustainable Energy Partnership (ISEP) is a local network of organisations working towards a zero-carbon Islington. They work with its members to improve their energy efficiency and reduce their environmental impact through direct advice, networking and resource sharing, as well as helping members get involved in local community projects. ISEP is supported by Islington Council.
Islington Council is committed to making Islington a fairer place for everyone by reducing inequalities in society which are made worse by climate change. The council is taking bold action to address the climate emergency by working towards a net zero carbon Islington by 2030. Already, CO2 emissions in the borough have been cut by 40% and we have seen the 12th highest decrease in emissions per person for any council area in the country. But we know much more needs doing, so that's why we are working with organisations like the Islington Sustainable Energy Partnership to help them cut their carbon emissions.
Hosted by Natasha Friend, Director of Camden Giving, the evening brought together 150 guests, leading sustainable development businesses from each borough and key note climate specialists.
Winners were announced across eight categories, including 'best energy efficiency and carbon reduction' awarded to the Magnificent Basement Company for their refurbishment of The Sekforde pub, Cloudesley who took the prize for 'best community environmental project' for their extensive green renovation of Islington churches and Hugh Myddleton Primary School who won 'best sustainable school initiative' for their solar panel projects and outdoor air quality improvements.
Philip Gray, the co-chair of ISEP added: "We were delighted to strengthen our relationship with Camden at the inaugural Camden and Islington Sustainability Awards. A hugely impressive evening in the inspiring LSO St Luke's with the aim of cultivating cross-borough collaboration at a time where positive climate action is firmly on the agenda and meaningful zero carbon pathways are in development.
"The event was a huge success, with a wide range of award winners showcasing demonstrable action in furthering the sustainability agenda in their respective organisations. On top of all of that, the three key-note speakers offered fantastic insight into their areas of expertise and left the room wanting more. I hope this event can build the momentum it needs, and we can continue to celebrate the fantastic progress of our members"
Stephen McKinnell, Chair of the Camden Climate Change Alliance Advisory Board said: "It was great to see so many turn out for the Camden and Islington Sustainability awards last Thursday. It was a fantastic evening as for the first time Camden Climate Change Alliance held this jointly with Islington Sustainable Energy Partnership. Improving sustainability is high on the agenda and it is acknowledged that working collaboratively is the way to change things much more quickly.
"The night had inspirational speakers, great networking opportunities and of course some very exciting projects being showcased. Congratulations to all the winners and check out the CCCA website to see how you can get involved."
Natasha Friend, Director, Camden Giving said: "The climate crisis is having a greater impact on people who have the least, this is true globally and right here in Camden, where poorer communities have less access to green space and clean air and people without homes will feel the affects of climate change more than most this winter.
"People who work in Camden and Islington are inpatient for climate action, this is shown by the high quality of work being done across schools, charities and businesses in both boroughs. The awards have encouraged me and my colleagues at Camden Giving on to take a more collaborative approach in our sustainability works, just as the boroughs of Camden and Islington are doing."
Notes to editors
Full list of categories/winners:
| | | | | |
| --- | --- | --- | --- | --- |
| Category | Borough | Winner | Highly Commended | Sponsor |
| Excellence in energy efficiency and carbon reduction | Camden | iRecycle | University of London | Workspace |
| | Islington | The Magnificent Basement Company | Centre 404 | Workspace |
| Improving Air Quality | Camden | Great Ormond Street Hospital | The Fitzrovia Partnership | Lendlease |
| | Islington | First Mile | Urban Partners | |
| Resource Management and Recycling | Camden | The Fitzrovia Partnership | The Wesley Hotel | Veolia |
| | Islington | Business Design Centre | Toy Project | |
| Employee Engagement | Camden | Sheppard Robson | University of London | |
| | Islington | City, University of London | Springer Nature | |
| Leadership in Green Procurement | Camden | The Wesley Hotel | Connoisseur Dry Cleaners | BEE Midtown |
| | Islington | Janitorial Express | Wild Food Café | BEE Midtown |
| Sustainability Champion | Camden | Lauren Richards, Food & Beverage Manager, The Roundhouse | Connoisseur Dry Cleaners | The Fitzrovia Partnership |
| | Islington | London Metropolitan University | Little Angel Theatre | |
| Best Community Environmental Project | Camden | Transition Kentish Town | The Conservation Volunteers | GLL |
| | Islington | Cloudesley | Newbery House Cooperative | GLL |
| Best Sustainable School Initiative | Camden | Torriano School | Christopher Hatton Primary School | Alara |
| | Islington | Hugh Myddelton Primary School | Pooles Park Primary School | |
Full list of speakers/businesses:
Markus Berensson, Senior Research Manager, C40 Cities Leadership Group
Alex Chapman, Consultant, New Economics Foundation
Alice Bell, Co-Director, Possible (formerly 10:10 Climate Action)
Peter Anderson, Partner, Troup Bywaters + Anders
Ben Hopkins, Associate, Bennetts Associates