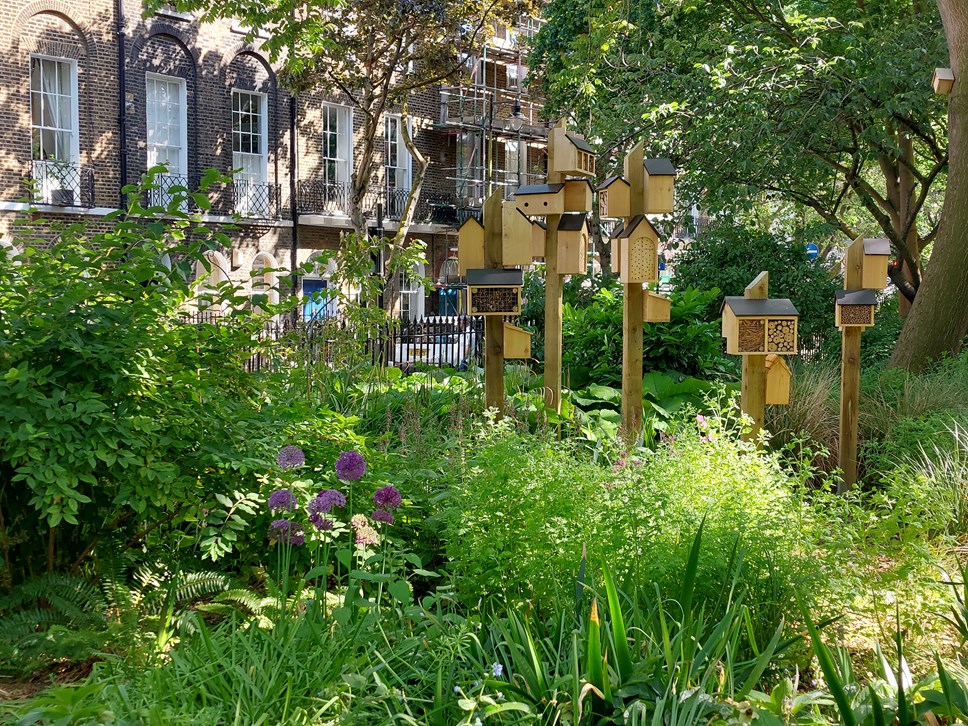 Three new Green Flags awarded to Islington green spaces
Islington Council now has 13 Green Flags for its park and green spaces, having retained ten won in previous years, and gained three new awards.
Duncan Terrace Gardens, Canonbury Square, and Grenville Road Gardens were all awarded the prestigious Green Flag awards for the first time. The awards celebrate the most beautiful and well-managed green spaces across the country and around the world.
The previous ten Green Flag spaces - Kings Square Gardens, Fortune Street Park, Rosemary Gardens , Arundel Square, Whittington Park, Wray Crescent Open Space, Landseer Gardens, Gillespie Park, Caledonian Park and Highbury Fields have all retained their status.
The borough's parks and green spaces provide essential spaces for all of Islington's diverse communities to enjoy the health and wellbeing benefits of being outside in nature, whether it be for exercise or sport, relaxation, or socialising.
Parks and green spaces have so much to contribute to Islington residents staying healthy and tackilng health inequalities in the borough, and by boosting biodiversity and canopy cover, they also support the council's efforts to tackle the climate and ecological emergencies.  
Islington's extensive networks of dedicated volunteers, community groups and council staff have ensured that the boroughs green spaces are kept clean, tidy and beautiful, and have helped to achieve this recognition.
Cllr Rowena Champion, Islington Council's Executive Member for Environment, Air Quality, and Transport, said: "We know how important Islington's green spaces are to local people, allowing them to enjoy the beauty of nature and being outdoors, while experiencing the proven health and wellbeing benefits that green spaces promote.
"That's why we're working hard to make our parks more accessible, attractive and welcoming. These Green Flag awards are recognition of the incredible efforts of the council, volunteers, community groups to keep our parks beautiful and well maintained for all to enjoy.
"It is also recognition of the steps we are taking to promote biodiversity and support wildlife, which is essential in our commitment to tackling the climate emergency."
In addition to the Green Flag awards, some of Islington's dedicated community groups have been granted a Green Flag community award, including: The Friends of Barnsbury Square, the Friends of Paradise Park (for The Mary Tealby Garden), Friends of Granville Square and the Arlington Association.
The Green Flag Awards are managed by environmental charity Keep Britain Tidy. They exist to recognise and reward well-managed parks and green spaces, setting the benchmark standard for their management across the nation. The scheme also operates in an additional 14 countries including Portugal, New Zealand and the USA. 
Keep Britain Tidy's Green Flag Award Scheme Manager Paul Todd MBE said: "I would like to congratulate everyone involved in achieving these Green Flag Awards.
"Islington's green spaces are vital for the community, bringing people together and providing opportunities to lead healthy lifestyles. The staff and volunteers do so much to ensure that it maintains the high standards of the Green Flag Award and everyone involved should feel extremely proud of their achievements."
Any green space that is free to enter and accessible to the public is eligible to enter for a Green Flag Award.