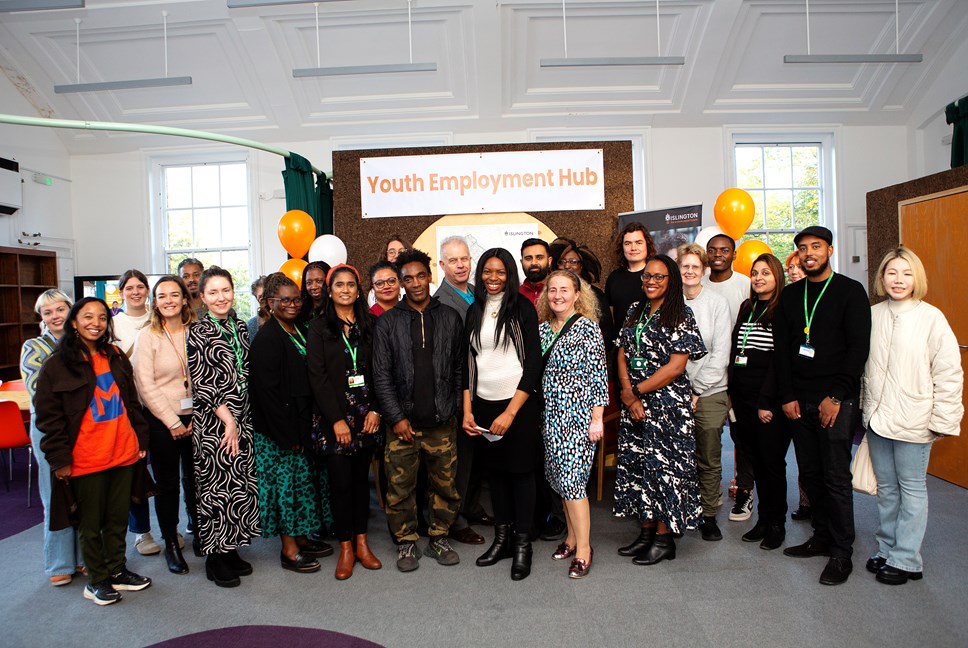 Two new Youth Employment Hubs open their doors to help young people get into work, training and education
Islington Council has transformed two formerly unused spaces into dedicated venues to support local young people into employment, training and education.
Islington's new Youth Employment Hubs at West Library and on the Andover estate in Finsbury Park are the result of a £350,000 investment to create safe and accessible spaces where young people aged between 16 and 25 can find a range of free support to help them plan their next steps into the world of work.
Councillor Santiago Bell- Bradford, Executive Member for Inclusive Economy and Jobs, said: "These new Youth Employment Hubs will help us to deliver on our ambition to tackle economic inequality and give young people the chance to connect with amazing employment opportunities right here on their doorstep, whatever their background.
"The hubs will fill a gap for many of our young people who may otherwise not have the opportunity to access high-quality advice, guidance and support that will ultimately help them to get into good, well-paid jobs with excellent long-term career prospects."
At the hubs, career and employment experts from the council and partner organisations will offer help and guidance to young people to explore job goals, get help with CVs, job applications, interview preparation and to find suitable training, work placements, apprenticeships and jobs.
The hubs will also host regular careers events and sessions where local employers talk to young people about new and emerging sectors with long-term career prospects and give them the skills they will need to be successful in the job market.
Adnan, a 19-year-old resident, has already benefited from the services on offer at the West Library Youth Employment Hub. He said: "Thanks to my participation in a course at the West Library, I've successfully landed a job through the Youth Employability and Skills (YES) programme. The job is close to my home, so I don't have to worry about travel. The course not only provided me with valuable skills, but I also made friendships and it was a significant boost to my confidence.
"The youth employment hub is a warm and welcoming environment, tailored to the needs of young people. It's a great setting for hosting courses, and the staff is approachable and always ready to assist with any questions or concerns".
The West Library Youth Employment Hub is part of a wider project in the Cally area to improve local facilities, including Jean Stokes Community Centre and the library. Funding for this project included a £350,000 grant from the Greater London Assembly's Good Growth Fund.
The Deputy Mayor for Planning, Regeneration and Skills, Jules Pipe, said: "I'm delighted that the Mayor's Good Growth Fund has helped to deliver these two new hubs in Islington, enabling hundreds of young Londoners to access free, high-quality career advice and guidance.
"By investing in these vital community services, we make a huge difference to the lives of young Londoners as they develop the networks and skills they need to fulfil their full potential. We also make strides in tackling economic inequality in the long-term – helping to build a better, fairer, more prosperous London for everyone."
To find out more about what's on at Islington's youth employment hubs, contact Islington Council's Youth Employment Team by emailing YouthEmploymentTeam@islington.gov.uk
Notes to editors
About the Mayor of London's Good Growth Fund
The Good Growth Fund is the Mayor of London's biggest regeneration fund. Launched in June 2017, it provides £70m of capital funding from sources including the Local Growth Fund and European Social Fund, as well as expert regeneration advice, design support and knowledge sharing opportunities.
For more information on the Good Growth Fund, see: https://www.london.gov.uk/what-we-do/regeneration/funding-opportunities/good-growth-fund-supporting-regeneration-london.
The youth employment hubs are located at:
First floor Islington West Library
Bridgeman Road,
Islington
N1 1BD
54 Corker Walk
Andover Estate
Islington
N7 7RY