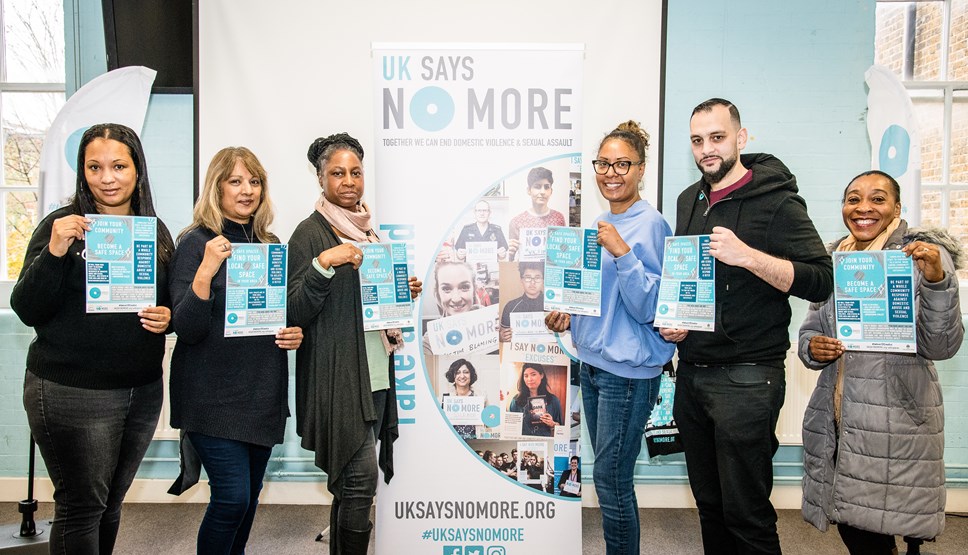 UK's first community-based 'safe spaces' for people fleeing domestic violence launched in Islington
Islington Council and crisis support charity Hestia are working together to launch 17 'Safe Spaces' where people experiencing domestic abuse and sexual violence can find sanctuary and support from specially trained staff on the premises.
The 17 spaces will be the first cohort of community-based safe spaces in the UK as part of UK SAYS NO MORE, a national campaign to end domestic violence and sexual assault, as well as the first in Islington's local branch of the campaign – Islington SAYS NO MORE.
Each safe space will feature a prominent sticker in their window or door where staff, known as ambassadors, will be available to provide immediate emotional support to victims and survivors, as well as offering practical help by directing them towards specialist support services. Ambassadors are currently receiving training by UK SAYS NO MORE and Islington Council and all 17 spaces are expected to be open by early in the new year.
The council and Hestia hope that the 17 new spaces will be the first of many more across the country offering assistance to people fleeing abuse.
Hestia also offers the Bright Sky app, a free to download mobile app that provides support and information to anyone who may be in an abusive relationship or for those concerned about someone they know. It provides a unique UK-wide directory of specialist domestic abuse support services and their contact details, as well as specialised questionnaires to assess the safety of a relationship. Safe space ambassadors are also being trained to direct people towards the Bright Sky app.
Islington Council's Head of Youth and Community Services, Catherine Briody, said:
"Domestic abuse and sexual violence is still far too common; one in four women and one in six men will be the victim of domestic abuse in their life time. Violence and abuse can affect anyone and can leave deep and lasting scars on a person's life.
"It can be extremely difficult for someone experiencing abuse to find a way out, which is why having safe spaces in known locations where people can discreetly receive help and support is vitally important. We're proud to be the first borough to offer these safe spaces and we encourage other organisations in Islington to get in touch if they think they could get involved.
"The council is working hard with our partners to make sure that cycles of abuse and violence do not continue. Enough is enough – here in Islington we're standing together as a community to say: No More."
Abigail Ampofo, Director of Operations at Hestia said:
"Domestic abuse can affect every aspect of a person's life. For those trying to escape domestic abuse, fear of their abuser finding out is a key barrier to seeking support. These safe spaces can be a discrete life saving resource that we hope will allow more victims to get much needed support.
"By working in partnership with local authorities and agencies, we are taking the first step to provide community wide support for those experiencing domestic abuse. Hestia is excited to be part of the Safe Spaces Pilot and look forward to working with Islington Council, Solace Women's Aid and the community."

Sarah D'Anglis Partnership Manager, UK SAYS NO MORE said:
"UK SAYS NO MORE is committed to ensuring that every survivor of domestic abuse and sexual violence has access to specialist services and support. We recognise that local businesses are accessible for general public during their daily routines and can play a pivotal role in the community response to domestic abuse and sexual violence, by becoming a Safe Space, ensuring that people feel confident to believe, respond and refer using Bright Sky."
Notes to editor:
In the UK, 1 in 4 women and 1 in 6 men will experience domestic abuse in their lifetime (ONS 2018). This leads to 2 women being murdered each week and approximately 30 men per year (ONS 2018). In addition, nearly half a million adults have been sexually assaulted each year in England and Wales (ONS 2017). More information is available on the UK Says No More website.


In 2018/2019 in Islington 4,091 incidents of domestic abuse and 664 sexual offences were reported to Metropolitan Police.


Domestic abuse and sexual violence can affect anyone irrespective of their gender, age, social-economic status and sexuality.


If you are a resident of Islington, think you might be a victim of domestic or sexual violence and need help, please call: Solace Advice helpline - 0808 802 5565 or Solace Rape Crisis helpline - 0808 801 0305. If you are in immediate danger call 999.

About UK SAYS NO MORE: UK SAYS NO MORE is a national campaign launched to raise awareness of domestic violence and sexual assault across the UK. Launched in 2016 and facilitated by London crisis charity Hestia. UK SAYS NO MORE has over 250 campaign partners from the Old Vic to Uber who are all working together to say NO MORE to domestic abuse and sexual violence.
UK SAYS NO MORE's recent Charter on Prevention, created in response to the Draft Domestic Abuse bill received support from over 160 MPs and Peers.
About Hestia: At Hestia, we support adults and children across London in times of crisis. Last year we worked with more than 9,000 people including women and children who have experienced domestic abuse, victims of modern slavery, young care leavers and older people. From giving someone a home to helping them to get the right mental health support, we support and enable people at the moment of crisis.
Hestia is one of the largest providers of domestic abuse refuges in London and last year we supported 3,657 people to recover from the trauma of domestic abuse including 668 children. We provide families refuge accommodation, dedicated children and family support, IDVA (Independent Domestic Abuse Advocates) and MARAC (Multi-Agency Risk Assessment Centre) support and community group support.
Hestia is also the home of UK SAYS NO MORE, a national campaign to raise awareness of domestic abuse and sexual violence across the UK.
Media contact information
If you are a member of the media and would like more information please contact:
Islington Council media team – media@islington.gov.uk or 020 7527 2307. Out of hours: 07769 163303
If you are a member of the public with a general question about the council please contact:
Contact Islington – www.islington.gov.uk/contact-us or 020 7527 2000