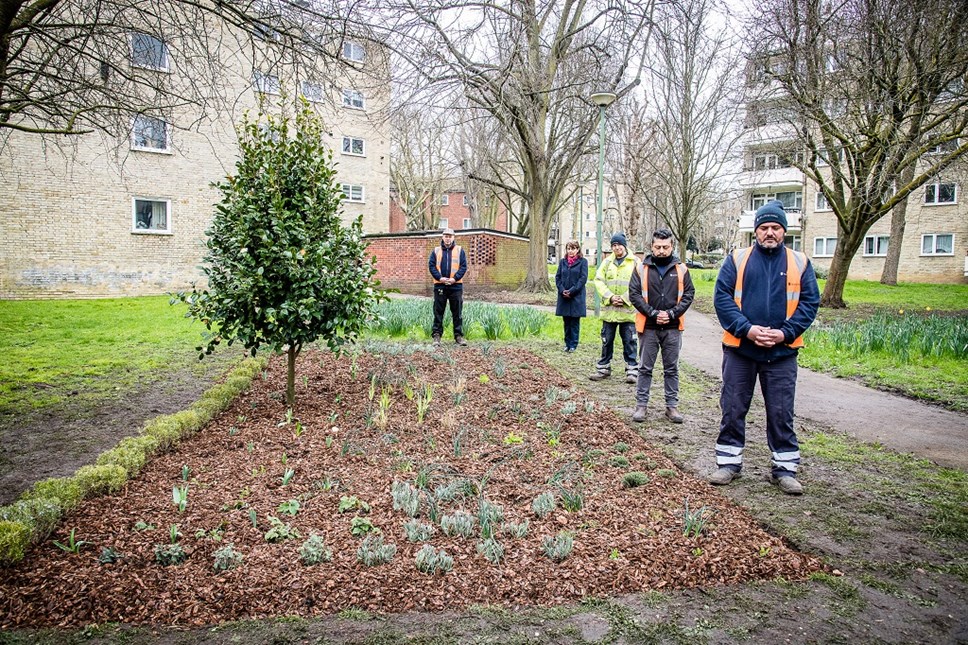 We are Islington - A huge thanks to local people for efforts and sacrifices in challenging year
Islington Council is today (Tuesday, 23 March) marking a year since the first coronavirus lockdown by thanking local people for their incredible efforts and remembering those we have lost during the pandemic.
A year ago today, people in the borough and across the nation started dramatically changing their daily lives to slow the spread of the virus.
Since then, Islington has seen and continues to see some extraordinary examples of community kindness, unity, and courage in the face of huge challenges – with local people delivering supplies, advice, and support to others in the community.
The We are Islington helpline was set up by the council days after the announcement of the first lockdown to support those in need, and has since responded to more than 17,000 calls. The helpline works with voluntary sector and mutual aid groups to support anyone in the community who needs it, including with food and medicine drops, advice, and friendly conversations with those experiencing loneliness.
Arsenal in the Community, Islington Council and the HIS Church Charity have worked together to deliver over half a million meals to the most vulnerable, and the Islington Giving Crisis Fund has been allocating funds to around 30 trusted local organisations to help the borough's communities through the pandemic.
There have been countless other examples of community kindness in the past year, from groups including Forum+, the Octopus network, Sunnyside Community Gardens, Finsbury Park Mosque, Copenhagen Food Bank, MeiraGTx, local community sewing groups, and Absolute Print. More information on their incredible efforts can be found here.
Islington Council has also played its role by working tirelessly to support local people through this difficult period, including via the We are Islington helpline, by assisting more than 300 homeless people into safe accommodation, and by distributing more than 3,000 laptops to enable remote learning.
The council is inviting local people to take part in Marie Curie's National Day of Reflection today by pausing for a moment's silence at 12pm, by joining others in lighting a candle or shining a torch outside at 8pm, or by taking time to reflect on the past year in another way.
To mark a year since the first lockdown and to remember the local people that have sadly been lost to the virus, the council is starting to plant 356 camellia and white rose bushes around the borough. These plants are evergreen and flower in March, so will act as an annual symbol of remembrance for years to come.
As a symbol of hope at a time when the coronavirus vaccine is offering light at the end of the tunnel, 10,000 bulbs that were planted last year across estates are also now starting to burst through.
Jonathan O'Sullivan, Islington Council's Director of Public Health, said: "The past year has been one of huge sacrifices and tragedy, and countless acts of kindness and selflessness in our borough where we have protected and supported each other.
"It has been truly incredible to see the way that Islington has united in such challenging circumstances to support those most in need - from the incredible work of the NHS in treating patients and rolling out the vaccine, to mutual aid groups and the We are Islington helpline who have brought food, medicine and hope to the people who have needed it most.
"We are so grateful to everyone that has done their bit to slow the spread of the virus in Islington by staying at home and making huge changes to their daily lives. Today, we thank people across the borough for their extraordinary efforts and remember those that we have lost.
"The vaccination has offered us all light at the end of the tunnel, but it is so important that we all continue to stay safe and keep doing our bit to protect one another. The more we look out for each other, the sooner we will see life return to normal."
Notes to editors
Support remains open to those that need it during the pandemic. The We are Islington helpline is available for anyone needing help, including with shopping, collecting medicines, money worries, or help with getting to a vaccination appointment. The helpline can be accessed seven days a week, 9am to 5pm, on 020 7527 8222, or minicom on 020 7527 1900, or by emailing weareislington@islington.gov.uk.
Tragically, many people have lost loved ones in extremely difficult circumstances during the pandemic. The council's bereavement services are open to those needing practical and emotional support, and an Online Book of Condolence has also been set up as a way for people to remember friends, family members and colleagues.
Media contact information
If you are a member of the media and would like more information please contact:
Islington Council media team – media@islington.gov.uk or 020 7527 2307. Out of hours: 07769 163303
If you are a member of the public with a general question about the council please contact:
Contact Islington – www.islington.gov.uk/contact-us or 020 7527 2000