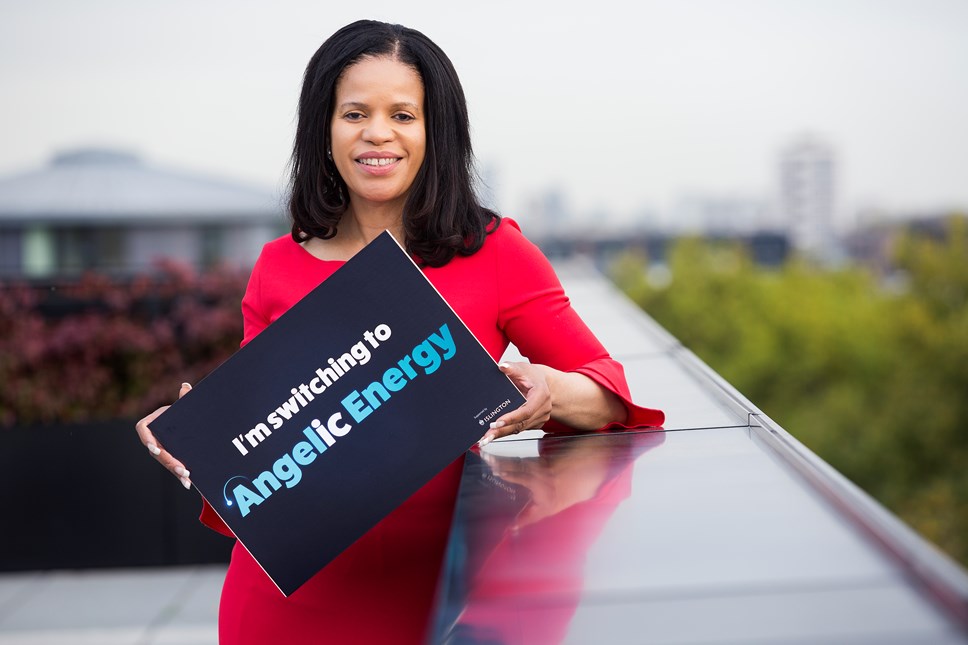 Angelic Energy goes green and offers Warm Home Discount to celebrate first birthday
Angelic Energy, London's first not-for-profit municipal energy provider to launch in more than a century, has celebrated its first birthday with more great news for customers as it takes on the 'Big Six' energy firms.
The not-for-profit energy provider, set up by Islington Council, is proud to announce that it's not only offering the Warm Home Discount of £140 to eligible customers in good time for winter, but is also ensuring that all electricity it supplies to homes is 100% green, certified as being generated at UK-based renewable wind and solar farms.
Since its launch in October 2017 Angelic Energy has gone from strength to strength. Recruiting its 1,000th customer after just five months and now providing great-value energy tariffs to more than 2,600 homes, setting it on a strong path for the future.
Cllr Claudia Webbe, Islington Council's executive member for environment and transport, said: "I am extremely pleased to see thousands of residents in Islington and across London are already feeling the benefit of Angelic Energy's great value energy prices and friendly customer service, putting their faith in a not-for-profit energy provider with fairness at its heart.
"We set up Angelic Energy as part of our drive to reduce fuel poverty. Angelic Energy provides a real alternative to the 'Big Six' energy companies for residents across Greater London – saving them money with the added bonus of now offering 100% green electricity, which not even all of the 'Big Six' can offer their customers.
"As we approach winter, there has never been a better time for people facing unaffordable energy bills to consider making the big switch. Some of our most vulnerable older residents will also be able to save a further £140 per year from 2019 with the Warm Home Discount scheme."
The Warm Home Discount can prove vital for vulnerable older residents who struggle to afford to keep their homes warm enough through the colder months. Angelic Energy voluntarily provides the Warm Home Discount, unlike the Big Six who must do so by law.
The council estimates that one in five Islington households live in fuel poverty. Angelic Energy aims to offer some of the best-value tariffs available on the market, including for customers who are on prepayment meters, helping to keep people warm and well. Coupled with outstanding customer service and simple-to-understand billing, Angelic Energy is a real and fairer alternative to the "Big Six" energy companies.
Residents on Pay As You Go energy deals are among the least likely households to switch to another, better-value provider. However, Angelic Energy aims to give them the confidence to switch, in the knowledge that it is owned by Islington Council, a name they know and trust.
Angelic Energy reinvests any surplus it makes in providing good-value energy, good customer service and a fairer deal for all.
It offers competitive prices, too – customers switching to Angelic Energy's Standard Fixed tariff could save up to £273* per year, and if you are eligible you could save an additional £140 through the Warm Home Discount Scheme from 2019.
To find out more and get a quote, see www.angelicenergy.co.uk or call 0800 169 0220.
Notes to editors
Only four of the "Big Six" energy firms offer an equivalent 100% green electricity tariff.
Existing customers are eligible for the Warm Home Discount with Angelic Energy in 2018/19 if they were part of the so-called Core Group (meaning they were receiving the Guarantee Credit element of Pension Credit and their name or their partner's name appeared on their electricity bill) on July 8, 2018. A person in the Core Group thinking of switching to Angelic Energy should do so after they have received their rebate for 2018/19 from their existing supplier. People who qualify for the Warm Home Discount as part of the Broader Group are not eligible for the discount with Angelic Energy. The Warm Home Discount is made via a rebate on the customer's electricity bill.
*Based on the cheapest Angelic Energy Tariff, compared to the mean average of the biggest six energy providers' standard variable tariffs for a dual-fuel customer at medium use (meaning 12,00kWh of gas consumption and 3,100kWh of electricity consumption per year), dual-fuel customer, paying by Direct Debit and receiving paperless billing, living in London on 6 September 2018. Prices may change.
Media contact information
If you are a member of the media and would like more information please contact:
Islington Council media team – media@islington.gov.uk or 020 7527 2307. Out of hours: 07769 163303
If you are a member of the public with a general question about the council please contact:
Contact Islington – www.islington.gov.uk/contact-us or 020 7527 2000