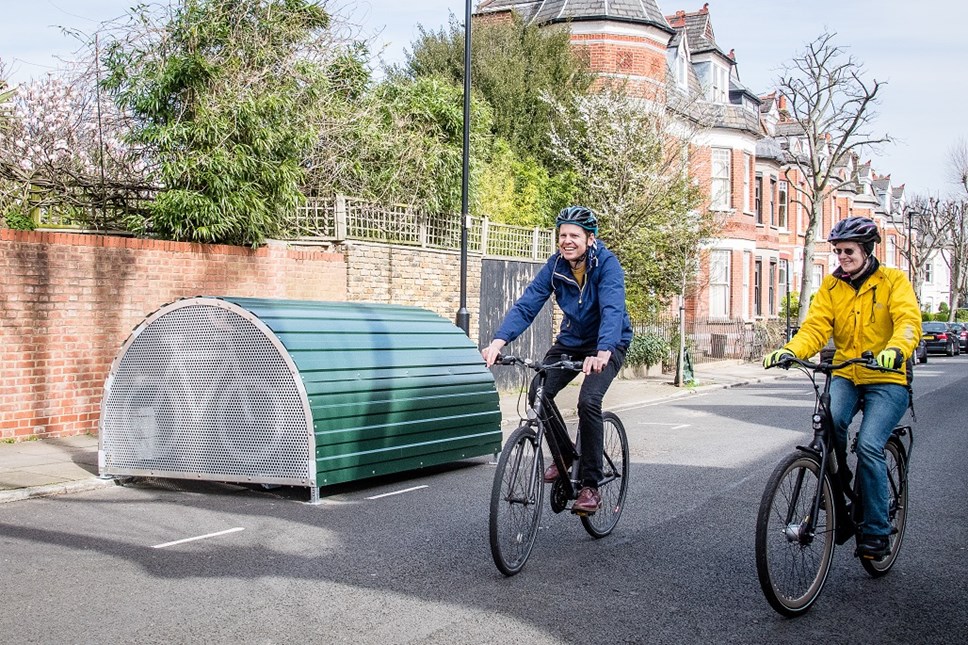 Islington outlines bold vision for cleaner, greener, healthier streets
Islington Council is announcing exciting plans to bring environmentally-friendly interventions to 70% of the borough, as it continues to tackle the climate emergency and create cleaner, greener, healthier streets for all.
The council is marking the start of 2023 by announcing pioneering plans for a network of Liveable Neighbourhoods, new environmental improvements to boost air quality outside schools on main roads, and bringing its successful School Streets to secondary schools. This huge programme of work – which was approved at last night's Executive meeting - will be made possible through a £9m commitment the council has made for the years 2022/23 to 2024/25.
Since 2020, the council has drastically altered streets through its people-friendly streets programme to make it easier to walk, cycle, scoot and use buggies and wheelchairs, and to increase the amount of green space in Islington.
A total of seven people-friendly streets neighbourhoods have been introduced – covering 24% of the borough. Monitoring data reflects the positive impact of the schemes, and air quality improved in each neighbourhood and on surrounding boundary roads between 2019 and 2021. Meanwhile, Islington's 35 School Streets – which account for 88% of all eligible primary schools in the borough – are also helping to create more pleasant streets, while supporting children's health and learning.
The success of the council's efforts to tackle the climate emergency has seen Islington rank as Healthy Streets Scorecard's best-performing borough for healthy streets action. To build on this, the council has outlined plans for the following major improvements:
Moving onto the next phase of the people-friendly streets programme by introducing Liveable Neighbourhoods across the borough. Liveable Neighbourhoods – which will be subject to extensive engagement and consultation before they are introduced from the 2023/24 financial year onwards – are expected to be introduced in Mildmay East, followed by The Cally, Barnsbury & Laycock, Annette Road, and Highbury New Park.
Following the huge success of Islington's School Streets at primary schools, introducing School Streets at secondary schools across the borough, starting with three schools during the 2023/24 financial year.  
Bringing environmental improvements – such as planting, new bike parking, and widened footpaths - to ten primary schools on main roads that are unable to be turned into School Streets. These include Robert Blair School, St Joseph's Catholic Primary School, Montem Primary School and Samuel Rhodes Primary School in 2023.  
Continuing, through its people-friendly pavements programme, to work to make every pavement in Islington people-friendly. This includes introducing people-friendly pavements on main roads, in people-friendly streets neighbourhoods, and in future Liveable Neighbourhoods – through improvements such as repaving existing footways, improved crossing points, dropped kerbs, improved foliage maintenance, tactile paving and street clutter removal.
Creating a new cycle route connecting Regents Canal and Highgate, and working with Transport for London on creating Cycleway 50, connecting Camden and Tottenham Hale.
Working on proposals to make it easier to walk and cycle on the Old Street-Clerkenwell Road corridor.
If the proposed package of Liveable Neighbourhoods were to be realised then they, alongside Islington's existing people-friendly streets neighbourhoods, would cover 70% of the borough.
Cllr Rowena Champion, Islington Council's Executive Member for Environment, Air Quality, and Transport, said: "Over the past few years, we've taken great strides towards creating a cleaner, greener, healthier Islington through our people-friendly streets, School Streets, greening, and other improvements.   
"However, we know that we simply cannot afford to stand still – Islington remains one of the six London boroughs most susceptible to climate change, and air pollution is still a major public health emergency.   
"We must continue to deliver environmentally-friendly streets for Islington, and our exciting vision is designed to achieve just that. Our ambition to create a more equal Islington is at the heart of everything we do, and we look forward to seeing the positive impact that these changes bring to people across our borough."  
Liveable Neighbourhoods will involve a range of improvements to make areas more environmentally-friendly and allow communities to flourish, such as additional green spaces, improvement pavements, public realm improvements, and unique placemaking features. As part of this, Liveable Neighbourhoods will also involve changes that reduce the number of motor vehicles cutting through areas, and will make it easier to walk, cycle, and wheel, including through cycle routes, better crossings, and improved public spaces that remove barriers to cycling.  
Once the first phase of the Liveable Neighbourhood programme has been delivered – including in Mildmay East, followed by The Cally, Barnsbury & Laycock, Annette Road, and Highbury New Park – the council plans to move forward with further neighbourhoods in Dartmouth Park Hill, Calshot, Bunhill South & Barbican, St John's, and Tufnell Park.  
Further information on the plans can be found on the council's website.