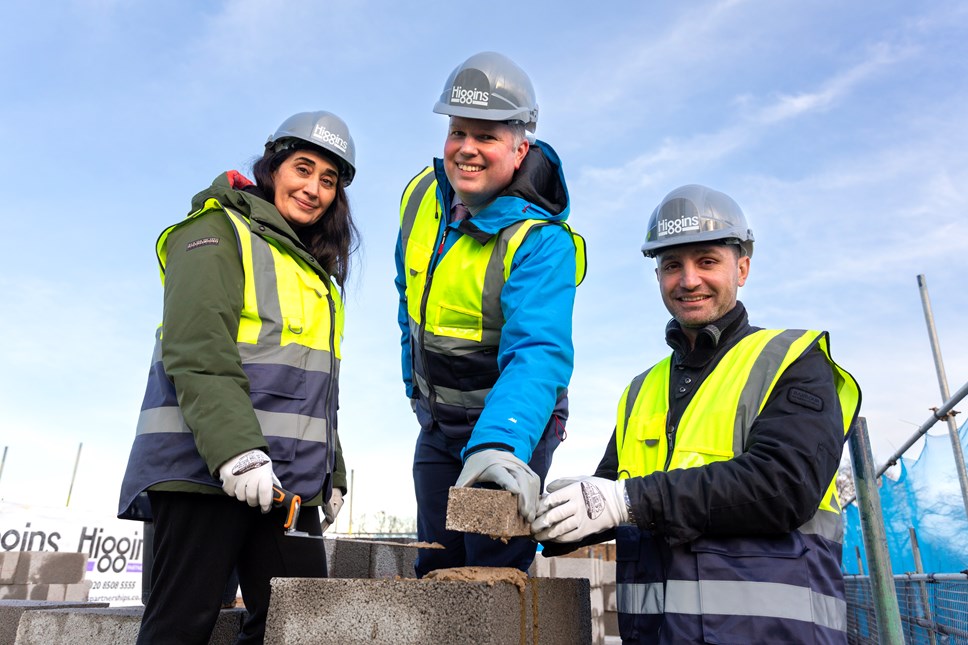 Landmark moment in construction of new council homes at Dixon Clark Court
A topping out ceremony at Dixon Clark Court has celebrated the moment that builders completed the highest point of the new development, which will provide much-needed new council homes.
The development will provide 41 homes in total, 27 of which will be for council tenants. These homes will range in size from one-bedroom to four-bedrooms, giving families in need a decent place to live. The homes will have spacious rooms with plenty of built-in storage, access to private outside space and will be energy efficient. Local residents will get first priority for the new homes, under Islington's local lettings policy.
As well as delivering new homes, the development project will see 13 new trees planted on the estate. Plus, the project also includes plans and funding to plant 63 new trees elsewhere across the borough. Environmental landscape improvements will include installation of bat boxes and bird boxes, as well as a new species-rich hedgerow, and plantings of indigenous shrubs, wildflowers and grasses, which will help to promote local wildlife as well as combating the effects of air pollutants. This new planting will create a green screen which will help to deflect particulate pollution from the road away from the estate.
Cllr Diarmaid Ward, Islington Council's Deputy Leader and Executive Member for Finance, Planning and Performance, said: "Everyone deserves a safe, decent, and genuinely affordable place to call home - this is an absolutely vital part of our work to create a more equal Islington.
"We are in the midst of a housing crisis, which is only being made worse for our most vulnerable residents as the cost of living crisis intensifies. We are building 750 more much-needed council homes because we know that these homes change people's lives.
"I am so pleased to see the progress at Dixon Clark Court, and I look forward to seeing this project completed so that families can start moving in – hopefully as soon as August this year."
Steve Leakey, Managing Director of Higgins Partnerships, said: "We are pleased to once again be working with Islington Council to deliver much needed new council homes for local residents. This infill development has enabled us to create a new community around an existing residential block along with establishing a new enhanced communal garden space for all residents to enjoy.
"As part of our commitment to the local community we have also provided a number of apprenticeship opportunities for local residents and are engaging with local schools to promote the wealth of career opportunities available within the construction industry."