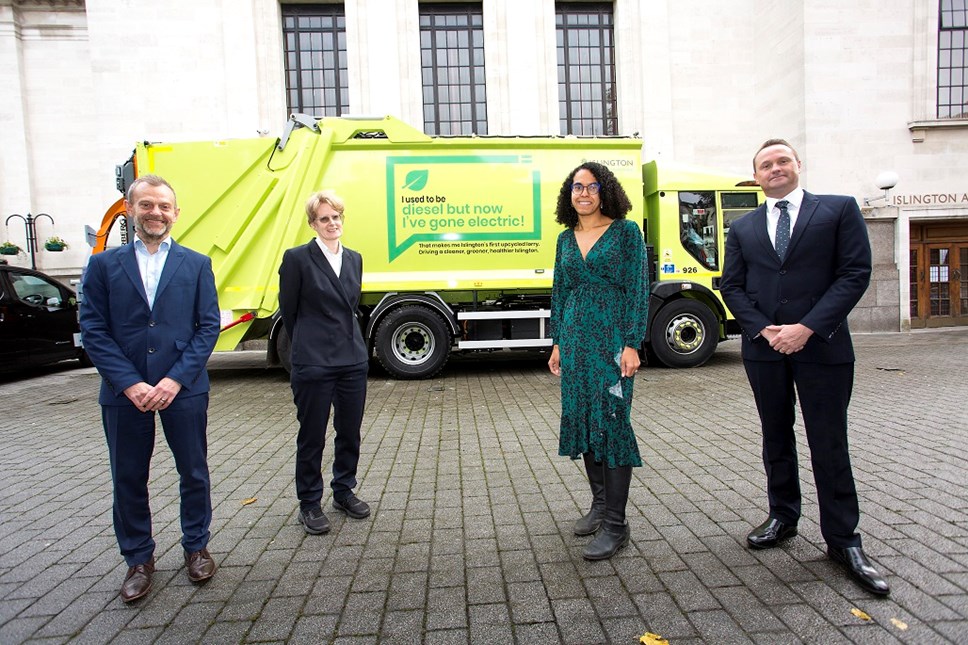 Last opportunity for local people to invest in creating a cleaner, greener, healthier Islington
There's less than a week to go before the deadline for Islington Greener Futures, and local people are being invited to play their part in creating a cleaner, greener, healthier borough by investing.
In October, the council launched Islington Greener Futures, London's first Community Municipal Investment (CMI), to provide people with the opportunity to invest as little as £5 to support local, environmentally-friendly initiatives and take a real stake in the future of Islington.
The council is aiming to raise a total of £1 million and, with less than a week to go before it closes on Monday, 31 January 2022, more than £960,000 has already been invested in Islington Greener Futures. More than £190,000 of this has been invested by 49 local investors and, with just a few days until the deadline, the council is encouraging more local people to invest and potentially receive a financial return.
Islington is one of the six London boroughs most at risk to climate change, yet 91% of its emissions are not caused by the council itself – highlighting the fact that a borough-wide effort is needed to address the climate emergency. Islington Greener Futures provides local people with the opportunity to help play their part by supporting a range of projects, including:
The council's ongoing efforts to improve air quality through, for example, the School Streets programme      
Working towards zero carbon recycling and waste collection      
Electric vehicle charging points to encourage residents to switch to electric vehicles 
Improved local recycling facilities to encourage recycling       
Installation of LED lighting on public buildings to reduce carbon and the cost of electricity       
Installation of solar panels on public buildings to reduce carbon and the cost of electricity       
Cllr Rowena Champion, Islington Council's Executive Member for Environment and Transport, said: "We are committed to tackling the climate emergency and creating a cleaner, greener, healthier borough, but we can only do that together with local people.
"Through Islington Greener Futures, we're enabling local people to play their part in tackling the climate emergency by investing as little as £5 and taking a real stake in the future of our borough.
"We're so close to our target of raising £1 million and, with just a few days to go until Islington Greener Futures closes, it's the last chance for local people to take part."
The CMI is being managed by ethical investment crowdfunding firm Abundance Investment, which is authorised and regulated by the Financial Conduct Authority. It is the first CMI to be eligible for the Innovative Finance ISA, which means that Islington residents are able to invest between £5 and £20,000 and receive a fixed return of 1.55% per year tax-free, with interest paid every six months and the original capital repaid after five years.
Karl Harder, Joint Managing Director of Abundance, said: "It is great to see that the idea of investing with your local council to fight climate change has resonated so strongly with local investors who have individually contributed more than double the average investment so far.
"We look forward to this being the start of a long and rewarding relationship between the council and its citizen investors".
Islington Council is working tirelessly to address the climate emergency, and Islington Greener Futures is one of a number of initiatives designed to help create a cleaner, greener, healthier future for local people.
Earlier this week, the council launched a new microsite which helps local people find out more about the ways they can reduce their carbon footprint, and make pledges to change their habits to support the environment.
Islington is also benefitting from its 36th School Street, its first Library of Things, and a world-first retrofitted and refurbished twin pack electric refuse collection vehicle – a once diesel vehicle which has been given a fully electric engine.
More information and details on how to invest in Islington Greener Futures can be found on Abundance's website.
Notes to editors
About Abundance Investment    
Abundance is a leading direct investment platform that is putting people in control of their money. People invest in individual projects that generate something good for the environment and society as well as bank-beating returns.     
The investor chooses which project or business to invest in from just £5 and benefits from a financial return, while the world benefits from the growth of sustainable businesses.   
Since launching in 2012, more than 7,300 people have invested over £115m directly into the projects they support via the Abundance platform, with over £37m returned to investors. In the process, Abundance has achieved a number of firsts. As well as being the world's first FCA-regulated investment based crowdfunding company, it is also the first investment platform to offer a dedicated investment based crowdfunding SIPP and launched the UK's first Innovative Finance ISA for renewable energy investments on November 1st 2016.     
In 2020, Abundance launched the first Community Municipal Investments after working with the University of Leeds to develop new ways to allow local people to actively participate in the transition to Net Zero. These investments let people invest directly into councils, allowing them to fund the real local green projects that we need to make a big impact on the climate emergency. Abundance's new municipal investments, launched after September 2021, are structured as peer to peer loans and are eligible to be held in an Innovative Finance ISA. Abundance's first two municipal investments, launched in 2020 with West Berkshire and Warrington Councils, were not ISA eligible.   
Abundance also became a certified B Corp in 2018; these are businesses that meet the highest standards of verified social and environmental performance, public transparency, and legal accountability to balance profit and purpose.   
Abundance and Abundance Investment are trading names of Abundance Investment Ltd which is authorised and regulated by the Financial Conduct Authority (no. 525432). 
Visit www.abundanceinvestment.com? 
Follow @AbundanceInv    
Risk Warning:
As with any investment, there are risks when investing on Abundance. Your invested capital is at risk and any return on your investment depends on the ability of the local authority you have invested in to pay your returns. Investments on Abundance are generally long term and you should be prepared to hold them to maturity. The investments are illiquid and you may not be able to sell them if you need your money back earlier, and their value can rise or fall. Quoted returns are no guarantee of future returns and past performance is not a guide to future performance. Specific risks will apply in relation to each investment. Please consider all risks before investing and read the Offer Document or Factsheet for each investment. The investments on Abundance include debentures or bonds (from companies) and peer-to-peer loans (from councils) - Abundance's service in relation to peer-to-peer loans is not covered by the Financial Services Compensation Scheme (FSCS).
Media contact information
If you are a member of the media and would like more information please contact:
Islington Council media team – media@islington.gov.uk or 020 7527 2307. Out of hours: 07769 163303
If you are a member of the public with a general question about the council please contact:
Access Islington – www.islington.gov.uk/contact-us or 020 7527 2000