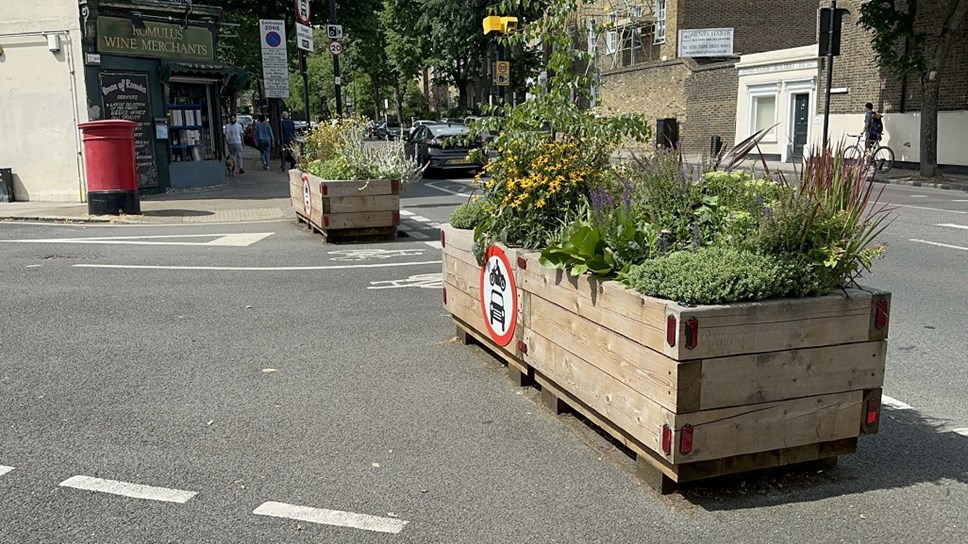 St Mary's Church low-traffic neighbourhood made permanent
The trial low-traffic neighbourhood (LTN) in St Mary's Church has been made permanent, after monitoring data and resident feedback revealed it has helped create greener, healthier, and more welcoming streets for all.
The St Mary's Church LTN was introduced in February 2022 as an 18-month trial, the seventh LTN to be introduced in the borough, and since then the council has been monitoring its impact carefully and listening to feedback from local people.
In order to understand people's views on the neighbourhood, the council held a public consultation between Wednesday, 29 March and Wednesday, 26 April 2023. Those that responded told the council:
That it's easier to walk and cycle to local shops and businesses in the area (38% of the respondents agreed, 21% disagreed).
That it's easier to cross the street safely (44% agreed, 19% disagreed).
That streets look nicer (42% agreed, 25% disagreed).
That there is less noise from traffic (41% agreed, 30% disagreed).
The council's own traffic monitoring – which was independently collected and analysed, and is available in full online - has been similarly positive, showing how traffic fell on roads within the neighbourhood (by 41%) and on surrounding boundary roads (by 12%) between November 2021 and January 2023.
Given the positive monitoring data and feedback, the council has now decided to make the St Mary's Church LTN permanent. The council's work to improve the area is far from over, though, and plans are in place to introduce more greening. The council will also continue to monitor traffic on specific roads as well as improve conditions for people walking and cycling in the area.
As part of its efforts to create a more equal borough, the council has introduced seven low-traffic neighbourhoods (LTNs) to help create more environmentally-friendly streets, bring communities together, and to make it easier to walk, cycle, scoot, and use buggies and wheelchairs.
Cllr Rowena Champion, Islington Council's Executive Member for Environment, Air Quality, and Transport, said: "For many years, local people have told us that they want to see more welcoming, safer, and greener streets. Through our LTNs, and our plans to deliver a network of Liveable Neighbourhoods, we're acting and delivering on that.
"The St Mary's Church LTN has helped create quieter, more inviting streets, where local people can harness the huge benefits of walking, cycling, and wheeling. By reducing traffic and exempting Blue Badge holders, we've also made it easier to travel for those needing to drive.
"We know that there's more we can do to make the St Mary's Church area a greener and better place for all, and we look forward to achieving that."
St Mary's Church is the fifth low-traffic neighbourhood to be made permanent, with Canonbury West, Canonbury East, St Peter's, and Clerkenwell Green all staying for good too. Final decisions on the Amwell and Highbury LTNs will be made soon.
Earlier this year, the council also announced plans to introduce a network of Liveable Neighbourhoods, to help increase green space, boost biodiversity, and create more welcoming streets for all.