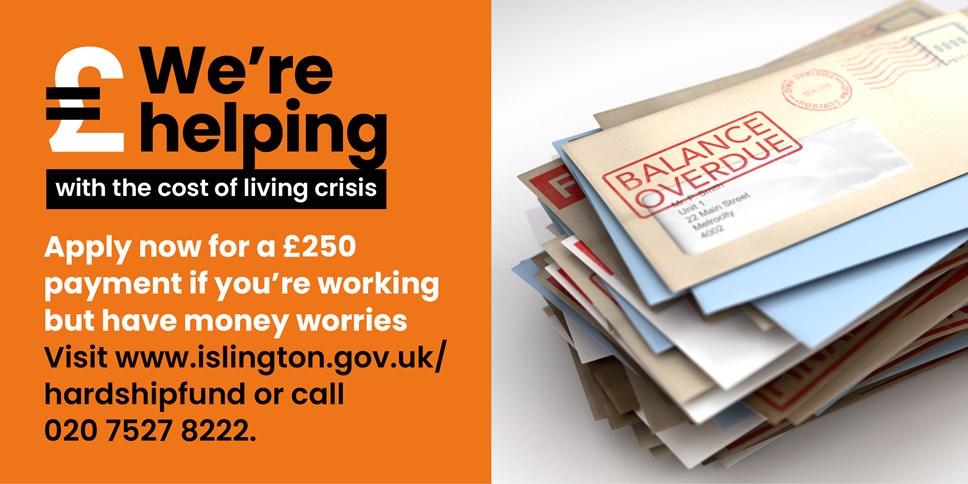 Islington Council launches targeted £1 million Hardship Fund to help thousands 'struggling to cope' in cost of living crisis
Islington Council has opened applications for its targeted £1million Hardship Fund to help thousands of residents struggling to make ends meet.
The fund, launched today (30 March), has been designed to help two specific groups, totalling more than 3,800 households, who will all receive one-off grants of £250.
The first group is working households with an income that only just lifts them out of most benefit entitlement and other financial support, but is simply not enough to make ends meet as the cost of living crisis bites. Applications are open now to any household meeting certain criteria, and the money will be paid on a first-come, first-served basis with 2,500 grants available in total.
The second group is made up of more than 1,300 households receiving certain benefits that were not eligible for any previous cost of living support payments, through no fault of their own. These households have already been identified by the council and £250 will be paid directly to them. This group includes tenants in council, housing association, temporary and privately rented accommodation.
The council's Hardship Fund is a further boost to its substantial existing safety net to create a more equal Islington, which is already shielding the borough's most vulnerable households from the worst effects of the cost of living crisis.
Cllr Diarmaid Ward, Executive Member for Finance, Planning and Performance, said: "We are determined to do everything we can to make Islington a more equal place and protect people from the worst effects of the cost of living crisis, which shows no sign of easing.
"Inflation has risen yet again and the strain on many household budgets just to cover the basics – food, energy bills and rent – is incredible. We have worked hard to protect and enhance the support that is there for households on benefits and other vulnerable people, but we know a large number of others haven't received any extra help and are on the brink of disaster.
"We won't stand by and allow this crisis to squeeze even more people into homelessness or desperation, so we're launching the Hardship Fund as a way to help thousands more Islington families and vulnerable people to cope. They can put the one-off £250 grant towards paying a rent bill, or save themselves from having to choose between keeping their family warm or putting food on the table.
"The funds for low-income working households are limited, and only available to those who meet the criteria – so apply now."
To be eligible for a Hardship Fund payment, applicants must meet certain criteria. Among other things they must be employed and live in a household with a total annual income of less than £50,000 before tax, and with total household savings of less than £5,000.
Applications to The Hardship Fund are open now. Applications will begin to be processed on Monday, 3 April, and the scheme will close once all funds have been allocated or on 30 April, whichever is sooner. For more information, full details on eligibility and to apply, visit islington.gov.uk/hardshipfund
Notes to editor: Cost of living support
As part of its commitment to creating a more equal borough, Islington Council is determined to do all it can to support local people and businesses through the cost of living crisis. Its own £1million Hardship Fund is the latest scheme in an extensive range of help provided. This help has either come from the council's own funds, or external funds that have been administered by the council.
Islington has protected its Council Tax Support Scheme for another year. One of the most supportive in the UK, the scheme reduces the Council Tax bill by 95% for around 18,000 low-income, working-age households in Islington.
Islington has also protected its Resident Support Scheme for another year. It remains one of the most wide-ranging and generous in the UK. Other support protected for 2023/24 includes universal free school meals for all primary school children in term time, and free meals and activities for eligible children in the school holidays.
In 2022/23, Islington's IMAX service put more than £5 million into the pockets of residents who weren't aware of the benefits they were entitled to.
Last October the council set up a Cost Of Living Board to monitor how the crisis was affecting local people and businesses – and the success of schemes designed to help – to ensure it targets future help where it's needed most.
The council also rolled out the Warm Community Spaces initiative, funding dozens of community hubs, libraries and other spaces to offer a warm welcome to anyone struggling to heat their home. In November it distributed more than 600 free laptops to pupils joining secondary school who did not have one of their own, and announced £500,000 worth of further winter support for residents and businesses using funding received from energy generation at the publicly-owned Edmonton EcoPark. This included a £77,000 debt relief fund, support payments to more than 1,100 of the borough's most vulnerable low-income households already in crisis, and £150,000 to support local businesses.
In 2022/23 Islington distributed £6.654m from the Government's Household Support Fund to those most in need, and will continue to administer the scheme and the Government's cost of living payments for as long as they are made available. It also distributed the Government's Covid-19 Additional Relief Fund, supporting more than 950 eligible local small and medium-sized businesses, and the Government's Council Tax Energy Rebate to eligible local households.
Last summer, the council helped more than 26,500 of Islington's most vulnerable households reduce their bills via its discretionary Council Tax rebate scheme, on top of the Government's Council Tax Energy Rebate credit of £150 to 68,000 households in Council Tax bands A-D.
Further information on the current cost of living support available to local people and businesses can be found on the council's website.