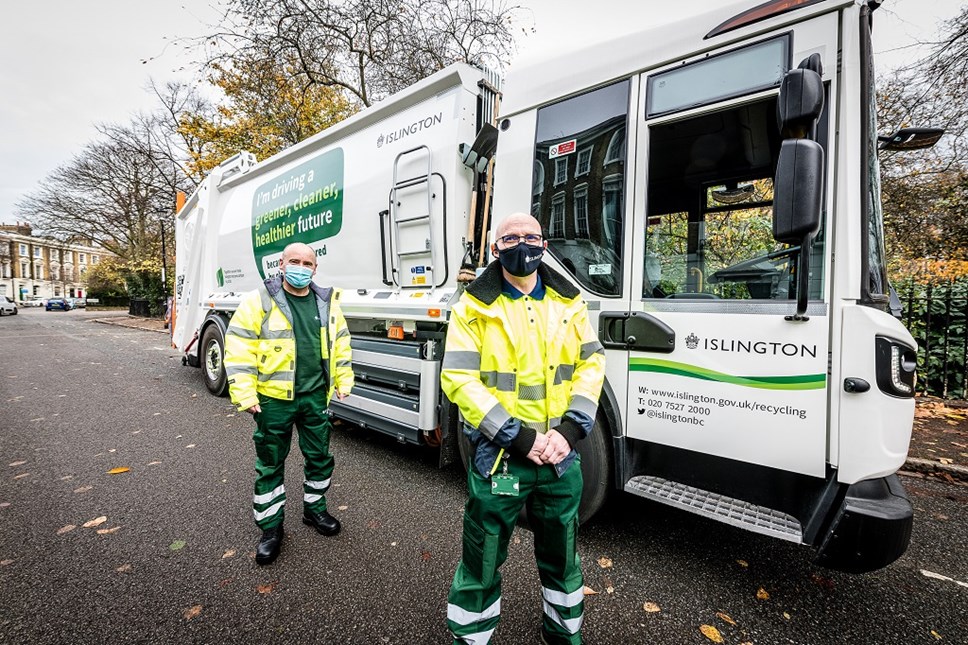 London-first eCollect electric refuse collection truck arrives in Islington
Islington's efforts to electrify its fleet are continuing, with the borough becoming the first in London to use an innovative new purpose-built fully electric refuse collection truck.
The 26-tonne "eCollect", made by refuse collection vehicle manufacturer Dennis Eagle, produces no exhaust emissions, therefore helping to clean the air that local people breathe.
Furthermore, Dennis Eagle say that the green vehicle is much quieter than conventional collection trucks, as well as being more environmentally friendly. The vehicle is also expected to be cheaper to run over its lifetime than the diesel alternatives.
The truck arrived in Islington earlier this month and a second eCollect, which has the same specifications, is due to arrive in the borough in December 2020.
Both vehicles will be based at the Council's Waste and Recycling Centre on Cottage Road, which is benefitting from a new substation and high voltage connection. The £3 million upgrade was made possible after the Mayor of London, Sadiq Khan, announced earlier this year that the Greater London Assembly (GLA) had awarded £1,485,000 towards the project, with Islington Council providing £1.5million in funding,
This substation and high voltage connection will help enable the electrification of other vehicles based at the depot including cars, vans, school and community buses, street cleansing equipment and the council's refuse and recycling fleet. The vehicle charging equipment at the Waste and Recycling Centre, including smart chargers, is provided by Islington-based business Joju Solar.
As well as the Dennis Eagle eCollect, Islington's fleet boasts other environmentally friendly vehicles, including new fully-electric 7.5-tonne caged tippers which are used for kerbside refuse collection from on-street bins.
As well as investing in greener vehicles, the council is also working to reduce the size of its fleet in order to help clean the air that local breathe. The council recently announced, for example, the arrival of six new e-bikes, which will be used by the Street Environment Services team as alternatives to diesel vans.
Islington's work to electrify its fleet is one of several measures to reduce vehicle emissions in the borough. The council is also creating people-friendly streets, has implemented 29 School Streets, and recently signed up to a London-wide campaign encouraging businesses to tackle the air pollution caused by idling engines. These initiatives are part of the council's ongoing efforts to tackle the climate emergency and achieve a net zero carbon Islington by the year 2030.
Cllr Rowena Champion, Islington Council's Executive Member for Environment and Transport, said: "The arrival of our first eCollect vehicle is another step towards achieving our vision of a greener, healthier Islington where local people have cleaner air to breathe.
"Air pollution remains a major health emergency across London and we know that we need to continue to improve air quality in our borough, especially for those who suffer from breathing difficulties.
"The eCollect vehicles will help to achieve this, whilst also being cheaper to run compared with the less environmentally-friendly diesel alternative."
Dennis Eagle's Sales and Marketing Director Richard Taylor said: "We are very proud of the zero emissions eCollect, which is a landmark vehicle.
"The London Borough of Islington is among the first local authorities in the UK to purchase the vehicle.
"This is not only going to benefit people who live or work in the borough by improving air quality and tackling emissions, but it will also help drive the switch to electric vehicles in London and across the UK."
Media contact information
If you are a member of the media and would like more information please contact:
Islington Council media team – media@islington.gov.uk or 020 7527 2307. Out of hours: 07769 163303
If you are a member of the public with a general question about the council please contact:
Access Islington – www.islington.gov.uk/contact-us or 020 7527 2000